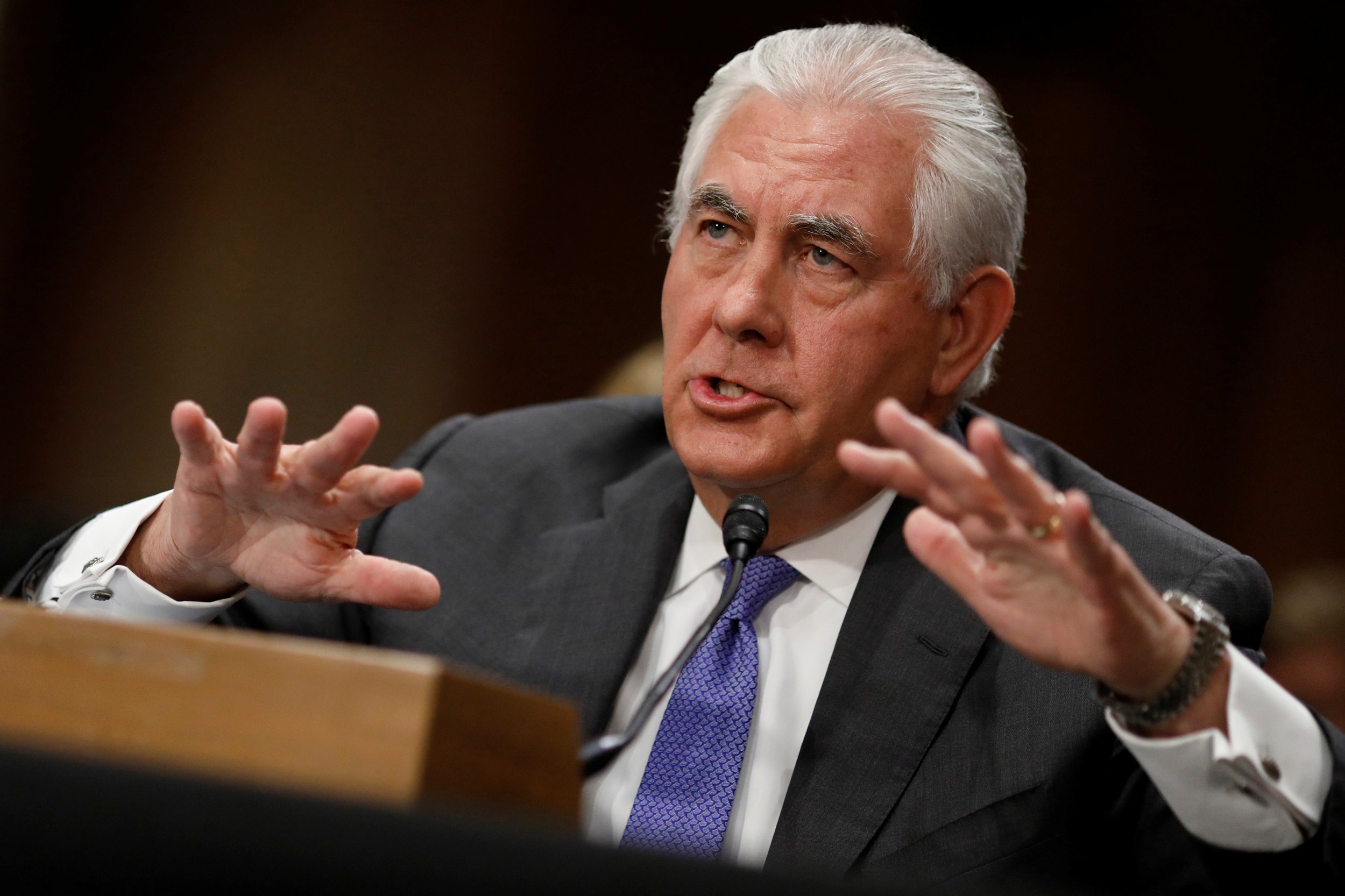 Secretary of State Rex Tillerson reportedly has a three-point plan to both improve relations and work with Russia, one of which includes facing global threats posed by the Syrian civil war, the proliferation of North Korea's missile and defense program and a third that could seem strange to some: Cybersecurity and cyber-espionage.
A BuzzFeed report published Monday detailed the former ExxonMobil CEO turned U.S. statesman's plan, which included each side vowing to avoid "aggressive actions" that wouldn't be productive for anyone as well as a third point called "strategic stability" meant to bundle together problems the two superpowers face.
But the second tenet, aimed at cybersecurity and cyberespionage, seems particularly odd given not only the investigations surrounding President Donald Trump and his former campaign but also the conclusion reached by the U.S. intelligence community that Russia intentionally meddled in last year's election in order to ascend Trump's candidacy.
The report makes no mention of how Tillerson intends to go about executing any of the three points, and instead focuses on how his new plan may represent the new top diplomat taking the reins from Trump, and the State Department regaining some power after President Barack Obama and his administration were seen as micromanaging the relationship.
The plan was also characterized as a way for Tillerson to show how little wiggle room the U.S. has when it comes to dealing with Russia.
"Putin will deliver nothing on Syria or North Korea and this will allow Tillerson to show Trump he tried," defense expert and a member of Trump's transition team James Carafano told BuzzFeed. "It's not a reset because we are not giving away the farm at the front end to get nothing in return."
The plan's unveiling does come at a very difficult time for both countries. Russia warned the U.S. Monday that it could be hostile toward its aircraft after the U.S. shot down a Syrian warplane that was dropping bombs on U.S.-backed ground troops, further exacerbating the Syrian civil war and the rising tensions between a number of countries vying for position and power in the conflict-torn country.
Still, whether Tillerson is trying to tie the president to a strict plan on Russian relations or not, the idea of working with President Vladimir Putin's government on the global threat of cyber warfare could be labeled as curious given Russia's proven efforts in 2016.
In January, a report created by the FBI, CIA and the National Security Agency concluded Russia had intentionally hacked the U.S. presidential election in order to prop up Trump and "denigrate" Democratic candidate Hillary Clinton. The Russians were also focused on undermining "public faith" in the country's "democratic process."
Complicating the matter is Trump's consistent refusal to declare Russia had meddled in the election and reluctance to say anything negative about Putin or his government. However, the president has said better relations with Russia could be beneficial to the U.S. and its wars in the Middle East and fight against the Islamic State militant group (ISIS).
Such perceived eagerness to bolster ties with Russia blew up in Trump's face earlier this year after it was reported he had shared very sensitive intelligence about potential ISIS plans—which was later reported to originate from Middle East ally Israel—to Russia's foreign minister and boasting about the intelligence he receives every day.
But Tillerson's efforts, in both attempting to mend fences with the former Cold War foe and working on a major issue with it, could greatly help a U.S. cyber infrastructure that many top officials have called vulnerable. In October, then–CIA director John Brennan said the U.S faces an "unprecedented range of threats" in the cyberworld while speaking at a conference at Augusta University in Georgia, The Augusta Chronicle reported.
The government and the military aren't the only targets, so are businesses and private citizens.
Two months later, the Heritage Foundation released a report that detailed how cyber attacks like those built around ransomware and distributed denial of service attacks cost U.S. companies hundreds of millions of dollars, while certain malware could overtake as many as more than half a million devices around the globe.
Furthermore, the U.S. Energy Department reported in January that the country's electrical system was susceptible to cyber attacks and "faces imminent danger" that could put the economy and people's lives in danger should a major power outage result from a hack, according to Bloomberg.