Russia Says U.S. Soleimani Strike Will Damage Regional Stability, Impact Millions of People
Russia's Foreign Ministry has condemned the U.S. assassination of Islamic Revolutionary Guard Corps commander Qassem Soleimani, warning Thursday's strike would only escalate regional tensions and make life worse for millions of people.
Ministry spokesperson Maria Zakharova told the Rossiya 24 TV channel on Friday that U.S. conduct around recent tensions in Iraq—culminating with Thursday's drone strike—was the "height of cynicism," the state-backed Tass news agency reported.
The assassination came after a week of U.S.-Iranian conflict in Iraq. First, an Iranian-backed Iraqi militia killed one American civilian defense contractor and wounded several American soldiers in a rocket attack on an Iraqi military base in Kirkuk. The U.S. responded with airstrikes on fighters loyal to Kataib Hezbollah, a Shiite Iraqi militia linked to Tehran.
Kataib Hezbollah supporters and others then stormed the U.S. Embassy in Baghdad, breaking through the perimeter, vandalizing the premises and forcing the evacuation of U.S. personnel.
Soleimani's assassination came just days later, when a U.S. missile destroyed cars carrying the Iranian leader and Kataib Hezbollah commander Abu Mahdi al-Muhandis as they left Baghdad International Airport.
Zakharova told Rossiya 24 the U.S. has requested that the United Nations Security Council assess the attack on its Baghdad embassy, but that the request was only made after Soleimani was killed.
"It turns out that a missile strike was carried out first, an act that is out of sync with international law was committed," she said. "This is probably the height of cynicism," she added.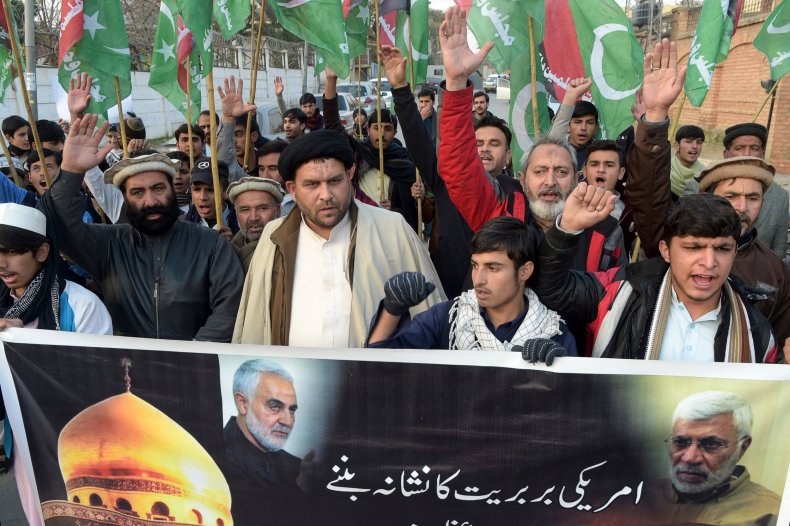 Zakharova argued that U.S. actions showed that President Donald Trump's administration "is not interested in the world's response," but rather is only "interested in changing the balance of power in the region."
The spokesperson also predicted that the U.S. attack—which has prompted furious vows of retaliation from the regime in Tehran—would "not result in anything but escalating tensions in the region, which will be sure to affect millions of people."
The Russian Foreign Ministry released a separate statement condemning the assassination and warning of possible subsequent fallout. "Washington's step is fraught with grave consequences for regional peace and stability," the ministry said.
"We are guided by the premise that such actions are not conducive to finding solutions to the complex problems that have piled up in the Middle East. On the contrary, they lead to a new round of escalation of tensions in the region."
Newsweek has contacted the State Department and White House by email for a response to the Russian statements.
Secretary of State Mike Pompeo claimed that the U.S. operation was defensive in nature, and said the Trump administration remains committed to de-escalation.
Trump tweeted Friday that Soleimani was "directly and indirectly responsible for the death of millions of people," adding, "He should have been taken out many years ago!"