The U.S. is trying to provoke North Korea into starting a war so that it can then strike back, according to a top Russian official. Russian Foreign Minister Sergei Lavrov said on Friday other nations in Asia should be wary of the U.S.' ambitious and motivations in the region.
"We are alarmed that in the last two months when North Korea conducted no tests or rocket launches, it seemed that Washington was not happy about that, and tried to do things that would irritate and provoke Pyongyang," Lavrov said. Referring to U.S. officials, he said: "It's as if they are hoping that they (the North Koreans) will lash out again, and then it would be possible to engage in military options."
Lavrov spoke during a joint press conference with his Japanese counterpart, Taro Kono, after the men met in Moscow to discuss relations between the world powers, Reuters reported. He questioned why the U.S. had passed new sanctions against North Korea and held military exercises in the region in recent weeks even though Pyongyang had not taken action against Washington during the same period. He suggested Japan has done little to discourage heated tension from the U.S. aimed at North Korea.
"We are expressing deep concern, with facts to back it up, that Japan along with South Korea is becoming a territory for the deployment of elements of the U.S. global missile defense system which is being rolled out in that region under the pretext of the North Korea threat," Lavrov said."We have no problems directly with Japan, we do not see risks there. We see risks because of the proliferation of a global U.S. missile defense system on the territory of countries that neighbor Russia, including Japan."
He added: "As you know, the U.S. leadership has said many times that all options are on the table, including military options, and we note that Japanese Prime Minister Shinzo Abe, at a meeting with President Trump in early November, said that he supports the American position 100 percent."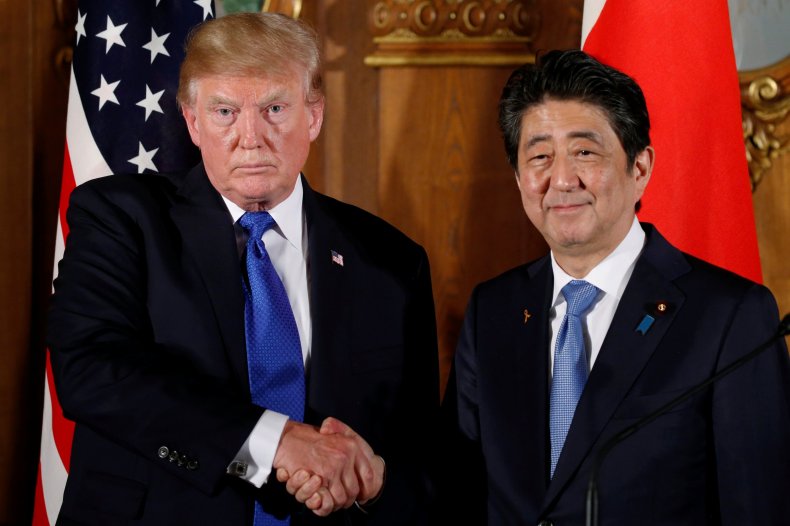 Kono responded that Japan had not called for North Korean leader Kim Jong Un to stop down, but added that Tokyo must protect itself after Pyongyang conducted a missile test in September that flew over Japanese territory. "This is unprecedented, the most important and most pressing threat not just to Japan and Russia but to the international community as a whole. It's absolutely unacceptable," Kono said, speaking through an interpreter. "We believe it's necessary to use all possible means and to increase the pressure on North Korea as much as possible to stop its nuclear program and the rocket launches."
Japan and Russia have long had strained relations. The two nations never formally made up after World War II, when the Soviet Union sided with the allies against Tokyo and took control over a group of islands in the Pacific from Japan. Neither Kono or Lavrov mentioned the islands during the press conference.
At one point, Kono described the U.S. as a friend in the battle to temper North Korea's nuclear ambitions. "Japan welcomes the position of the United States, which is that to protect Japan and South Korea, all means of deterrence will be used," he said.
After President Donald Trump declared North Korea a state sponsors of terrorism last week, both South Korea and Japan applauded the decision. "I welcome and support (the designation) as it raises the pressure on North Korea," Japanese Prime Minister Shinzo Abe told reporters.