Russia Using Powerful Laser Weapons Against Ukraine
Russia says it has begun using a new generation of laser weapons in Ukraine, aimed at burning up drones.
The announcement was made by ​​Yury Borisov, the deputy prime minister, during a live broadcast on Channel One on Wednesday. According to Russian state-owned news agency TASS, Borisov said that a first prototype of a new generation of laser weapons, called "Zadira," is being used in Ukraine.
"They [laser weapon systems] have begun arriving [for the army]. The first types are already being employed [in Russia's special military operation]," Borisov said, as quoted by TASS. He did not specify where the new weapons are being used or if they've already hit any Ukrainian target.
Little is known about the "Zadira." According to Borisov, it can destroy a target up to 3.1 miles away and "burn through a target by its thermal impact."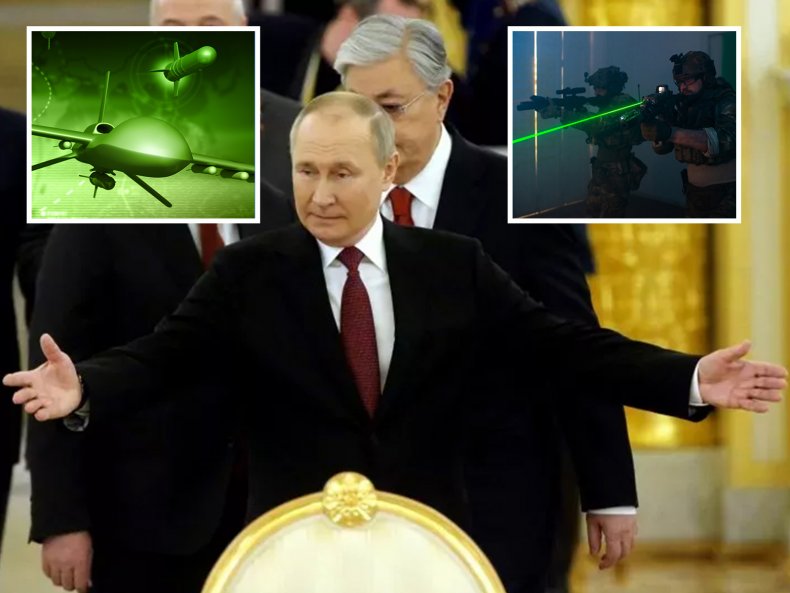 The deputy prime minister said that the new weapon is more powerful than the Peresvet laser system unveiled by Russian President Vladimir Putin in 2018, which is able to blind satellites up to 930 miles above the Earth's surface.
"If Peresvet blinds, then the new generation of laser weapons lead to the physical destruction of the target—thermal destruction, they burn up," the deputy prime minister told Channel One.
This new generation of weapons will allow Russia to save on "costly missiles of the Pantsyr and Tor types," Borisov said.
The "Zadira" is assumed to be part of a new generation of laser weapons unveiled in 2018 but cloaked in relative secrecy by Moscow. Testing them on the ground in Ukraine could help Russian troops counteract the supplies of military weapons Kyiv has received from Western countries, including the U.S.
Ukrainian President Volodymyr Zelensky mocked the news of a new Russian secret laser weapon, comparing Moscow's announcement to the so-called wonder weapons revealed by Germany during World War II as Nazi forces battled to prevent defeat.
"The clearer it became that they had no chance in the war, the more propaganda there was about an amazing weapon that would be so powerful as to ensure a turning point," Zelensky said in his latest nighttime video address.
"And so we see that in the third month of a full-scale war, Russia is trying to find its 'wonder weapon'…this all clearly shows the complete failure of the mission."
Newsweek has reached out to the Russian Ministry of Defense for comment.