Russia's Vladimir Putin Is Building an Anti-America Global Order With Venezuela, Experts Claim
Russian President Vladimir Putin is defending Venezuelan strongman Nicolás Maduro in order to further his aim of building a new global order that excludes the United States, according to a new policy paper released on Wednesday that unravels the complex relationship between Russia and Venezuela.
"Russian engagement with the Bolivarian Republic demonstrates Vladimir Putin's global ambitions to recruit geographically distant nations as partners in constructing a new multipolar, anti-U.S. world order," reads the paper by Vladimir Rouvinski, a scholar at the Wilson Center. "The Russian government has learned to bolster domestic support for Putin at home by taking advantage of situations unfolding in the Russian 'far abroad' as elements of a political spectacle portraying Russia's return as a global power."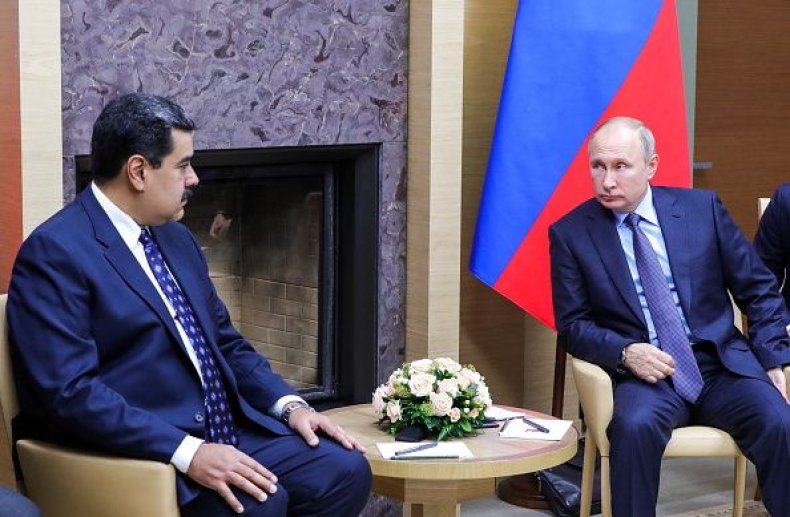 Since coming to power in the early 2000s, Putin has sought to re-establish Russia's role as a global superpower and has railed against the dominant role the U.S. plays in shaping global events. Efforts to keep Russia's neighbors from joining Western alliances and to ensure that Moscow has a say in major global events has led to the ongoing war in Ukraine and Russian efforts to prop up Syria President Bashar al-Assad, among the most recent examples.
Meanwhile, in South America, Putin formed alliances with leftist leaders who were challenging the U.S. influence in their own countries. This created an especially strong bond between Putin and Maduro's predecessor, Hugo Chávez. The relationship also created a new inroad for Russia in Latin America.
"Chávez quickly understood and capitalized on what Russia needed most of all from Latin America: acknowledgment of the idea that Russia was back in the international arena as a great power," the paper reads. "The initial interactions between Putin's Russia and Chávez's Venezuela proved mutually beneficial in terms of political symbolism inside each country. For Vladimir Putin, the foray demonstrated Russia's return to its rightful prominent role on the international arena, and succeeded in increasing his own public support inside Russia."
Chavez died of cancer in 2013 and left Maduro, his vice president, in his place. But years of economic mismanagement, including a lack of investment in infrastructure, combined with a drop in oil prices, the country's main export, caused the economy to crash. Crippling food and medicine shortages became commonplace. Instead of making reforms, Maduro doubled down, attacking the political opposition and putting strict controls on the population. Protests were held regularly, and the crime rate rose precipitously.
Now, facing a challenge to his leadership, Maduro has turned to Russia for support. Russia's leadership has spoken out against Juan Guaidó, the leader of Venezuela's National Assembly who has been named interim president because Maduro's rule is no longer deemed legitimate. Some reports also suggest that Russia sent military mercenaries to protect Maduro and ensure that he maintains his grip on power.
Meanwhile, the U.S., Canada, and most countries in the European Union have recognized Guaidó's leadership and called for immediate elections in Venezuela.