Russian Election: Is Putin's Challenger a Kremlin Stooge or a Real Threat?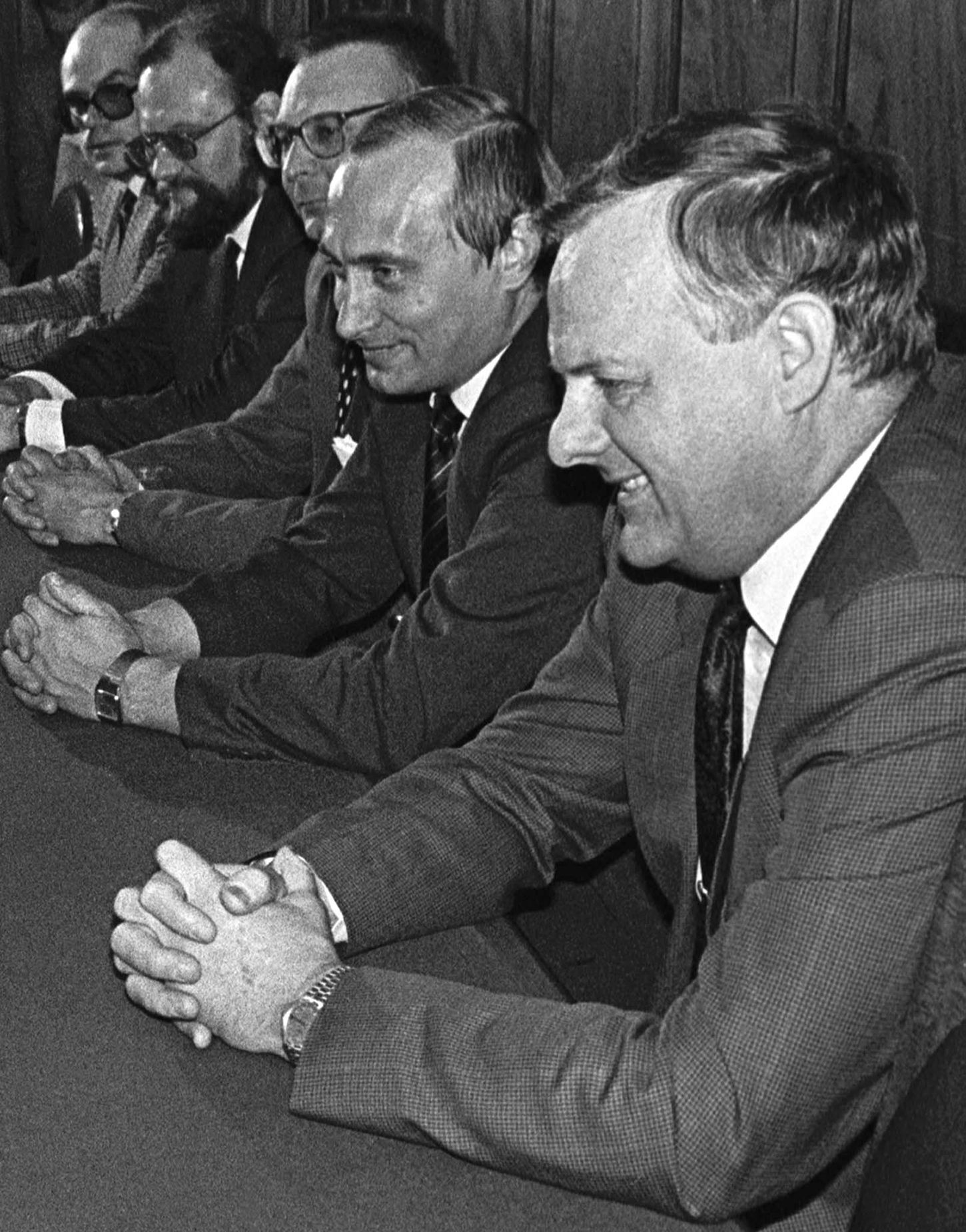 Ksenia Sobchak's Instagram isn't your usual presidential candidate's social media feed. Snapshots of five-star hotel breakfasts, selfies of Sobchak hanging out in a helicopter and fashion shots of the blond socialite posing in a diaphanous sequined dress don't exactly suggest a person ready to wrest power from Russian President Vladimir Putin. Yet in late October, the 35-year-old former reality-TV presenter and Playboy cover girl declared she would stand against Putin in next year's elections as the candidate of not only Russia's liberal, Western-leaning intelligentsia but also, as Sobchak puts it in a campaign video, "everyone who is fed up with the thieving and abuse of power."
Sobchak's campaign is more than just political—it's personal. Her late father, Anatoly Sobchak, was mayor of St. Petersburg in the early 1990s, and one of his deputies was an unknown former KGB lieutenant-colonel named Vladimir Putin. Sobchak senior's administration was a beacon of Western-style reform—and Putin was the behind-the-scenes fixer for Russia's most liberal city government. "There's no question that [Putin] betrayed her father's legacy," says a close friend of Ksenia Sobchak. "Her political career is, for her, a way of honoring his memory."
Sobchak has known Putin and his family since her early childhood. Though the persistent rumor that Putin was her godfather isn't true, she is one of the few people in Russian politics to have known Putin since he was a near-nobody. As recently as September, Sobchak was able to meet Putin, interviewing him for a television program she is making about her father. After the cameras stopped rolling, she spoke to Putin about her planned presidential run—not to ask permission, by her own account, but because she "thought it was the right thing to tell him to his face that I plan to stand against him."
Many Russian liberals accuse Sobchak of being a stooge—a token, tame candidate playing the Kremlin's game. The real leader of Russia's liberal opposition, anti-corruption firebrand Alexei Navalny, has been blocked from running, ostensibly because of a string of convictions for organizing unsanctioned protests. In reality, the Kremlin judged Navalny too dangerous a candidate "not because he would win but because of what he would say if given airtime" on state-controlled TV, says Mark Galeotti, a senior researcher at the Institute of International Relations in Prague. "You have to remember that many of [Putin's administration] remember glasnost all too well—they saw what happened when the Communist Party allowed the opposition the freedom to kick away foundations of the regime."
Sobchak, by that logic, is a safer candidate. "The Kremlin is trying to find safer ways to sex up the [presidential] campaign—and Sobchak is ideal," says Galeotti. "She's dabbled enough in opposition politics. But I can't see her...ripping into corruption, naming names, discussing crooked deals. Whether there's an explicit deal or not, she is a product of the elite. She understands the rules of the game and is able to stay just on the right side of the line."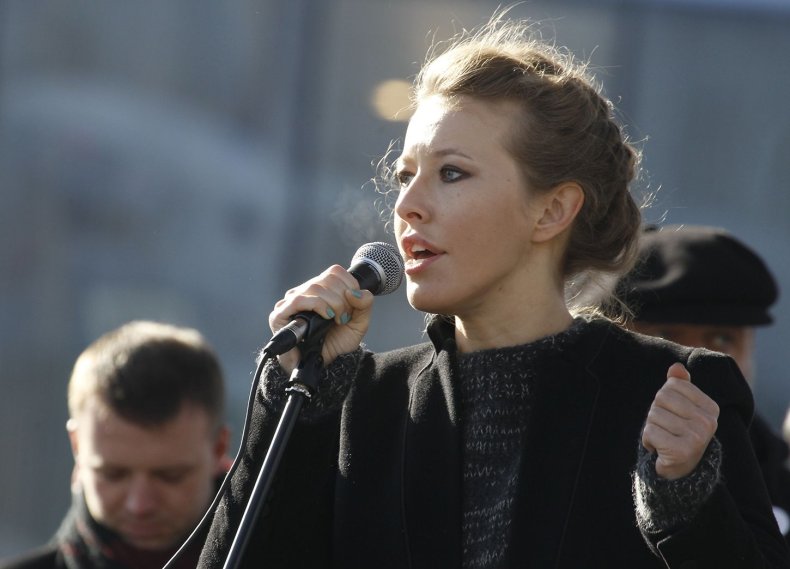 Nonetheless, Sobchak has had her run-ins with the authorities. She was a prominent leader of the wave of protests that followed Putin's return to the presidency in 2012—masked police raided her apartment, and investigators threatened her with tax evasion charges. Putin "is someone who divides people into 'with us' and 'against us,'" Sobchak told Newsweek at the time. "I respect him as a person. He has done a lot for Russia…. But he probably believes that I am no longer 'with him,' and I am feeling the consequences of that now."
The charge that Sobchak is in some way still "with" Putin has been encouraged by the Kremlin, with Putin spokesman Dmitry Peskov describing her as a "talented person" who "fulfilled all criteria" to run for president. Sobchak calls the praise a spoiling tactic. "The authorities have decided to suffocate me with affection," Sobchak recently told The Guardian. "It's a very clever tactic. They're doing everything to make it look like we're together."
Her campaign videos give no indication she will be soft on Putin. Sobchak slams Russia's "collapsing education and health care systems" and "monstrous corruption and propaganda" in a carefully produced video filmed in her designer kitchen. "People in power continue to steal. Priests and police tell us what to read and think," she says. "If we don't do something, we will be arrested for our views...and our children will grow up dreaming of leaving the country."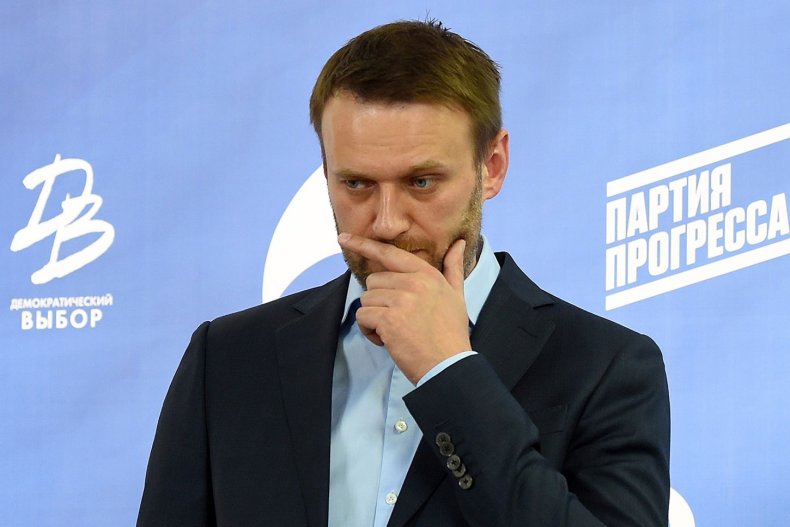 Sobchak's trump card is her fame, after years of presenting reality TV shows—including the Big Brother clone Dom-2—and her status as a staple of gossip magazines. Polls say she enjoys a 95 percent name-recognition rating, says Sobchak adviser Anton Krasovsky, a former campaign manager for billionaire Mikhail Prokhorov, whose 2012 presidential campaign was widely seen as Kremlin-sanctioned. "Nobody apart from Putin himself has that kind of recognition. She is like Donald Trump—she spent her whole life becoming a public figure." By comparison, Navalny has "officially 5 percent name recognition, which is probably in reality closer to 15 percent," according to Krasovsky.
Navalny has a spiky relationship with Sobchak. When she recently interviewed him for the internet-based opposition TV channel TV Rain, he coldly squashed her for mixing up a name. Navalny has yet to endorse her candidacy and is still running his own campaign. Even without his backing, Sobchak may prove to be a more difficult candidate than Putin bargained for. "Sobchak breaks the fourth wall—she can address voters directly and expose the stitch-up that is Russian politics," says Galeotti. "She could be more corrosive than the Kremlin expects."