Russia's Vladimir Putin Wishes Trump a Happy Fourth of July Ahead of Major Meeting
Russian President Vladimir Putin has wished President Donald Trump a happy Independence Day ahead of their upcoming meeting in the Finnish capital of Helsinki.
Answering a journalist's question, Russian presidential spokesperson Dmitry Peskov told reporters that "Putin has sent a greeting telegram to Trump," according to the state-run Tass Russian News Agency. He did not elaborate on the contents of the message.
The two leaders were scheduled to meet on July 16 for only the third time and in the first official U.S.-Russia summit since President Donald Trump was sworn into office in January of last year. The meeting comes at a time of severely strained relations between Washington and Moscow.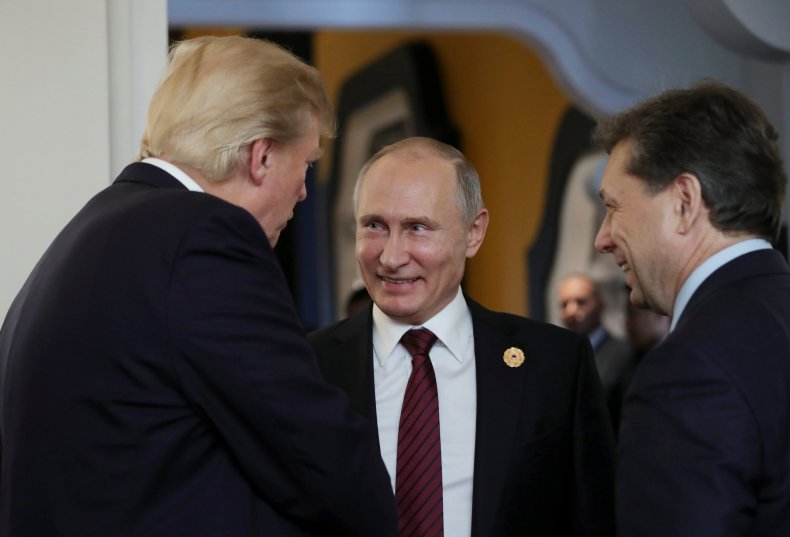 As Trump ascended to the highest office in the U.S., he frequently praised Putin and pledged a reset in U.S.-Russia ties, which had fallen out under the administration of President Barack Obama. Persistent U.S. accusations that Trump and his campaign colluded with Russia in an attempt to influence the 2016 presidential elections and differing views over global affairs, such as conflicts in Syria and Ukraine, have divided the two leaders, however.
Trump and Putin met first during the G20 summit in Hamburg, Germany last July and again at the Asia-Pacific Economic Cooperation in Danang, Vietnam in November. The upcoming and first one-on-one summit between the two leaders is expected revolve around major issues such as Trump's exit from the Iran deal, the warming in relations between the U.S. and nuclear-armed North Korea, growing U.S. sanctions against Russia and the seven-year war in Syria, where the U.S. and Russia are backing rival military campaigns.
Related: North Korea Celebrates Fourth of July 2018 with Peace, Last Year It Launched ICBM 'Gift' for 'American Bastards'
On Thursday, a CNN report suggested that Trump told Jordan's King Abdullah II during their meeting last week that he would use the Helsinki summit to seek a way out of Syria "ASAP." Other reports suggested that Trump seek Putin's help to completely kick Iran out of the war-torn country. Russia and Iran are both allies of Syrian President Bashar al-Assad, who the U.S. attempted to oust through CIA support for insurgents. His government has since reemerged as the most powerful faction in the conflict, mostly defeating the rebel and jihadis who rose up after a 2011 rebellion.
High-level contacts between the U.S. and Russia have gradually picked up ahead of the summit. The heads of both countries' armed forces met and National Security Adviser John Bolton visited Putin last week in Moscow. A delegation of Republican lawmakers also arrived Tuesday in Moscow in hopes of improving relations between the world's leading military powers.
Trump released on Wednesday his own Fourth of July address as a video message in which he especially praised the country's founding fathers and members of the military. In March, Trump reportedly defied his advisers' recommendations by congratulating Putin on his re-election.