Russia Vows Response to America's 'Idiotic' Actions Over Ukraine
Russia has warned that it will retaliate over the U.S. "idiotic" measures against Moscow, such as seizing Russian assets and considering listing the country as a state sponsoring terrorism.
Director of the Information and Press Department of Russia's Foreign Ministry Maria Zakharova was talking on the Solovyov LIVE program on Thursday when, according to Russian newspaper Izvestia, she said that the unfriendly actions of the U.S. and Britain against Russia would not go "unanswered."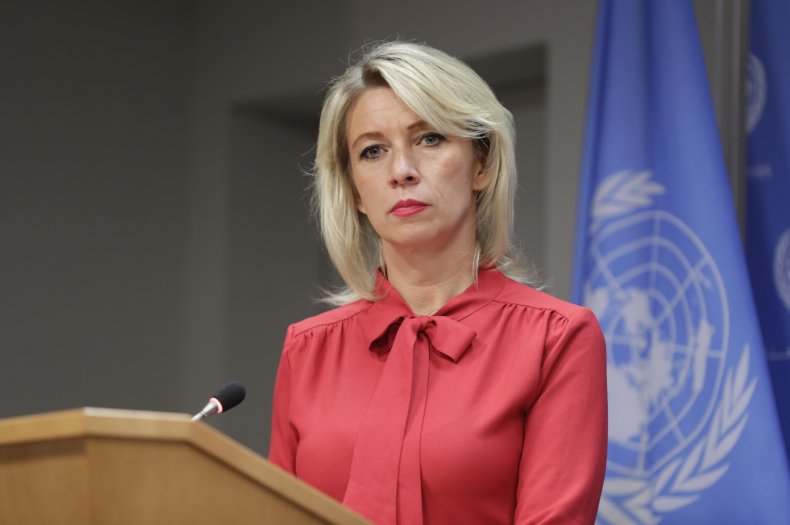 "All the measures that they will take, even of such an idiotic nature, they will be developed and continued," Zakharova was quoted as saying by Izvestia.
"We, of course, as you know, do not leave anything unanswered, and they must understand this," she added.
Zakharova did not specify the nature of the actions Russia might take in retaliation against the U.S., while previous warnings against Britain have been more specific.
The Kremlin has recently warned Britain that its support for Ukraine striking Russian targets would be met with an immediate "proportional response" from Moscow.
"We would like to underline that London's direct provocation of the Kyiv regime into such actions, if such actions are carried out, will immediately lead to our proportional response," Russia's Defense Ministry said in response to a statement by U.K. armed forces minister James Heappey, as reported by Reuters.
Last week, media reported that Ukrainian President Volodymyr Zelensky asked President Joe Biden to consider listing Russia as a state supporting terrorism during a phone call between the two leaders.
According to The Washington Post, Biden didn't commit to take such action, although he did not refuse it either. Since then, the Biden administration has said it is looking into the legal basis of taking such action against Russia.
But the Biden administration has also stressed that many of the sanctions that would be triggered by listing Russia as a state supporting terrorism have already been imposed on Moscow, including arms embargoes, trade restrictions and the suspension of foreign aid.
The only countries on the list of such states in the U.S. are currently North Korea, Cuba, Syria and Iran.
Newsweek has contacted Russia's Ministry of Defense, the U.S. Department of Defense, the U.K.s Ministry of Defence and Ukraine's Ministry of Defense for comment.
Update 4/27/22, 6:27 a.m. EDT: This article has been updated to include comment from Russia's Defense Ministry and details on the possibility of Russia being listed as a state supporting terrorism.