Russia vs. Ukraine Conflict: Kiev's Pro-Western President Slaps New Sanctions on Hundreds of Russians Ahead of Elections
Ukraine hit hundreds of Russian citizens and entities with new sanctions on Wednesday in connection with their role in the ongoing conflict in eastern Ukraine and the annexation of the Crimean Peninsula.
Ukraine's President Petro Poroshenko, who has taken an especially tough line with Russia ahead of the March 31 elections, issued the sanctions against 848 people and 294 entities. Many of the sanctioned individuals had played a role in either the 2014 annexation of Crimea or the seizure of three Ukrainian navy vessels and their crew last November.
Experts note that these new sanctions will not have the wide-ranging impact that U.S. or European Union sanctions have on Russia's economy.
"These sanctions reflect an attempt by Ukraine to respond to Moscow's ongoing aggression and especially the escalation at Kerch [Strait]," John Herbst, former U.S. ambassador to Ukraine, told Newsweek. "They will have some impact, but, with rare exceptions, Ukrainian sanctions cannot produce the effect of U.S. or E.U. sanctions."
Russia and Ukraine have been engaged in a sustained conflict since 2014, when a pro-Western social movement ousted a pro-Russian president from power. Now, with elections around the corner, Ukraine's relationship with its larger neighbor is on the minds of both candidates and voters.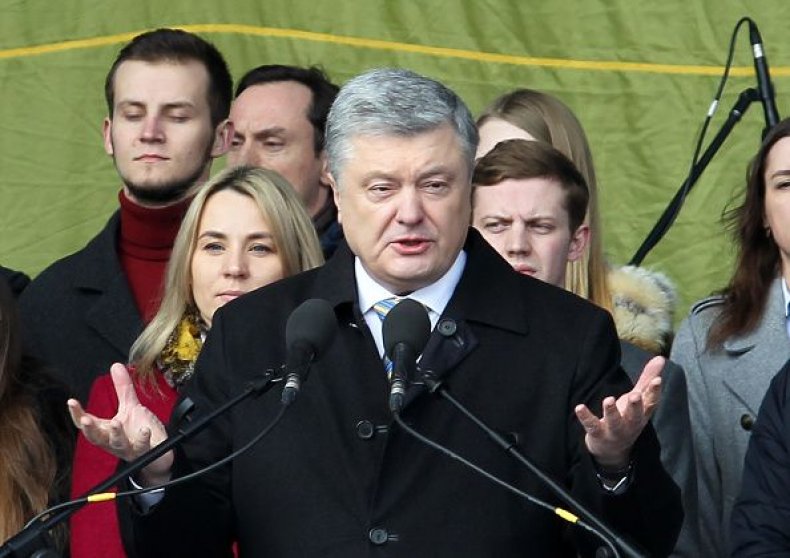 Poroshenko in particular has expressed a desire to move Ukraine closer to both the European Union and the North Atlantic Treaty Organization, and has said he would push for membership in both alliances were he re-elected. NATO's Secretary General Jen Stoltenberg has not ruled out the possibility, despite the fact that Ukraine is locked in an ongoing conflict with its neighbor.
"Since Russia's illegal and illegitimate annexation of Crimea in 2014, NATO has stepped up political and practical support to Ukraine. This commitment was reconfirmed at the Brussels Summit in July 2018, where NATO leaders met with President Petro Poroshenko of Ukraine, together with President Giorgi Margvelashvili of Georgia," Stoltenberg wrote in a report released earlier in March. He continued to say that NATO allies stand by the declaration made during NATO's 2008 Bucharest Summit, which noted that the military alliance would "welcome Ukraine's and Georgia's Euro-Atlantic aspirations for membership."
Nevertheless, Poroshenko is lagging behind in the polls after Volodymyr Zelensky, an actor and comedian.
"The top three candidates based on Ukrainian public opinion poll surveys are Volodymyr Zelensky, incumbent Petro Poroshenko and Yulia Tymoshenko. One candidate must win at least 50 percent of the popular vote in the first round to become president," Helen Becker, an intelligence analyst focusing on Europe and Russia, told Newsweek. "That scenario is unlikely since there are 39 candidates confirmed in the running for President. A run-off election, slated to take place April 24, between the top two candidates from the first round of voting is highly likely."
Ukraine's security services have already accused Russia of interfering in the election by paying people bribes to support specific candidates.