Russia vs. Ukraine War: Vladimir Putin Ally Wants to Create Autonomous Zone in Occupied Donbas Region
A close ally of Russian President Vladimir Putin has presented a new peace plan for Ukraine, but experts say the move is a cynical attempt to weaken the Ukrainian government's staunch defense of its country's territorial integrity.
On Wednesday, Viktor Medvedchuk, political council chairman for the Ukrainian party Opposition Platform-For Life, announced that Ukraine's constitution should be amended to transform the contested region of eastern Ukraine, known as the Donbas, into an "autonomous region." The plan would see the Donbas forms its own parliament within Ukraine, according to local media reports.
Medvedchuk argued that his party is the only one offering a viable peace plan to end the war in Ukraine, which has been ongoing ever since a pro-Western social movement ousted the pro-Russian President Viktor Yanukovych in 2014. Pro-Russian separatists in the Donbas have been fighting Ukraine's troops in the years since, leading to an estimated 10,000 deaths.
Experts, however, note that Medvedchuk's plan is unlikely to be accepted by any of the warring parties, and that the proposal is a way for the Kremlin to muddy the waters in Ukraine.
"Medvedchuk is a pal of President Putin. There's an important personal relationship in the Slavic Orthodox world, and that is the role of godfather. Putin is the godfather of one of Medvedchuk's children. That's a significant cultural fact demonstrating how close they are," Ambassador John Herbst, who was the U.S. ambassador to Ukraine from 2003 to 2006, told Newsweek.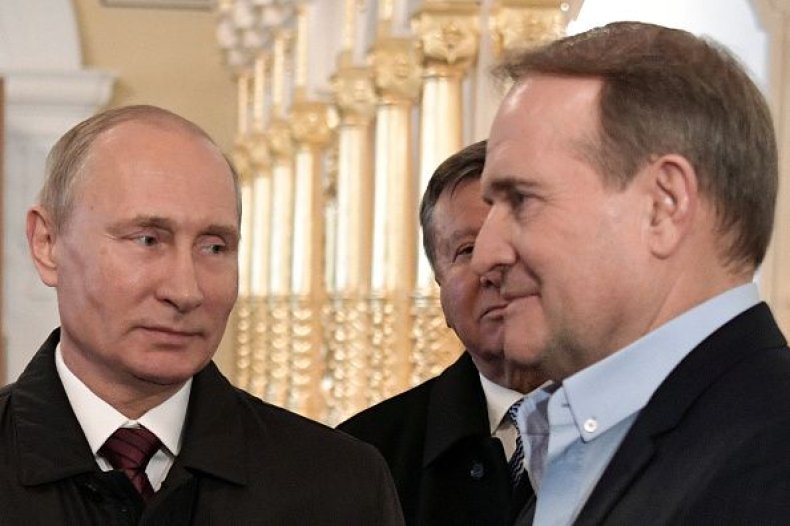 "I assume this peace plan is something that the Kremlin likes, but just because they like it doesn't mean they will agree to it," Herbst continued. "It's useful to the Kremlin if this gets some support because it weakens the position of [Ukrainian President Petro] Poroshenko. It's a tactic to weaken Ukraine's position, not the basis of a peace."
Aside from his close relationship with Putin, experts note that Medvedchuk has come into contact with members of the Trump campaign. He allegedly called President Donald Trump's embattled former campaign manager Paul Manafort "the best, both among foreign and domestic political consultants."
"He stated that he met Manafort in 2014 and alleges that he hasn't talked to him since then. It is highly likely the two met around 2004 when Manafort went to Ukraine to work with the Yanukovych campaign on the suggestion of Oleg Deripaska, who recently had sanctions removed from his companies," Olga Lautman, an investigative reporter tracking Trump's ties to Russia, told Newsweek.
"Medvedchuk is also known to have ties to Dmitry Firtash, who is currently in Austria fighting extradition to the U.S. Just last week Medvedchuk flew to Austria with many speculating that it was to meet with Firtash," Lautman added.
Medvedchuk's contacts with the Trump campaign have been the subject of scrutiny by the investigation into Russia's interference in the 2016 presidential election, Reuters has reported.
Members of the Trump campaign, including Manafort and Trump's former lawyer Michael Cohen, reportedly attempted to present their own peace plan for Ukraine in 2017 that would have allowed the U.S. to lift sanctions on Russia. In that case, the plan was being pushed by a Ukrainian lawyer named Andrii Artemenko who, like Medvedchuk, had ties to Manafort's clients in Ukraine.
Earlier this month, special counsel Robert Mueller's team filed court documents that alleged Manafort had discussed a separate peace plan for Ukraine with a suspected member of the Russian military intelligence named Konstantin Kilimnik while he was working as Trump's campaign chairman.