Russia Wants to Broker an Iran-Saudi Deal and Biden Doesn't Seem to Mind
Russia is relaunching a plan to bring Iran and Saudi Arabia together under a pan-Persian Gulf security agreement. President Joe Biden's administration, at odds with the Kremlin on various fronts, doesn't appear opposed to the proposal.
Moscow's approach is rooted in an initiative called the Collective Security Concept for the Persian Gulf Region, a project first floated in the 1990s and periodically reintroduced with amendments. The first two came in 2004 and 2007, and the last in 2019, a time of soaring regional tensions during then-President Donald Trump's "maximum pressure" doctrine against Iran.
But as Biden seeks to deescalate from his predecessor's brinksmanship, Russia has identified a new opportunity to advance its proposal based on common ground it sees with the United States, its traditional rival.
Vitaly Naumkin, a veteran scholar who co-authored the Russian plan and currently serves as president of the 200-year-old Institute of Oriental Studies at the Russian Academy of Sciences, described that common ground.
"We have one common threat, the threat of war," he told Newsweek. "Neither the United States nor Russia is interested in having this war."
Reached for comment on the Collective Security Concept, a spokesperson for the State Department would not rule out cooperation with the Russian proposal if it proved in line with U.S. interests.
"We remain prepared to cooperate with Russia in areas in which the two sides have common interests while opposing Russian policies that go against U.S. interests," the State Department spokesperson told Newsweek.
"We also will remain in close contact and in close consultation with our Gulf partners on issues related to U.S. national security, counterterrorism, defense cooperation, and regional security," the spokesperson added.
As part of the latest push to promote the Russian framework, Naumkin hosted a closed-door meeting of experts in Moscow last week, a two-day session that Newsweek attended alongside representatives from key regional stakeholders. The goal of the conference, he argued, was to launch a "step-by-step approach" toward "the process of building a new security regime in the Persian Gulf."
At its core, the Collective Security Concept seeks to establish a robust deconfliction mechanism among the Persian Gulf states via confidence-building measures such as a rejection of the use of force to solve disputes and respect for one another's internal affairs.
Beyond this, the outline leaves room to foster better ties to jointly tackle crime and terrorism, protect freedom of navigation and promote economic growth, and lists other cooperative pursuits on humanitarian, environmental and cultural endeavors.
Although deep-rooted differences remain among the prospective participants, particularly Iran and Saudi Arabia, the timing for the campaign appears ideal for several reasons.
Naumkin said countries in the region "are fed up with what's going on," and, at the same time, "they are all afraid of possible war." He argued that as a result, nations have reached a "sort of stalemate" through which a negotiated resolution is the only admissible answer.
Finally, he credits "the leadership of President Biden."
Russia's policy, Naumkin said, "more or less, is showing some continuity, we have our president for 20 years," and he said Biden is now showing promising signs of developing a balanced regional approach.
But relations between Washington and Moscow remain in a rough spot, as Naumkin noted. The two Cold War-era foes have squabbled throughout the past nine months of the Biden administration over hotspot problems like Ukraine's restive eastern border, a growing list of Western sanctions on Moscow, and cybersecurity issues that have increasingly affected the U.S. homeland.
But the Middle East remains an area where the powers may be more likely to see eye-to-eye, especially when it comes to securing long-term stability.
The State Department spokesperson also noted encouraging trends in the region in recent consultations by U.S. special envoy for Iran Robert Malley and the political directors of France, Germany and the United Kingdom, who met with representatives of the six-member Gulf Cooperation Council that includes Bahrain, Kuwait, Oman, Qatar, Saudi Arabia and the United Arab Emirates, as well as fellow regional states Egypt and Jordan.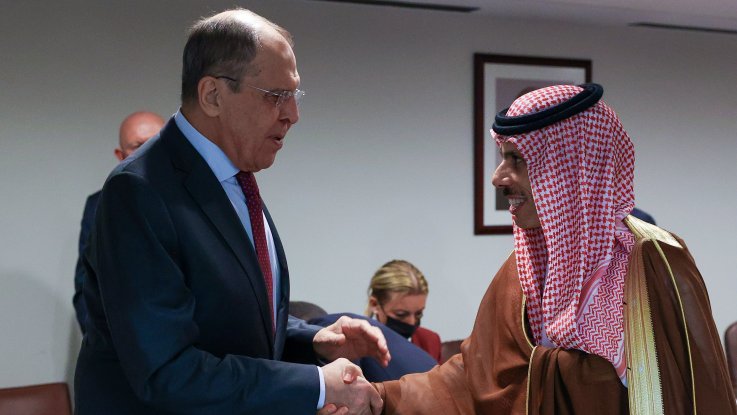 Russian Foreign Minister Sergey Lavrov shakes hands with his Saudi counterpart Faisal bin Farhan Al Saud during a September 23 meeting on the sidelines of the United Nations General Assembly in New York. Russia's tactful diplomacy has allowed it to cultivate ties across the many rivalries of the Middle East.
Russian Ministry of Foreign Affairs
The Western parties "welcomed our regional partners' efforts to deescalate tensions and promote dialogue in the region," and at the same time "affirmed their determination to continue to address broader security concerns of the region," especially as they relate to Tehran, according to a State Department readout published last week.
"They discussed Iran destabilizing activities in the region, including the use and transfer of ballistic missiles and UAVs that have led to attacks against regional partners," the statement said. "They reiterated their concern for and condemnation of such destabilizing activities."
In addition to asserting mutual support for the nuclear deal abandoned by Biden's predecessor in a move that severely escalated regional tensions, participants felt that "enhanced regional dialogue" would "benefit the entire Middle East, allow for more regional partnerships and economic exchange, with long-lasting implications for growth and the well-being of all people there, including in Iran."
On this point, the Biden administration has not only avoided disrupting nascent Iran-Saudi diplomatic efforts that have quietly taken in Iraq, but has actually encouraged them.
In a stark reversal of the strategy pursued by his predecessor, Brian Hook, Malley told a gathering during the Manama Dialogue held over the weekend in Bahrain by the International Institute for Strategic Studies that "most of the region's dysfunctions have root in Iran's exclusion."
Weeks earlier, he told the Carnegie Endowment for International Peace that "engagement among countries in the region, engagement with Iran, de-escalation, those are all things that we would encourage and we think that it's good for stability in the region."
And while he did "not want to overstate what's been achieved" between Tehran and Riyadh over the course of an estimated four rounds of contacts, Malley said that "the fact that they're talking, the fact that the Emirates and Iran have not just been talking but dealing with one another, those are things that we not only welcome, we think that's a good thing if it could be accompanied by a de-escalation, of course."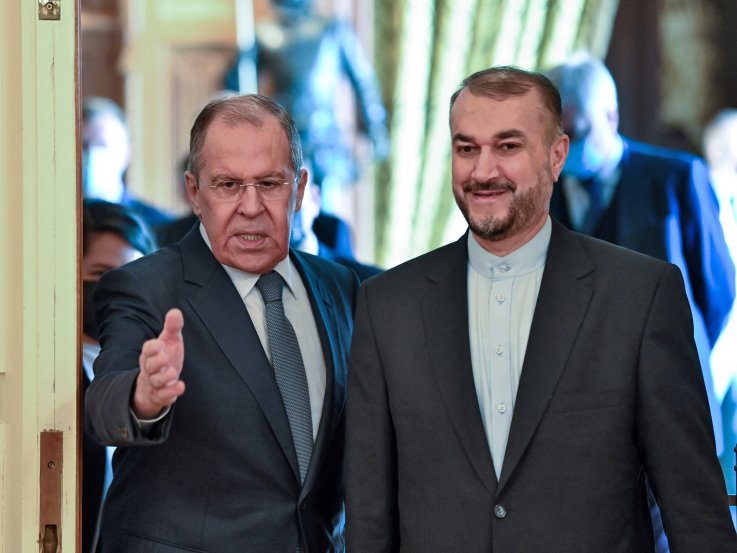 Russian Foreign Minister Sergey Lavrov welcomes his Iranian counterpart Hossein Amir-Abdollahian prior to their meeting in Moscow on October 6. Moscow and Tehran have stated their intention to bolster cooperation as part of a strategic cooperation agreement, even as Russian officials simultaneously boost relations with Iran's Arab rivals.
KIRILL KUDRYAVTSEV/Pool/AFP/Getty Images
Relations between Iran and Saudi Arabia have been strained for decades, and both have accused one another of attempting to export harmful ideologies and interfere in the other's affairs.
The two have backed opposing forces throughout the Middle East, most seriously in war-torn Yemen, and relations finally collapsed in 2016 after the storming of Riyadh's embassy in Tehran after the execution of a high-profile Shiite Muslim cleric in the kingdom.
Tensions increased under Trump's presidency as the former U.S. leader sought to align the region against Iran, but a more conciliatory atmosphere has prevailed since Biden took office in January. Iran's own elections yielded a win for President Ebrahim Raisi, who, despite his close ties to hardliners, has set out to strengthen regional relations as a foreign policy priority, a direction met with a positive yet measured response in Saudi Arabia.
Last week, during an interview with France 24, Saudi Foreign Minister Prince Faisal bin Farhan Al Saud described the four sessions with Iranian officials thus far as "exploratory in nature."
"They have been cordial, but not substantive," Prince Faisal said. "We are committed to a substantive discussion with Iran on addressing the concerns that we and other countries in the region have. That would allow us to come to a normal relationship with our neighbors in Iran. We think an alignment of interests is possible, but that would require [we] address the concerns that we all have."
"So far, we have not reached any substantive conclusions in these talks, but we have made enough progress that will allow us to move forward," he added.
As Malley suggested, Iran-UAE ties appear to be progressing even quicker. Iranian Deputy Foreign Ali Bagheri held what he called "a cordial meeting" in Dubai with senior officials such as Anwar Gargash, who serves as senior adviser to UAE President Khalifa bin Zayed Al Nahyan, and UAE Minister of State Khalifa Shaheen Al Marar. The two sides "agreed to open a new page in Iran-UAE relations," according to Bagheri.
But while the outlook of the U.S. and its regional partners has still sought, at its core, to rein in Iran, Naumkin said the Collective Security Concept seeks to hold all actors on equal ground without singling any players out.
"We're trying to work with all sides, so, 'Please guys, come together,' and so it's a softer approach," Naumkin said. "And you can see if you follow all the lines of Russia's initiative, it's based on the absence of any pressure on any side. We're avoiding blaming Iran, that Iran has good or a bad regional behavior, sort of intervening in the internal affairs in the states of the region and so on and so forth."
"We prefer a softer approach, and we prefer not to pressure anyone, but [instead] try to build trust and to make reciprocity in these smaller things, step by step," he added.
Naumkin emphasized Russia is not trying to replace, nor could it, the U.S. as the security guarantor for the region through its diplomatic overtures. Even as Washington looks further east toward challenges in East Asia as a priority, the outsized U.S. military presence in the Persian Gulf undoubtedly dominates.
Where Moscow does have the upper hand is in its good ties with nearly all actors across the Persian Gulf and its periphery. Naumkin calls it Russia's "main advantage" that "we have good relations with all players without exclusion," including both Iran and Saudi Arabia, and extending further to Turkey, Israel, Palestinians, Syrians, Lebanese, Iraqis, Kurds and others.
The U.S. reputation is more mixed, given its recent history of interventions and invasions and its close alignment with Israel. Washington has also recently seen strains among its own bloc as relations worsen with Istanbul. Turkey, the only other regional ally of the U.S.. was notably not invited to Biden's upcoming Summit for Democracy.
And Washington has a simmering feud with Riyadh over its continued limited oil production, which is fueling inflation in the West. Crown Prince Mohammed bin Salman, the de factor ruler of Saudi Arabia, is still awaiting his first call from President Joe Biden.
With regional dynamics and Washington's own strategy in flux, Naumkin hopes Biden delivers on his reset of past approaches and can work with Moscow to pursue a potential avenue for regional reconciliation.
"Now what is happening is that Mr. Biden is rejecting this regime-change strategy, and that's very good, it's well appreciated by Russia," Naumkin said. "And I think that under this slogan, whatever the state of relationships are, we can move forward."