Russia Wants Trump to Think of These Ordinary North Koreans Before Starting a Nuclear War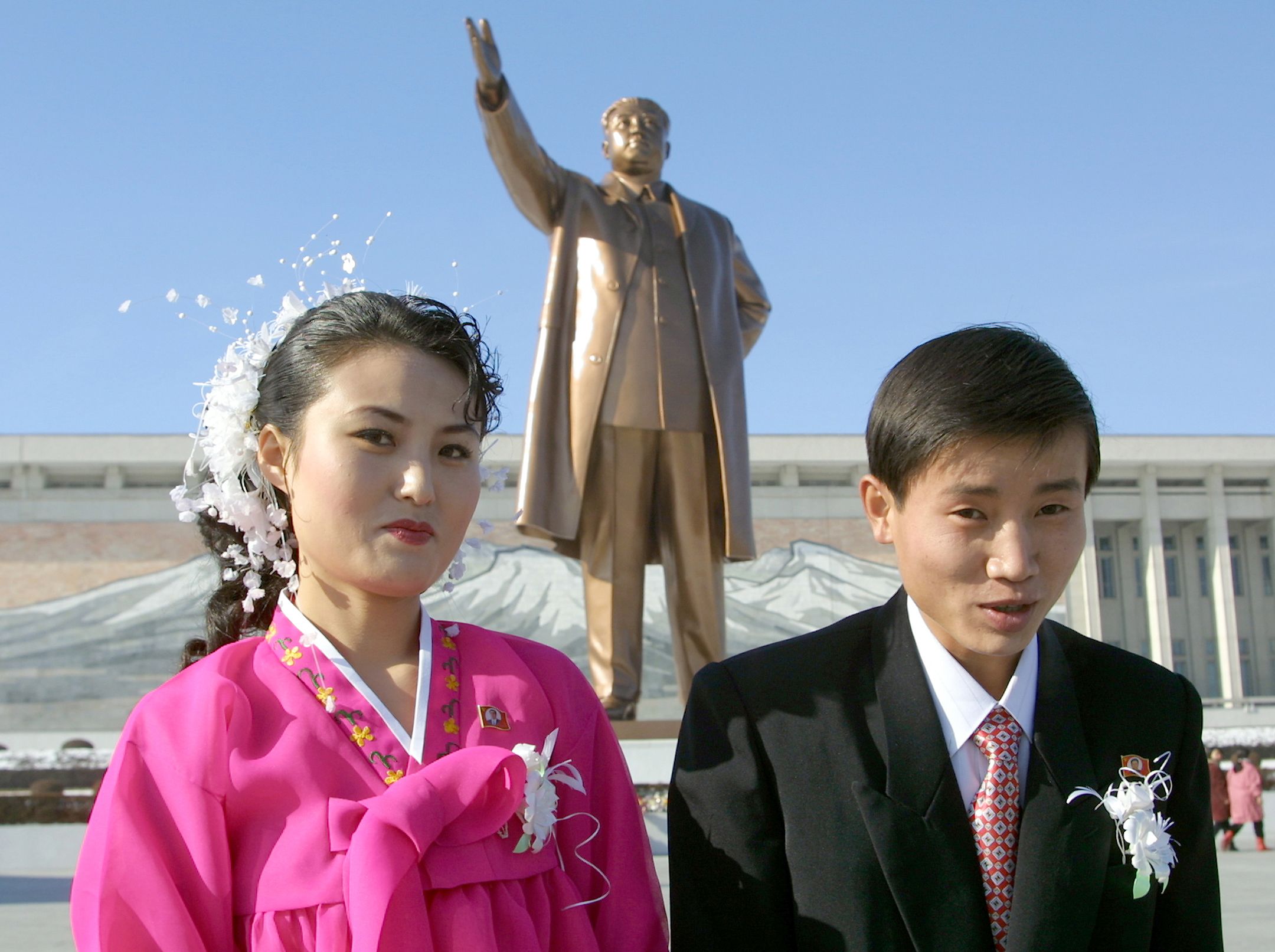 The Russian Embassy in North Korea often posts pictures of life in Pyongyang on its social media channels. But what looked like just another photo album of life in the country ruled by Kim Jong Un turned out to have a much more political message.
The 23 photos uploaded Wednesday on the Facebook page of the Russian Embassy in the Democratic People's Republic of Korea purportedly illustrated a post on North Korean wedding traditions.
But a postscript clarified that the embassy's intent in sharing images of ordinary North Korean couples was to send a message to everyone—and perhaps one person in particular—to consider the human cost that a military confrontation would bring.
"If there is a military conflict here, these old people, their children and grandchildren, who have nothing to do with missile or nuclear programs, will become its first victims. Victims of the insatiable vanity of reckless politicians," the post read.
The message was in line with Russian President Vladimir Putin's recent statements, in which he argued that new sanctions against North Korea wouldn't convince the regime to relinquish its pursuit of nuclear weapon capabilities. Instead of sanctions, Putin cited "economically beneficial" infrastructure projects in the Korean Peninsula, to be developed in cooperation with both Pyongyang and Seoul.
But in the end, Russia voted Monday, along with the rest of the U.N. Security Council, on a U.S.-drafted resolution imposing new sanctions on North Korea. The sanctions introduce a ban on North Korea's textile exports, the country's second-largest export sector after coal and other minerals, which were targeted in a previous round of sanctions, in August.
They also ban the supply, sale or transfer of all condensates and natural gas liquids, impose a cap of 2 million barrels a year on refined petroleum products, cap crude oil exports to North Korea at current levels and freeze the assets of four high-ranking North Korean officials, but not Kim Jong Un himself, as the U.S. originally intended. According to Reuters, the U.S. also dropped a proposed oil embargo under pressure from China and Russia.
On Tuesday, President Donald Trump doubted the resolution's efficacy, dubbing the sanctions "not a big deal" and "nothing compared to what ultimately will have to happen."
North Korea claims its nuclear weapons development is in self-defense to "establish practical equilibrium with the U.S.," and it promised that the Americans would "pay due price" for imposing the sanctions.
Pyongyang interpreted the latest "harsher than ever" sanctions as yet another U.S.-led attempt to deprive the country of its "legitimate right for self-defence and completely suffocate its state and people," the state-controlled Korean Central News Agency said Wednesday.