Russia Wants U.S. to Join It in Bombing Ghouta and Winning the War for Assad in Syria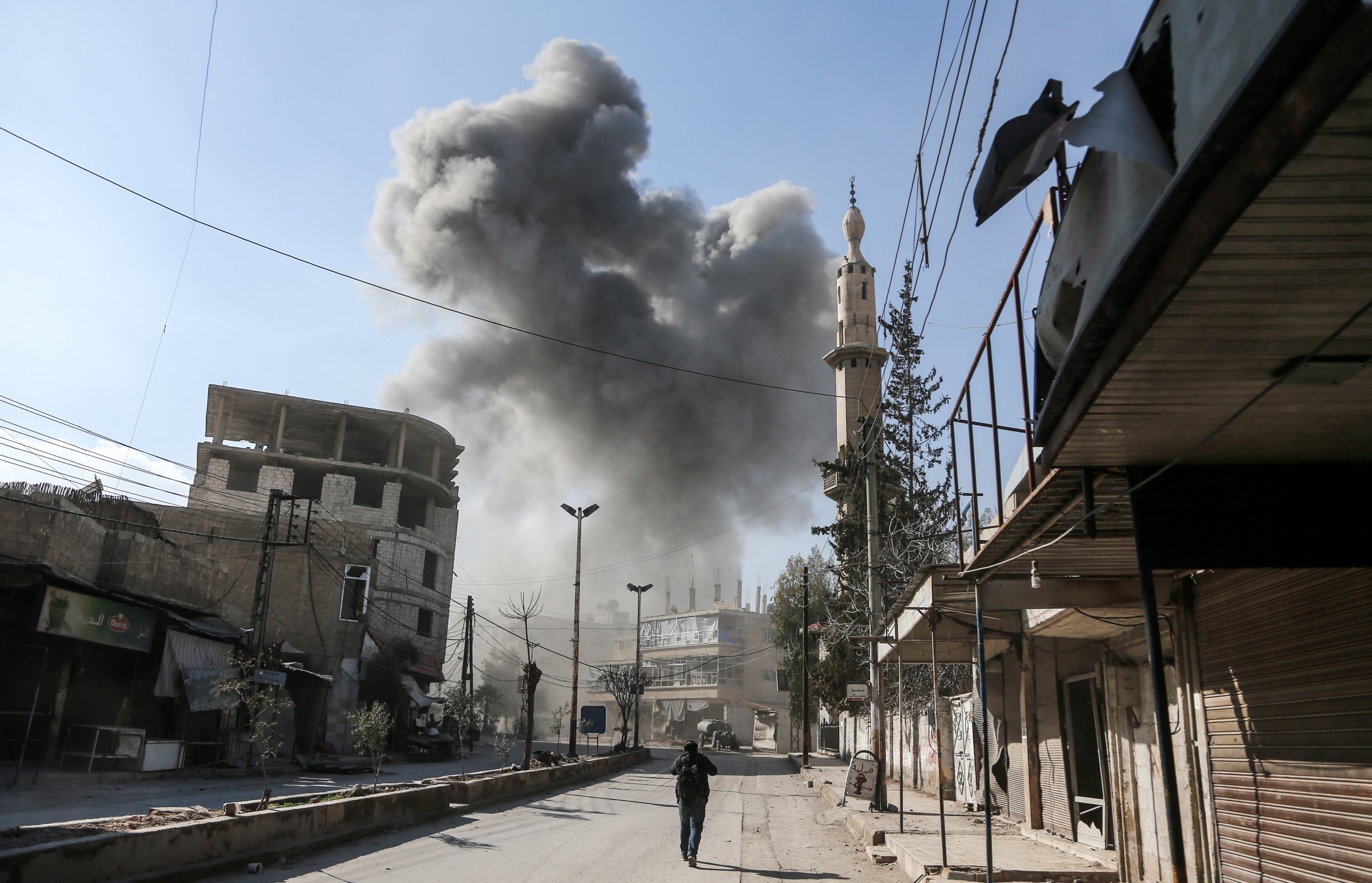 Russia has accused the U.S. of supporting militant groups in a rebel-held pocket of Syria, with one leading Russian senator calling on the Pentagon to join Moscow in bombarding the besieged bastion of insurgent control.
Dmitry Peskov, a spokesman for Russian President Vladimir Putin, denied the U.S.'s claim on Wednesday that Russian and Syrian warplanes were targeting civilians amid a mounting death toll in eastern Ghouta, one of the last suburbs of Damascus held by armed groups opposed to Syrian President Bashar al-Assad. The Syrian military, backed by the Russian air force and various Iran-backed militias, has recently renewed a violent campaign to retake the area from a mix of jihadi and rebel groups, some of which have received U.S. support.
Related: Turkey mulls talks to avoid war as Russia and U.S. allies chant "One Syria"
Syria and its allies—Russia and Iran—have blamed these forces and their alleged international sponsors for the deteriorating humanitarian crisis there.
"Those supporting terrorists who are still active in eastern Ghouta are responsible for the situation there," Peskov said, according to the state-run Tass Russian News Agency. "Neither Russia nor Syria nor Iran are among these countries, but it is they who have been resolutely fighting against terrorists on the ground in Syria."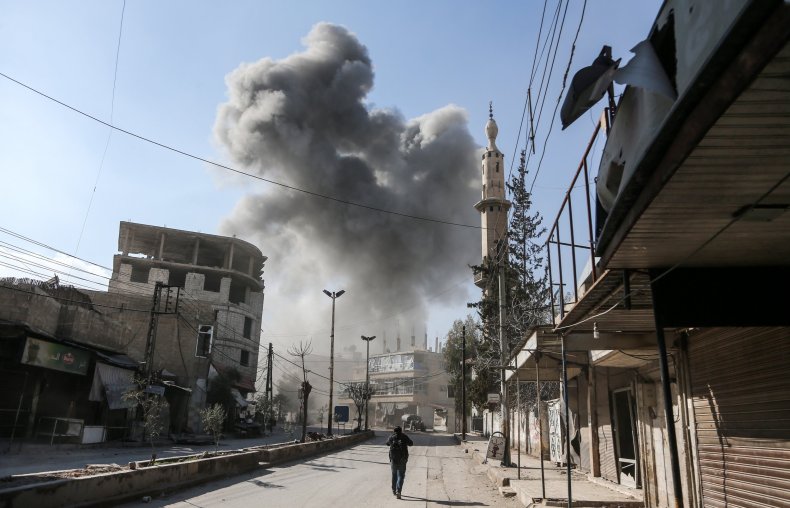 Vladimir Dzhabarov, first deputy chairman of the international affairs committee in Moscow's upper house of parliament, also weighed in Thursday, saying the U.S. should actually help Russia take out the remaining anti-government forces.
"It would be good if the Americans, along with us, took part in liberating eastern Ghouta from the terrorists and restored civilian life there instead of churning out unsubstantiated accusations," Dzhabarov said, according to Tass.
The Russian lawmaker expressed frustration with the U.S. deeming "any terrorist phenomenon as a sign of some kind of opposition to Assad" and a "normal political force" in Syria. The mostly Islamist resistance in Ghouta was comprised of fighters loyal to Jaysh al-Islam (said to have received support from Saudi Arabia), Failaq al-Rahman (affiliated with the once CIA-backed Free Syrian Army and supported by Qatar) and the former allied, now rival coalitions of Ahrar al-Sham and Hayat Tahrir al-Sham (successor to the Al-Qaeda-affiliated Nusra Front).
While most other parts of rural Damascus seized by rebels after a 2011 uprising against Assad have since entered into deals with the government, some 400,000 people remained trapped in Eastern Ghouta. The U.N. has pleaded for a ceasefire to allow the delivery of humanitarian aid that both the Syrian government and insurgents accuse one another of blocking.
The U.N. Security Council was reportedly considering voting on a temporary cessation of hostilities, something Russian Foreign Minister Sergey Lavrov said Thursday he would consider only if it excluded groups supportive of the Islamic State militant group (ISIS) and the Nusra Front, which rebranded itself as Jabhat Fateh al-Sham and joined Hayat Tahrir al-Sham. Without this amendment, Lavrov said proponents of the potential resolution only wanted "to demonize the Syrian government" and "cover up terrorist groups," Tass reported.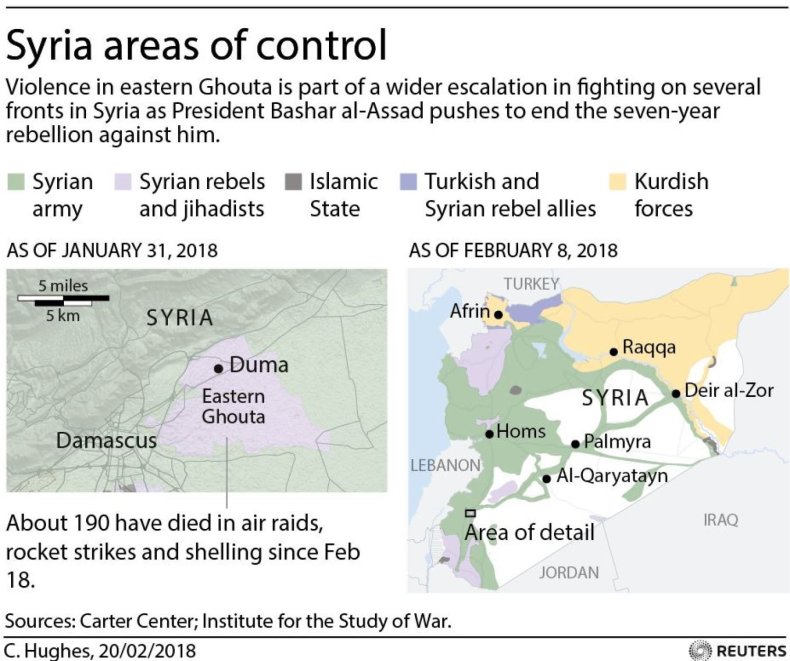 Syria's nearly seven-year civil war has grown even bloodier and more complex recently as new fronts open up nationwide. As the West-backed rebellion in the early stages of the war collapsed into infighting, ISIS took over most insurgent land. It was then beaten back in separate campaigns by the Syrian military, with Russian and Iranian assistance, and a Pentagon-sponsored, mostly Kurdish militia known as the Syrian Democratic Forces (SDF), which became the U.S.'s primary partner on the ground after cutting ties to rebel groups over growing extremism.
Despite deadly violence breaking out earlier this month between pro-Syrian government fighters and Syrian Democratic Forces both battling the last of ISIS in the eastern province of Deir Ezzor, the two factions have more recently united against a new foe: Turkey. Along with the U.S., Saudi Arabia and Qatar, Turkey was a leading supporter of efforts to overthrow Assad.
Turkey has rejected U.S. support for Syrian Kurdish groups, however, accusing them of harboring ties to the militant Kurdistan Workers' Party (PKK), which is involved in a war against the Turkish state at home.
Both the U.S. and Russia have considered Turkey a partner in their respective efforts in Syria, but criticized Ankara last month when it rallied its Free Syrian Army allies to attack Kurdish militias in the northwestern district of Afrin. As a result, both the U.S.-backed SDF and forces fighting on behalf of the Russia-backed Syrian government have joined up in a bid to repel the Turkish invasion.