Russia Cracks Down on War Critics As Official Jailed for 7 Years
Moscow municipal deputy Alexei Gorinov on Friday became the first person to receive a long-term sentence under stringent new laws that crack down on opposition to Vladimir Putin's Ukraine war.
Gorinov, a deputy at Moscow's Krasnoselsky district council and a trained lawyer, was sentenced by a court in Russia's capital to seven years in a penal colony for criticizing what Putin calls a "special military operation." He was also banned from holding public office for four years after his release.
The 60-year-old was arrested on April 27 for spreading "knowingly false information" about Russia's army during a session of the local assembly in Krasnoselsky.
In April, he stated his opposition to the council's plans to hold a children's art competition and a dancing festival in the local area amid the war in Ukraine, where he said "children were dying."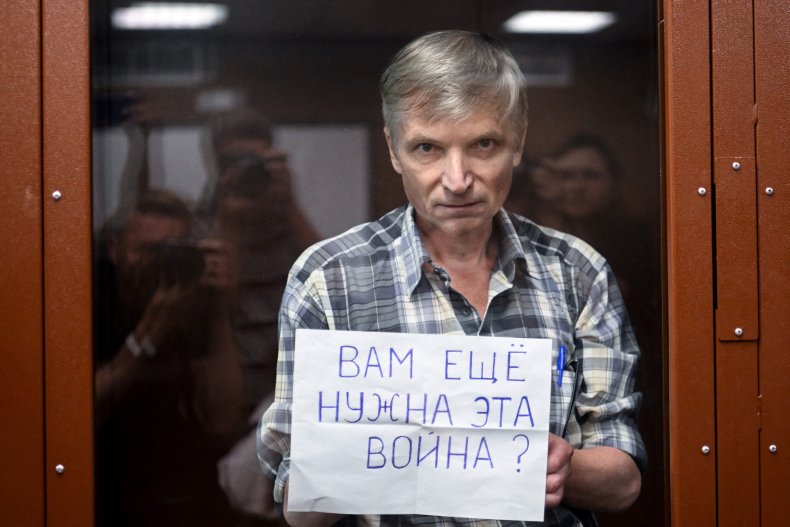 "I believe all efforts of civil society should be aimed only at stopping the war and withdrawing Russian troops from the territory of Ukraine," Gorinov said during a council meeting.
As the trial began Friday, the deputy stood up in court holding an anti-war sign that read: "Do you still need this war?"
His sentence comes amid a wider crackdown on free speech in Russia, which intensified after Putin launched a full-scale war against Ukraine on February 24.
In March, Russia's parliament passed legislation imposing a jail term of up to 15 years for intentionally spreading "fake" news about Russia's army. The Kremlin has used the law to crack down on those who veer from Putin's narrative of the war.
Gorinov had been in a pre-trial detention center since the end of April.
Russian human rights activist Marina Litvinovich said in an interview with RTVi, a privately-owned international Russian-language television network, that the deputy's sentence is primarily aimed at intimidating and silencing Russia's civil servants and deputies.
"Absolutely significant verdict. That is why the verdict said that Goring was a deputy," Litvinovich said."Any junior representative of the authorities now understands that no words against the 'special operation' can be said, otherwise they'll get a demonstrative seven years in prison."
In June, Russian politician and former candidate for the State Duma Mikhail Lobanov was detained for 15 days for "discrediting" the country's military on his social media networks. He was ordered to pay a fine of 40,000 rubles ($637).
Newsweek hasreached out to Russia's Ministry of Foreign Affairs for comment.