Russia's War in Ukraine Highlights 'New World Order,' Ex-NATO Chief Says
Russia's ongoing invasion of Ukraine is accelerating a shift towards a bipolar "new world order" in which a bloc led by the U.S. faces off with one led by China, a former NATO secretary-general has warned.
Anders Fogh Rasmussen, a former Danish prime minister, urged democracies worldwide to "turn the tide" against powerful autocratic nations including Russia, as he warned that France and Germany appear to many as "weak links."
"I think we are approaching a new world order, where we see two camps: an autocratic camp led by China, and a democratic camp led by the U.S.," Rasmussen—who is sanctioned by Beijing and cannot travel to the country—told Newsweek in the Danish capital on the eve of his Copenhagen Democracy Summit.
"That new world order, in two camps, will be an inevitable development, a phase we will have to go through to put more pressure from the democratic camp on the autocrats to convince them that constructive cooperation is better, also for them, than destructive confrontation."
"We should remind ourselves that democracies represent 60 percent of the global economy," Rasmussen said. "And if we can stand together, if we can be united, it's really a formidable force."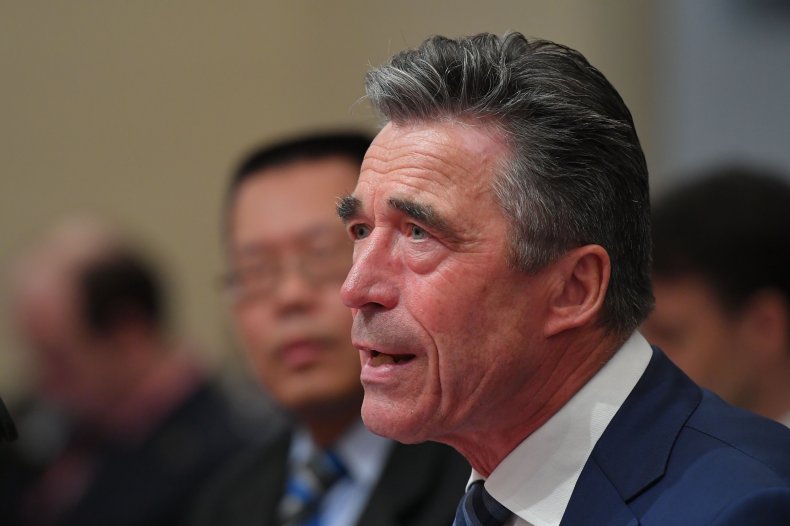 At this week's summit, Rasmussen and his colleagues will launch a new push for what he calls an "economic article 5" among the world's democracies, inspired by NATO's Article 5 collective defense clause.
"We should consider an economic attack on democracy an attack on all of us," Rasmussen continued. "When China exercises economic coercion against Australia or Lithuania, we should help the two countries by purchasing their goods, engaging in free trade agreements, in exchange of new technology, etc."
"I still have the dream that we can return to what I would call normal globalization, because I'm really in favor of globalization. I'm a free trader, I'm in favor of open societies and free movement," Rasmussen said.
"But we have to be realistic. And I think we have to go through this phase of confrontation until they understand that they have no chance in this fight."
Newsweek has contacted the Chinese mission to the European Union for comment.
This year's summit in Copenhagen will be dominated by the situation in Ukraine, where Russian troops are grinding forwards in the east of the country while missiles and bombs rain down on towns and cities nationwide.
"Against a very sad background of the Russian invasion of Ukraine, people now realize how important it is to fight for freedom and democracy," Rasmussen said. "We cannot take it for granted."
"You'll have seen attitudes change all over Europe, from the dramatic change in German policy towards Russia, to the Finnish and Swedish applications for membership of NATO. So this summit takes place at a very crucial time."
"The time has come to turn the tide, after 16 consecutive years of decline in global freedom and democracy, the time has come to really strengthen the voice of the democracies. And that's the purpose of this."
Volodymyr Zelensky will address the summit virtually on Friday, and is expected to again stress the need for more, and more potent, Western military aid.
The Ukrainian president may also have choice words for his French counterpart, Emmanuel Macron—who has been criticized for urging allies not to "humiliate" Russian President Vladimir Putin—and German Chancellor Olaf Scholz—who this week claimed Berlin is leading military aid, despite blocking the delivery of heavy weapons to Kyiv.
Rasmussen warned that France and Germany appear "weak links" in the EU-NATO response to Russia's invasion. "In many countries, French and German leadership of the European Union will not be accepted, because there is no agreement on this soft approach to Russia," the former NATO chief said.
"What could France and Germany do? We have a duty to help the Ukrainians with all they need to win this war. We cannot allow Putin to win this war. We should deliver all the weapons, heavy weapons, higher caliber weapons that the Ukrainians need."
"Furthermore, we should cut off the financing of Putin's war machine, not only an oil embargo, but also a gas embargo. And if France and Germany took the leadership in those areas, they would have much more credibility."
Newsweek has contacted the French and German foreign ministries to request comment.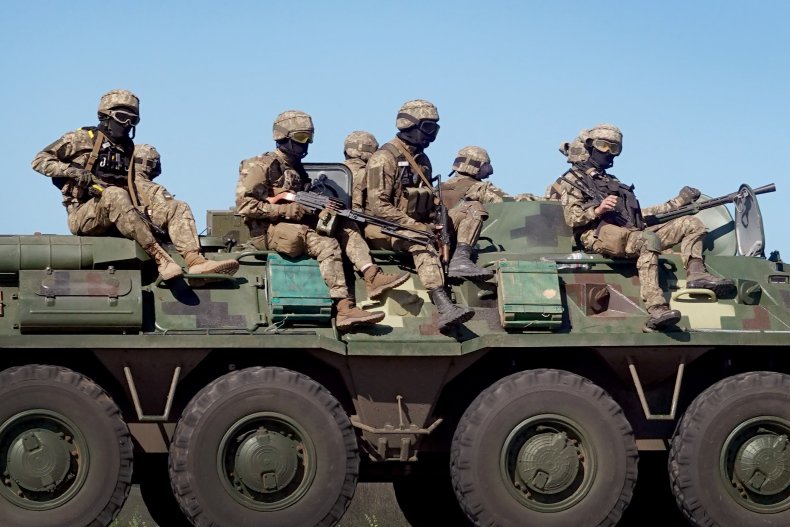 Leaders in Paris, Berlin, and other NATO and EU capitals should not be tricked into accepting a new frozen conflict in Ukraine, Rasmussen added, like they did after Russia seized Crimea in 2014 and fomented separatist rebellion in the eastern Donbas region.
"Many countries let their economic interests overshadow their principles and values," Rasmussen said. "Hopefully we will learn the lessons from the past."
"It serves Putin's goals, to just have a simmering conflict because he knows that will hamper Ukraine's ambitions to join the EU and NATO," Rasmussen explained, describing the Russian dictator as an "international pariah.".
"We should realize that as long as you have Russian troops on Ukrainian soil, you will have war and conflict, because the Ukrainian people will not surrender. There will be resistance movements, there will be guerrilla activities, there'll be instability, which will hamper our rebuilding efforts of Ukraine."
"My conclusion is that a Ukrainian victory would be to kick out all the Russians. But at least the Russians should be pushed back behind the administrative borderlines before February 24th."
Newsweek has contacted the Russian Foreign Ministry to request comment.