Russia Finally Admits It's Fighting 'War' in Ukraine as Facade Cracks
Russian state TV has for the first time described President Vladimir Putin's full-scale invasion against Ukraine as a "war," as cracks begin to show nearly eight months into the conflict.
Putin ally and Russian TV presenter Vladimir Solovyov, nicknamed "Putin's voice" for his stridently pro-Kremlin views, used the word "war" to describe events in Ukraine on his Russia-1 show, Evening with Vladimir Solovyov, on Wednesday.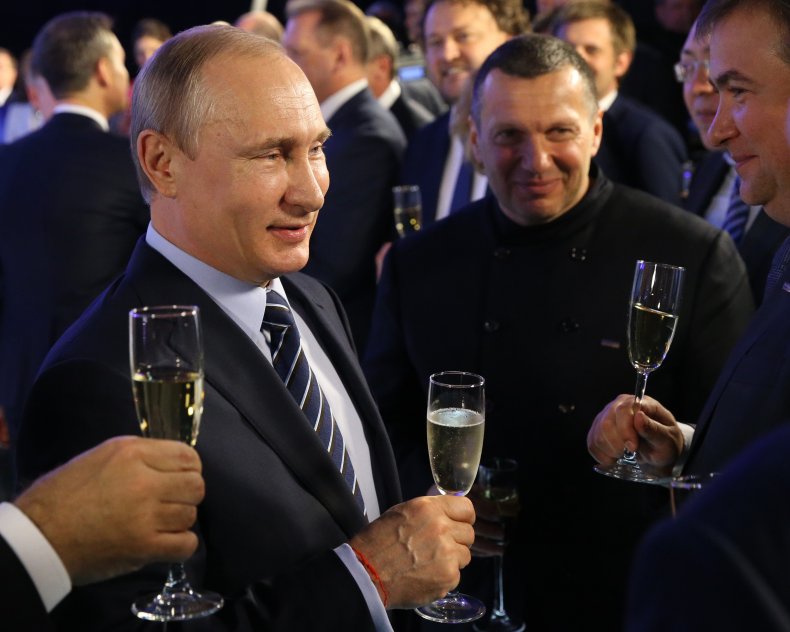 State propaganda has so far echoed the Kremlin line that conflict that began on February 24 is a "special military operation" and not an "all-out war."
However, Putin has recently raised the stakes, announcing a partial mobilization on September 21 to send 300,000 reservist troops to fight in Ukraine, and formally annexing four partially occupied regions of Ukraine following referendums that have been decried by the international community as illegal.
According to analysis by the Carnegie Endowment for International Peace, rapidly unfolding events in Russia are effectively transforming the conflict in Ukraine from a "special operation" on someone else's territory into a war to defend supposedly Russian land.
Russian citizens have been convicted for referring to Putin's assault on Ukraine as a "war" or as an "invasion" under laws passed in March to crack down on dissent.
Solovyov on Wednesday night criticized Russians for doomscrolling, and argued they would have lost the Second World War had previous generations done the same.
He also said citizens are treating Putin's war like the World Cup, "where we support our national side and are wild with delight in the qualification games, but later, we absolutely hate them when things go wrong."
"No! This is our life. It's our war. It's our war against absolute Satanism, not at all against Ukraine," Solovyov said, in what appears to be the first time the conflict has been described as a war on Russian state TV. "Ukraine is nothing but [their] means. It's a war in which the objective is absolutely clear."
"Yes it's difficult for us at the front at the moment, and today there was a historical event. The Federation Council voted [for the annexation of four Ukrainian regions]. So now it's a war on our territory," Solovyov added.
His remarks come amid an apparent shift on Russian state TV about the war, with guests and hosts demanding answers from the Kremlin and admitting the country's shortcomings in the conflict.
Joanna Szostek, an associate fellow with Chatham House, a U.K. think tank, told Newsweek on Wednesday that such changes are likely "expectation management" as Ukraine presses on with its counteroffensive to retake land seized by Russia in the war.
"The Kremlin can't easily 'cover up' its loss of territory, so it has to be discussed on the talk shows," she said.
Newsweek has contacted Russia's foreign ministry for comment.