Russia Warns Against U.S. Military Action, Live-Streams Syria Operation to Clear Ghouta
Russia has begun live-streaming its joint operation with Syria to evacuate civilians from the rebel-held enclave of eastern Ghouta, outside Damascus.
The Russian Center for Reconciliation of Opposing Sides in the Syrian Arab Republic, which monitors daily developments in the conflict, established on Friday live streams of the ongoing evacuation efforts, including CCTV feeds at the northern Al-Wafideen and southern Hamouriya checkpoints, as well as drone footage of Hamouriya and a humanitarian corridor stretching to Tel Sultan in Idlib and Abu al-Duhur, in Aleppo.
Related: Russia Says It Will Attack U.S. Military If Trump Strikes Syria Again
The move came as Moscow rebuffed U.S. threats of military intervention in response to Western accusations that the Syrian military was using chemical weapons.
Russian Defense Ministry spokesman Igor Konashenkov dismissed Washington's charges once again Friday, saying "there have been no instances of chemical weapons put to use in eastern Ghouta," according to the state-run Tass Russian News Agency. Russia's top diplomat also weighed in again, echoing firm warnings from top political and military figures in Moscow.
"We reiterate that any use of force against Damascus based on far-fetched pretexts is unacceptable," Russian Foreign Minister Sergey Lavrov said, according to Tass.
"The United States' recent threats to carry out unilateral attacks on Syria and Damascus in particular, like it happened last April after the Syrian government had faced groundless accusations of using chemical weapons, are unacceptable and inadmissible," he continued. "We have made it clear for the United States through diplomatic and military channels."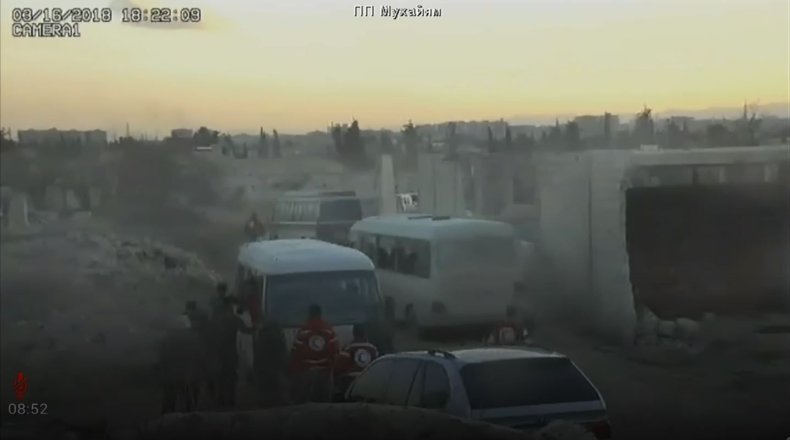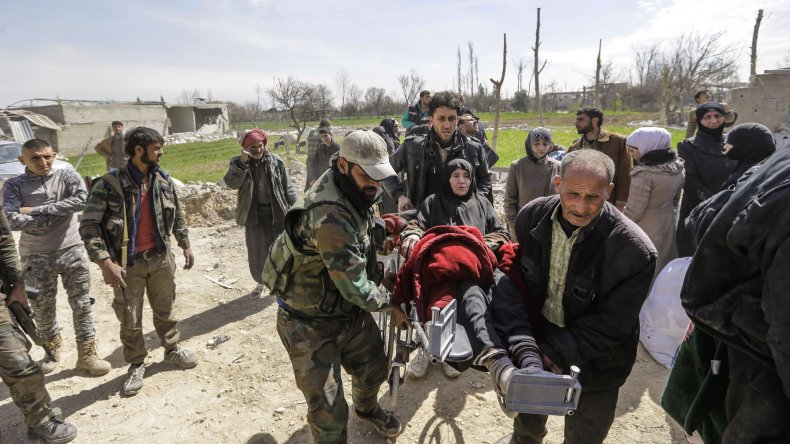 Lavrov referenced the April 7, 2017 cruise missile strike ordered by President Donald Trump against the Al-Shayrat airbase in western Syria. Less than 72 hours prior, the U.S. had accused the Syrian military of conducting a sarin gas attack on civilians in the northwestern, insurgent-controlled province of Idlib. Russia and Syria denied responsibility and accused the U.S. of putting their troops at risk.
U.S. ambassador to U.N. Nikki Haley again threatened unilateral military action against the Syrian government over renewed reports of chemical weapons use and targeting of civilians in eastern Ghouta, one of the final redoubts of rebels and jihadis trying to oust Syrian President Bashar al-Assad since 2011. Russian Army General Valery Gerasimov, head of the military's general chief of staff, warned Thursday that he would respond to another such strike by targeting both the U.S. missiles and the warships that shot them from the Mediterranean.
As world powers wrangled over the implementation of a 30-day ceasefire in Syria, Russia and Syria agreed to establish humanitarian corridors to evacuate civilians trapped in eastern Ghouta, which has since been split into at least three insurgent pockets due to Syrian army advances.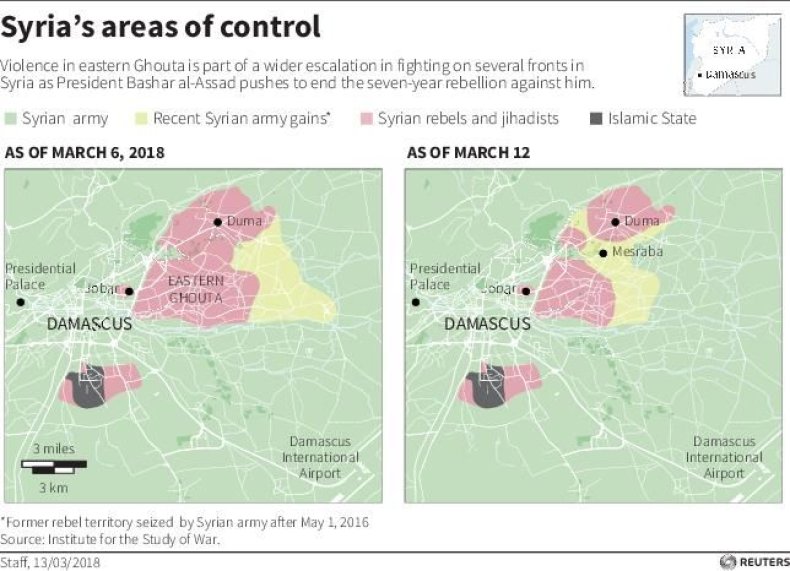 The U.S. initially supported, trained and equipped a number of Syrian rebel groups trying to oust Assad, but cut back support to an increasingly jihadi opposition. It began bombing ISIS in Iraq and Syria in 2014 and created the mostly Kurdish Syrian Democratic Forces in 2015. Around the same time, Russia entered the conflict on behalf of Assad, helping him retake vast swaths of Syria lost to rebels and Islamist militants.
The Syrian government and the Syrian Democratic Forces have emerged as the two most powerful actors in the country. Pro-Syrian government fighters have allied with Kurdish Syrian Democratic Forces elements to defend against a joint Turkish and rebel campaign in the northwest Kurd-controlled enclave of Afrin, but have clashed with the remaining, mostly Arab, faction of the Syrian Democratic Forces in the eastern province of Deir Ezzor.
Rebel groups active in eastern Ghouta included hard-line Sunni Muslim coalitions Hayat Tahrir al-Sham—a jihadi alliance made up mostly of former Al-Qaeda supporting Nusra Front fighters—and Ahrar al-Sham, as well as Islamist groups Failaq al-Rahman and Jaysh al-Islam. ISIS is also active in the nearby Palestinian refugee camp of Yarmouk, south of Damascus city, which has been targeted by artillery shells from the insurgent-run suburbs.