Russia Warns Growing Cyber Conflict With U.S. Could Spark War in Real World
Russia's top cyber diplomat has warned that a worsening conflict with the U.S. in cyberspace could lead to a real-world escalation between the two powers as both sides vowed to strike back against any virtual provocations.
Washington and Moscow have long denied conducting malicious cyber activities against one another, but U.S. Cyber Command Director General Paul Nakasone confirmed last week in an interview with Sky News that the Pentagon's cyber branch was involved in "a series of operations across the full spectrum," including those both "offensive" and "defensive" in nature, as well as "information operations," in support of Ukraine as it struggles to fend off a Russian incursion launched in February.
Days after the senior U.S. military official's comments, Russian special presidential representative for cooperation in the field of information security Andrey Krutskikh accused the U.S. of having "unleashed cyber aggression against Russia and its allies" in an interview Monday with the newspaper Kommersant.
Reached for comment by Newsweek regarding the nature of Moscow's potential response, the Russian Foreign Ministry shared a statement attributed to Krutskikh in which he asserted that "rest assured, Russia will not leave any aggressive actions unanswered."
Krutskikh, who also serves as director of the Russian Foreign Ministry's Department of International Information Security, said the "how" and "where" remained to be seen, but said that "all our steps will be measured and targeted in accordance with our legislation and international law."
And though an absence of international cooperation has left a potentially dangerous gray zone in assessing cyberwarfare, Krutskikh argued that the Biden administration was in clear violation of international law when it came to Washington's backing for Kyiv.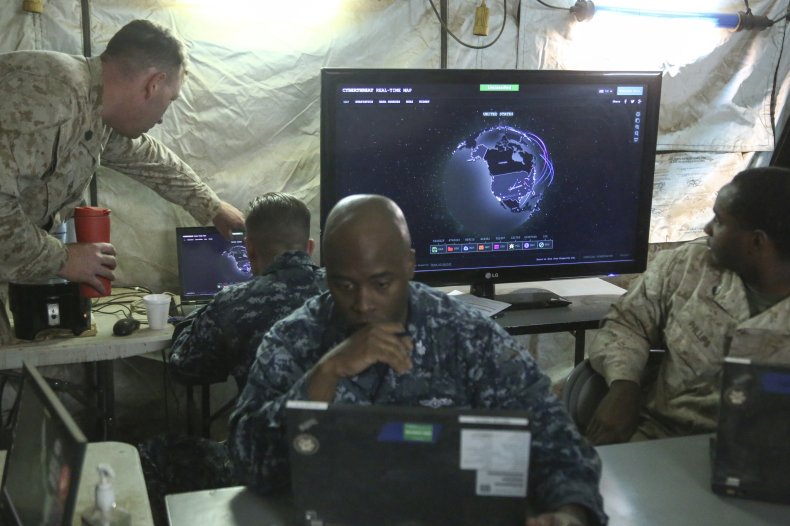 "State institutions, critical and social infrastructure facilities, storage of personal data of our citizens and foreigners living in Russia are being hit," Krutskikh said. "Officials in the United States and Ukraine are taking responsibility for the sabotage. It is there that they categorically refuse to develop international legal foundations. They do not seem to fully realize the danger of such aggressiveness and encouragement of gangsterism in the field of information security."
He then listed what he described as evidence of such activities against Russia, mostly involving distributed denial-of-service, or DDoS, attacks using foreign servers based in the likes of the U.S. and Germany.
As of last month, he said "over 65,000 'armchair hackers' from the USA, Turkey, Georgia, and EU countries regularly took part in coordinated DDoS attacks on our country's critical information infrastructure, including Rutube video hosting." And "in total, 22 hacker groups are involved in illegal operations against Russia," Krutskikh alleged.
He also accused the U.S. of relaxing its rules to conduct offensive operations against Russia, calling it "alarming that Washington is deliberately lowering the threshold for the combat use of ICT."
If left unabated, he warned of possible real-world ramifications, including an outright skirmish between the world's top two nuclear weapons powers.
"The militarization of the information space by the West and attempts to turn it into an arena of interstate confrontation have greatly increased the threat of a direct military clash with unpredictable consequences," Krutskikh said. "Once again, I want to repeat to those who do not immediately get it: the uncontrolled distribution of 'virtual weapons' and the encouragement of their use will not lead to good."
The U.S. has also accused Russian of having conducted multiple cyberattacks against the nation, and has warned such a threat was heightened given the ongoing conflict in Ukraine.
And just because a major cyber incident hasn't happened yet, Cybersecurity and Infrastructure Security Agency Director Jen Easterly told the RSA Conference in San Francisco on Tuesday that she didn't "think we are out of the woods in terms of a threat at this point in time."
"We're only 100 days into this war," she said at the time, as cited by The Wall Street Journal. "We know that it's part of the Russian playbook to use malicious cyber activity, whether it's through a state-sponsored entity, whether it's through criminally aligned groups."
She tied the potential for further attacks to the "huge amount of cyber activity from the Russians against Ukraine" as National Cyber Director Chris Inglis called Russia's cyber prowess "a strategic threat" to the U.S. at the same conference.
The Biden administration has acknowledged providing cyber support to Ukraine and European allies who share concerns about Russia's cyber activities, though the extent of this support remains unclear.
U.S. Cyber Command last month announced its debut "hunt forward" operation alongside Lithuania, a NATO member that borders Russia in the Baltic region. Such operations are part of the broader "defend forward" strategy through which the U.S. takes proactive measures to gather intelligence on adversarial operations in cyberspace.
In comments sent to Newsweek, a State Department spokesperson said "there is a longstanding U.S. position to work to disrupt malicious cyber activity and disinformation, and to defend the United States and our allies and partners around the world from a range of threats."
"The United States works with countries around the world to promote stability in cyberspace and reduce the risk of conflict," the spokesperson said. "Under U.S. leadership, UN member states have repeatedly come together to endorse a framework of responsible state behavior in cyberspace, which affirms the applicability of international law to cyberspace, lays out 11 voluntary norms of responsible state behavior in peacetime, and calls for practical confidence building measures to help reduce the risk of conflict stemming from cyber incidents."
Moscow too has long sought a treaty to standardize the rules of the road when it came to cyber activity, much like the internationally endorsed protocols on maritime traffic and nuclear weapons. The first-ever appearance of the issue at the United Nations came in the form of a Russian draft resolution back in 1998 and, while some non-binding principles have been endorsed, no treaty has ever come to fruition.
Russian President Vladimir Putin prioritized the issue in September 2020 when he introduced a four-point proposal to govern U.S.-Russia interactions on cybersecurity.
The plan would entail the revival of a "regular full-scale bilateral interagency high-level dialogue" on cybersecurity issues, the "continuous and effective functioning of the communication channels" already in place to deal with nuclear risk reduction and computer readiness, the joint development of "a bilateral intergovernmental agreement on preventing incidents in the information space" echoing past U.S.-Soviet maritime agreements and, finally, "guarantees of non-intervention into internal affairs of each other."
Biden and Putin took the opportunity to discuss the matter in person during their meeting one year ago during their summit in Geneva. No mutually agreed upon framework emerged, however, and the eruption of Russia's war in Ukraine has only further buried the issue.
Echoing Krutskikh's concerns, Russia's ambassador to the U.S., Anatoly Antonov, told Russian television show Bolshaya Igra on Wednesday that, "at present, I see no perspectives for resuming this necessary, useful and mutually beneficial dialogue between the U.S. and Russia."
"There were even first indications that practical results can be achieved," he added. "However, we are back to Cold War times: Russia is blamed for everything, Russia is attacking everyone, Russia must be deterred or, even better, destroyed."
Even with bilateral diplomacy at an apparent standstill, however, the State Department spokesperson with whom Newsweek spoke affirmed that the Biden administration would press on with its efforts to rein in rogue nation-state actions in cyberspace.
"We will continue to coordinate with partners and allies to call out and impose consequences on states that use cyber capabilities irresponsibly," the spokesperson said.
Newsweek reached out to U.S. Cyber Command for comment.
This article has been updated to include comments from top U.S. cyber officials at a June 7 conference in San Francisco.