Russia Tells U.S. Do Not Go to War With Syria, 'God Forbid' It Ends Up Like Iraq and Libya
Russian Foreign Minister Sergey Lavrov has warned the U.S. against pursuing a wider conflict in Syria as President Donald Trump mulled new military action that threatened to drag Washington into another prolonged Middle East war.
"God forbid some reckless steps are made in Syria like in Libya or Iraq…. Now, I hope, no one will gamble on embarking on such a risky venture," Lavrov told reporters, according to the state-run Tass Russian News Agency. "But nevertheless, even insignificant incidents will once again spark new migrant flows into Europe."
Lavrov added that such moves "may be only welcomed by those who are overseas and expect to hide out while continuing efforts to destroy this entire region in order to keep advancing their geopolitical projects here."
Trump first said Monday that he would soon decide how to respond "forcefully" to allegations that Syrian President Bashar al-Assad, an ally of Russia and Iran, used chemical weapons last weekend in a deadly attack on the formerly rebel-held Douma suburb of Damascus. Trump has traditionally been an opponent of the regime change efforts pursued by his predecessors, but the White House has emphasized that "all options" remained on the table.
Related: U.S. vs. Russia: These are their weapons in Syria and what may happen next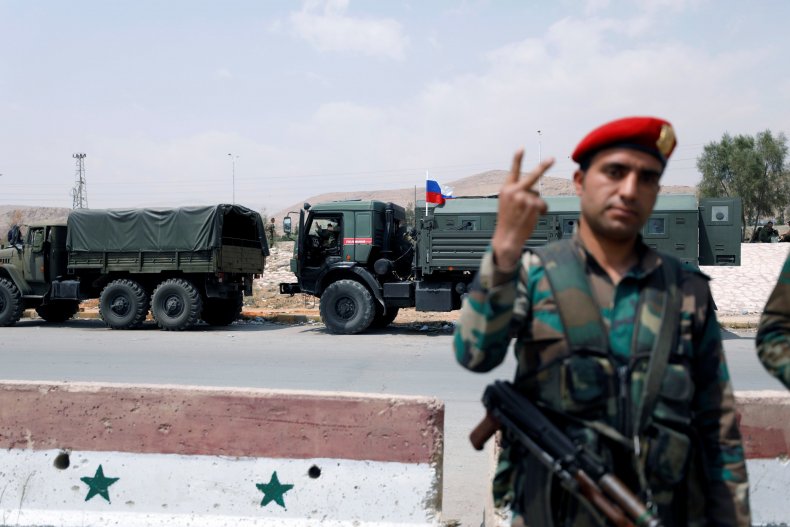 Since the 9/11 attacks in 2001, the U.S. has been directly involved in several ongoing overseas conflicts, beginning with the invasion of Afghanistan. The U.S. quickly defeated the Islamist Taliban government, accused of harboring Al-Qaeda leader Osama bin Laden, but has since struggled to help local security forces quell an insurgency. The U.S. then invaded Iraq in 2003, accusing Iraqi President Saddam Hussein of hiding weapons of mass destruction, a claim discovered to be false after the leader had been ousted and a majority-Shiite Muslim government installed.
The overthrow of Iraq's Baathist government led to a surge in activity for jihadi Sunni Muslim groups, some of which—including Al-Qaeda in Iraq—would go on to merge into the Islamic State of Iraq. In 2011, protests swept the Middle East, and the U.S. and NATO Western military alliance helped insurgents overthrow Libyan leader Muammar el-Qaddafi, a decision former President Barack Obama later called the biggest mistake of his presidential career.
The U.S. completed withdrawing most of its troops from Iraq in late 2011, and the CIA joined Qatar, Saudi Arabia and Turkey in funding rebels trying to depose Syria's Assad, who—like Qaddafi—they accused of perpetrating human rights abuses in cracking down on anti-government demonstrations. The Islamic State of Iraq grew in strength and took advantage of the unrest to spread into neighboring Syria, now calling itself the Islamic State of Iraq and Syria or al-Sham (ISIS), in 2013.
ISIS took half of Iraq and Syria the following year and also established a presence in Libya, where rival governments, tribal forces and jihadis fought to rule the war-torn country. While it still claimed fighters across the Middle East and affiliates in other regions across Asia and Africa, ISIS has mostly been defeated due to military campaigns backed by a U.S.-led coalition, Iran and Russia.
In Syria, Russian and Iranian support has helped the government avoid the fate of the fellow, yet rival, Baathist leadership in Iraq and Qaddafi's self-proclaimed Great Socialist People's Libyan Arab Jamahiriya. Reports that Syria has beefed up defenses at the presidential palace in Damascus, however, indicated that the government considered Trump's latest challenge to be a potential existential threat.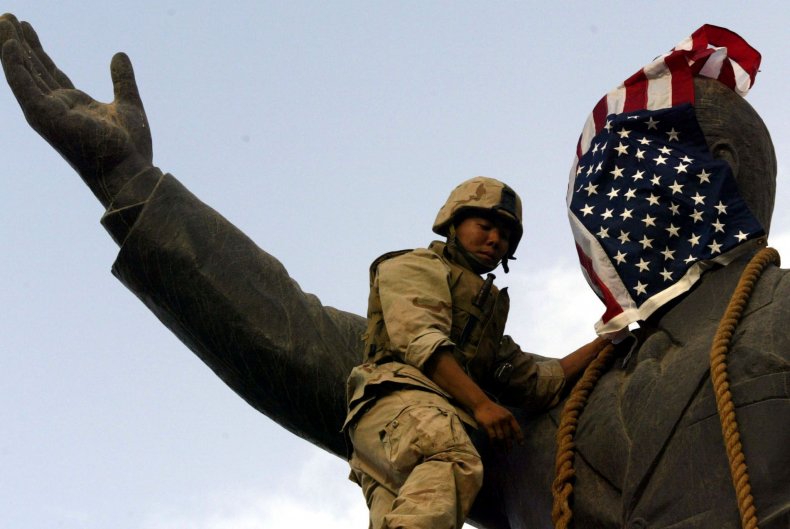 When U.S. Ambassador to the United Nations Nikki Haley first suggested Washington may take military action last month, Valery Gerasimov, chief of the Russian military's general staff warned, "Russia's armed forces will take retaliatory measures to target both the missiles and their delivery vehicles" if Russian lives were at risk. The Syrian military has reportedly begun moving important assets to Russian military facilities in the country, and Russian Ambassador to Lebanon Alexander Zasypkin echoed Gerasimov's threat earlier this week.
"If America, the U.K. and France think they can attack our sovereignty, then nothing lies before us but to defend ourselves," Syrian Ambassador to the U.N. Bashar al-Jaafari said Friday, according to Kurdish news outlet Rudaw.
Russia's political and strategic victories in Syria have given it a newfound, leading role in the Middle East, where Moscow has made ties with U.S. friends and foes alike. The U.S. and Russia have both accused one another of attempting to destabilize the region, while Trump and Russian President Vladimir Putin have often expressed the desire to mend ties between their nations.