Russia Welcomes 19 Countries To Kick Off Its Military Olympics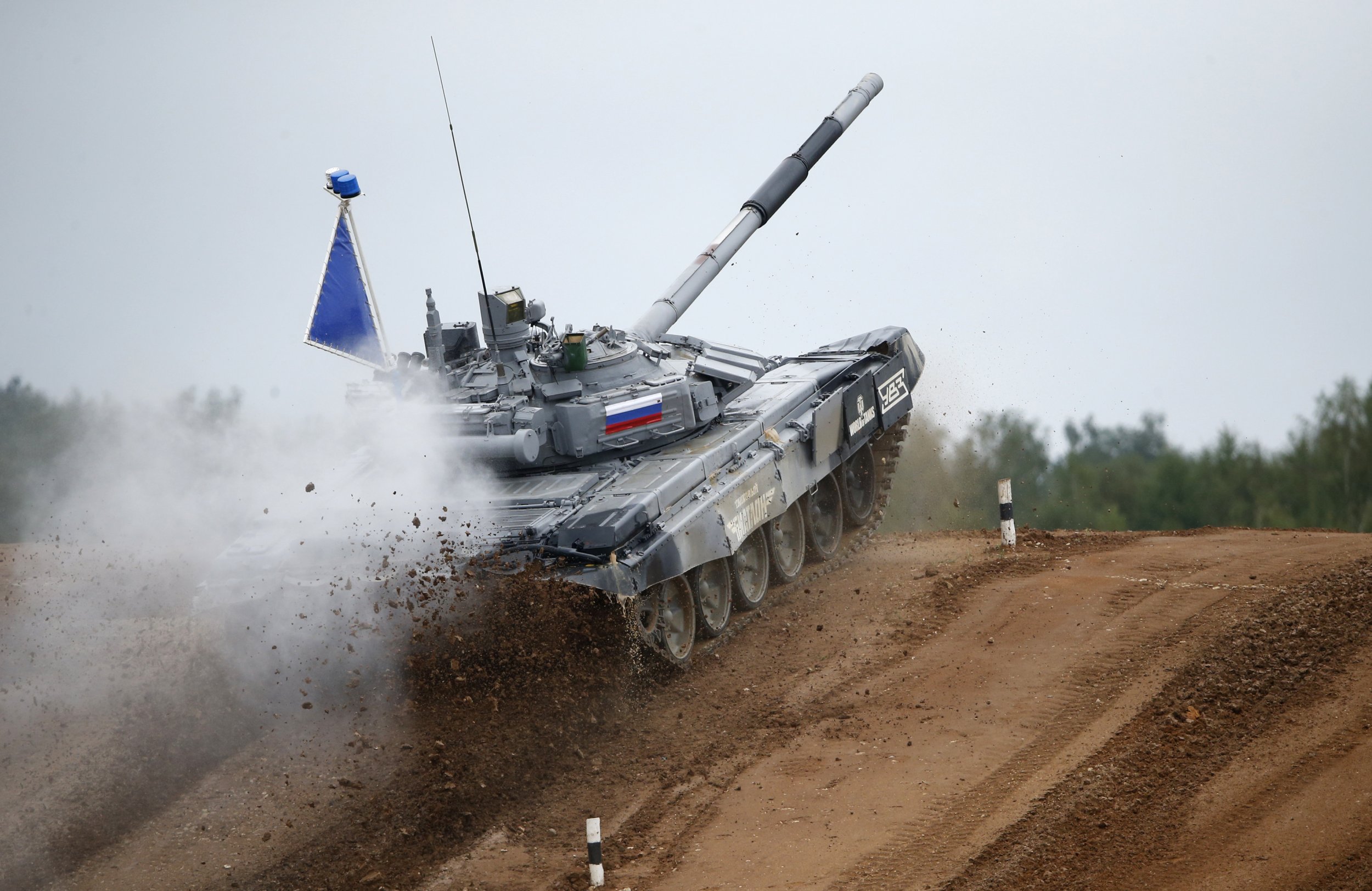 Like a cross between the Olympics and a military recruitment commercial, Russia's International Army Games kicks off in gritty style on Saturday. Over 3,000 military personnel from Russia and 19 other countries are expected to compete in a handful of disciplines blending spectator sports with military drills to test out the combat readiness of tanks, fighter jets, snipers and even barracks cooking staff.
Despite last year's instalment costing Russia $91 million, Moscow is keen to continue with its odd but entertaining Olympic-style military games spectacle. And there are plenty of reasons for it.
"It is necessary to keep in mind that this practice dates back to USSR," says Igor Sutyagin, Russian military expert at the London-based Royal United Services Institute. "These competitions were happening in the Soviet Union dating back to the 1980s."
"It was always a very important thing to do this so you can motivate morale and self-esteem among troops," Sutyagin says. "For many soldiers, specialists in particular, peacetime can present what we call unrealised professional syndrome. They train all their life for something and they never test their skills. These competitions between crews give them a chance to feel they are the best at what they do and in particular the focus is important in support and combat support staff, such as cooks."
"Now the main difference with these games is that this has partially been made into a show and it is international," Sutyagin adds.
Held in Russia and this year partially in Kazakhstan, the games' annual organization is quickly becoming a tradition for Russia's armed forces and frequent attendees in China, Kazakhstan, Belarus, Iran, Serbia and others. According to army lieutenant general Ivan Buvaltsev, 47 countries were invited, including the U.S. and other NATO allies but Greece appears to be the only NATO member to send a team. It is only competing in the sniper competition.
"In the past standard training procedures in Russia have been changed on the basis of the tank biathlon, for example," Sutyagin says. Exposure to how China trains its tank troops and the exact workings of their tanks, such as their firing range, has shifted focus within Russia to extend the range of firing and their preparedness for rapid fire in their own drills.
"When you look at Russian national military exercises, they are organized according to their own view and perception, but they have no real chance to see what potential adversaries or competitors will do. Now that is possible with the international games," says Sutyagin.
The games will also be broadcast on national television and Russian state media has already kicked off the usual extensive coverage of the event. State news agency RIA Novosti reports that these military-themed Olympic Games will feature 54 tank crews and 50 air force crews, as well as anything from naval, to sniper to cook teams. The international attendance gives the impression that Russia has friends in the world with equally formidable militaries.
"The games are an element of a soft-power strategy to show to closely allied state, like Belarus and Kazakhstan, that there are all these countries who are a link in the same chain," Sutyagin says. "It is a political game and it sends a message not only to the Russian population but abroad. It intends to show that Russia is not alone, that it can reach areas of the world unsatisfied with Western policy, sure. But it is also a very important example of soft power. It is the idea if you come to sit with people, to talk and exercise and compete with them, you're less isolated so you don't see them via crosshairs."
Of course the message to many Russians, especially young men, will clearly indicate a gloried image of the military the Kremlin has long cultivated. According to Sutyagin the broadcast is intended not only as a concentrated recruitment effort and but also part of a wider strategy to highlight military valor at a time when economic strife is high among citizens and allies alike.
"The focus on military issues, as opposed to the economy, is one part of the reason behind the attention the games are given," Sutyagin says. "But it is also an element of Russian President Vladimir Putin's strategy of the total militarization of society, portraying Russia as a strong military power. You need more visual images of your defenders at work but actual military exercises can look really boring. That is why these games are designed to cover smaller areas, with more of a focus on showboating."
"As far as recruitment, this is not a unique strategy. The U.S. makes Top Gun, whereas Russians broadcast these games," he says. "You do need to popularize your armed forces to the people because otherwise it is not that easy to attract people to join. The salary is not that attractive and the lifestyle is not that attractive either. You do need some state-run programs like these, especially because film watching in Russia is a different culture and to attract new recruits they need to use TV. You can watch it online too."
The International Army Games kicks off on Saturday with a tank biathlon competition and will continue until August 13.