Black Sea Will Become 'Totally Ours,' Russian-Appointed Governor Says
Volodymyr Saldo, who was appointed by the Kremlin to lead Ukraine's southern Kherson region after it was seized during Vladimir Putin's war, said Monday that the Black Sea will become Russia's.
The official, whom Russia declared "head of the Kherson civic military administration" after gaining control of the territory in the first phase of its invasion, made the remarks during a competition held in Rostov-on-Don, a city in southern Russia, this week.
The Black Sea, which is bordered by two European Union countries—Bulgaria and Romania—as well as Ukraine, Georgia, Moldova, Russia and Turkey, is of strategic and economic importance to Moscow, largely because of the transit routes it provides.
A video of Saldo's remarks was shared Tuesday on Twitter by Anton Gerashchenko, an adviser to Ukraine's minister of internal affairs.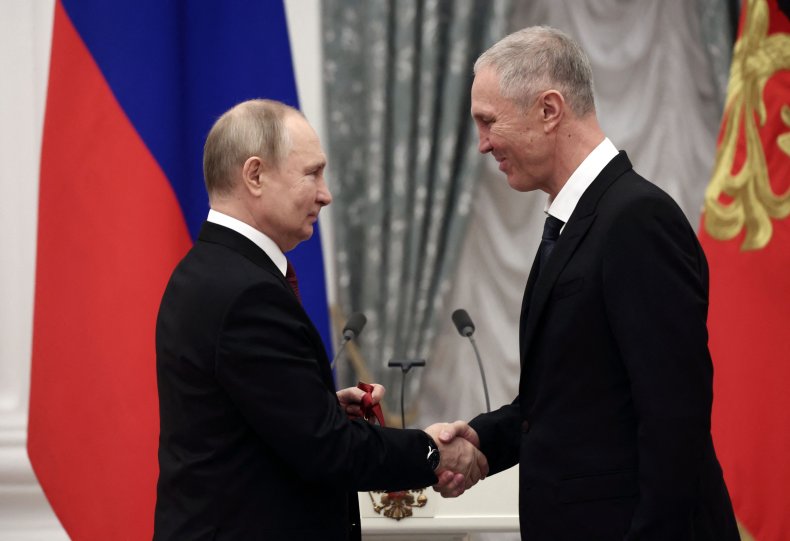 "'The sea of Azov already became Russia's internal sea, and I think the Black Sea will soon become one, too" - so-called "governor of Kherson region' Saldo. What do Turkey, Bulgaria, Romania and Georgia think about that?" the official tweeted as a caption.
Saldo was addressing a crowd during a competition that, according to local media, was held for the Kherson, Zaporizhzhia, Donetsk and Luhansk regions—the four territories Putin proclaimed to have annexed in September last year.
The competition's goal is reportedly to search for managerial personnel who are ready to restore new Russian regions, and was organized within the framework of the presidential platform "Russia is a country of opportunities."
"I want to clap when we will have the Black Sea too," Saldo said. "We have it, but it will be totally ours."
He referred to an address given previously by Putin, in which the Russian president "spoke about what special attention is now being paid to Russia."
"The development of the new revival, the restoration and full inclusion not only legally but also physically...with all our natural riches, with all our recreational facilities, hundreds of kilometers of beaches and recreational areas, hundreds of thousands of hectares of fertile land," Saldo said.
His remarks come as tensions are rising over Crimea, the Black Sea peninsula that was illegally annexed from Ukraine by Putin in 2014.
Ukraine has signaled it intends to recapture Crimea. Last month, a Ukrainian official said that his country is preparing "assault brigades" to take back its occupied territories, including Crimea. Fears are growing that such a move would be a red line for Russia and that Putin may use his country's nuclear capabilities to defend the territory.
Saturday will mark nine years since Putin illegally annexed Crimea. Putin is expected to speak at a concert rally in Moscow's Luzhniki Stadium to mark the occasion.
On Tuesday, a U.S. drone intercepted by Russian jets crashed into the Black Sea. Russia's ambassador to the United States, Anatoly Antonov said in a statement Wednesday that the drone had "deliberately and provocatively" approached Russian air space.
Newsweek reached out to Ukraine's foreign ministry by email for comment.
Do you have a tip on a world news story that Newsweek should be covering? Do you have a question about the Russia-Ukraine war? Let us know via worldnews@newsweek.com.