Russia Won't Remove U.S. From List of 'Unfriendly Countries' Despite Biden, Putin Meeting
The U.S. will not be removed from the Kremlin's list of "unfriendly countries," despite a successful meeting between President Joe Biden and President Vladimir Putin, Russian officials said.
The two global leaders met on Wednesday in Geneva to discuss issues in both countries for the first time since Biden became president. Human rights and cybersecurity were among the list of issues the two discussed.
Both presidents held separate press conferences after the meeting. Putin spokesman Dmitry Peskov also spoke to reporters after the presidents' conversation.
"No...there is no reason for that yet," Peskov said, when asked if the U.S. would be taken off Moscow's list of "unfriendly countries."
The list, which consists of just the U.S. and the Czech Republic, was announced by the Kremlin in May. There were originally other candidates for the list, including Ukraine, Lithuania, Poland, Latvia, Czech Republic, Estonia, United Kingdom and Georgia, Newsweek reported in April.
Russian Deputy Foreign Minister Sergey Ryabkov spoke to Sputnik News last week about the U.S. status on the list. He said that countries are put on the list after deep analysis. A country can be removed from the list if Russia no longer finds it to be a power working against it.
"The U.S. must stop pursuing an unfriendly policy," Ryabkov said, when asked what the U.S. must do to get off the list.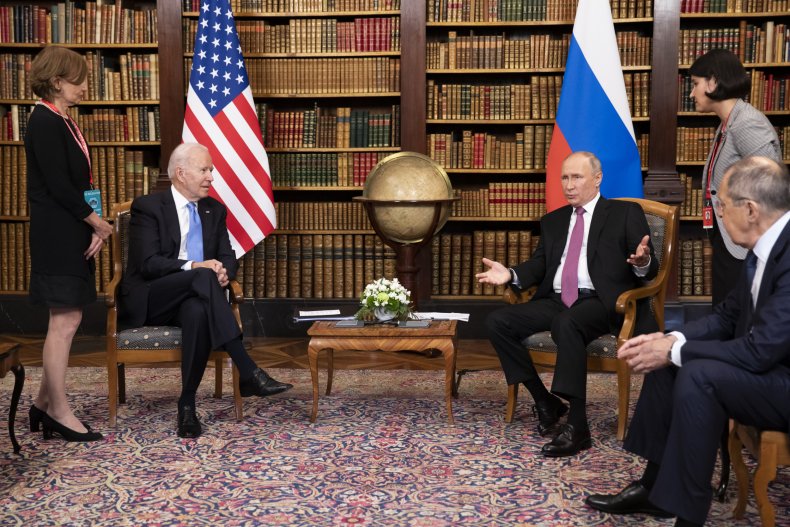 The status is largely symbolic, but one consequence comes from making the top of the list. It sets restrictions on the number of Russian nationalists the "unfriendly" countries can hire for their embassies in Moscow. The U.S. is restricted from hiring any locals, and the Czech Republic is limited to 19, according to U.S. News.
Despite the unchanging status on the list, the Geneva Summit is widely thought to have been successful and productive, as described by Russian and American officials.
At his post-meeting press conference, Biden said, "I did what I came to do," after meeting with Putin for nearly three hours.
"It seems to me that we did speak the same language. It certainly doesn't imply that we looked into each other's eyes and found a soul or swore eternal friendship," Biden said.
Putin referred to the conversation with Biden as "constructive" in his press conference, and other Russian officials agreed.
"The first Putin-Biden summit can be considered, if not successful, then a step toward detente and the removal of an 'overload' in bilateral relations," said Leonid Slutsky, Russian State Duma lawmaker and chairman of the international affairs committee.