Russia Won't Be Satisfied With Offers of Some Ukraine Territory, MP Says
Moscow won't be satisfied with offers of some Ukraine territory, a Russian lawmaker has suggested on state television.
Duma deputy Aleksei Zhuravlyov made the remarks on Russia-1, responding to former U.S. Secretary of State Henry Kissinger's remarks that Ukraine should accept giving up part of its territory to reach a peace deal with Russia.
"If you think you can offer us something, so we'll feel satisfied and stop—no, that won't happen," said Zhuravlyov, leader of the nationalist party Rodina (Motherland), which supports President Vladimir Putin.
"We started a special operation with one goal: as our president said, look at our conditions of security [guarantees], if you don't accept them, there will be a military-technical response. It's all on paper, read what needs to happen.
"If you think you can offer recognition of Crimea, and we'll think that's excellent—no, no, no," said Zhuravlyov.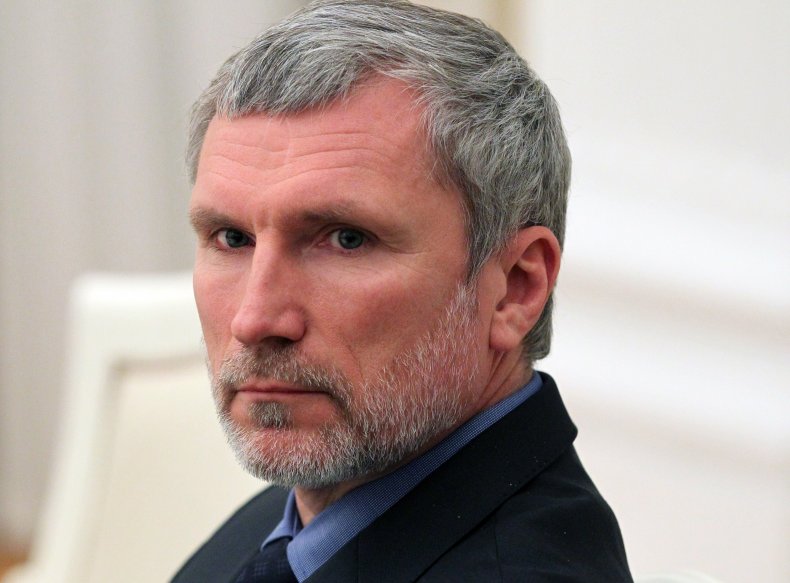 Nearly 100 days into the war, and after failing to seize Kyiv, Putin's main quest now is to seize parts of the eastern Donbas region not yet controlled by pro-Kremlin separatists.
Speaking on French TF1 television Sunday, Russian Foreign Minister Sergey Lavrov said Putin's "unconditional priority is the liberation of the Donetsk and Luhansk regions, "which Russia sees as "independent states."
Ukrainian President Volodymyr Zelensky described Kissinger's calls for Ukraine to give up part of its territory to Russia as akin to attempts to appease Nazi Germany in the 1930s. Zelensky has repeatedly asserted that he will not give up any Ukrainian territory to Russia.
Kissinger, 98, who served as the 56th Secretary of State until 1977, suggested at the World Economic Forum in Davos, Switzerland, earlier this month that Zelensky should cede territory to Putin, putting an end to the war that began on February 24.
Zelensky said Kissinger "emerges from the deep past and says that a piece of Ukraine should be given to Russia."
Kissinger's "calendar is not 2022, but 1938"—referring to the Munich Agreement, which was signed by Britain, France, Italy and Germany in 1938 and paved the way for Nazi Germany to annex western Czechoslovakian territory—said Zelensky.
The Ukrainian leader has said that he would only consider the war over when it regains control over territory that Russian troops currently occupy.
"We want everything back," Zelensky said in an interview with a Ukrainian news channel on May 21. "Russia does not want to give anything away."
Newsweek has contacted Ukraine's and Russia's foreign ministries for comment.