Russia Won't Use Remote Learning As COVID Cases Skyrocket, Teens Eligible for Vaccine
Russia expanded free shots of Sputnik M, a smaller dose of the Sputnik V vaccine, to include more regions for children ages 12-17 but said remote learning is still not needed.
The vaccine comes as the largest surge of the Omicron variant of COVID-19 hits Russia, according to the Associated Press. The vaccine became available to Astrakhan, Kursk and Volgograd on January 26.
Those under the age of 15 need parental consent; however, those aged 15-17 can make the decision for themselves. Dmitry Peskov, Kremlin spokesman, said Wednesday there were no plans to introduce distance learning for school-aged children.
According to The Moscow Times, health officials have detected Omicron in 72 of Russia's 85 regions as of January 26. The day before, Moscow Mayor Sergei Sobyanin said Omicron is now the dominant strain of those infected, according to the Moscow Times.
Officials in Moscow and St. Petersburg have warned about a spike in infected children. The number of daily confirmed cases increased from 15,000 on January 10 to 74,693 on January 26. Moreover, the number of infected children, according to Moscow city health officials, rose 14 times in the past two weeks from 2000 to 28,000, according to a department statement to the AP. Hospitalized children have risen ten-fold, and it was deemed that about half of those contracted COVID while in hospital care for other health conditions.
According to Russian News Agency TASS, Dr. Evgeny Timakov and Andrew Isaev, founder and CEO of the DNKOM Research Center of Molecular Genetic Studies, disagree with the sentiment that remote learning is not needed.
"Given that the infection is highly contagious," said Timakov, "one person can infect about ten people, [it means] that one person can infect the whole class, which is almost likely."
"Children are becoming infected with Omicron, and now kindergartens and schools are the main links in the epidemiological chain," said Isaev. "Hence, I believe that other regions need to follow the Chelyabinsk Region's example and switch to remote learning."
The infection rate in St. Petersburg for those under 17 years old has grown eight-fold, according to the AP. As of January 28, minors will be barred from any extra-curricular activities or classes.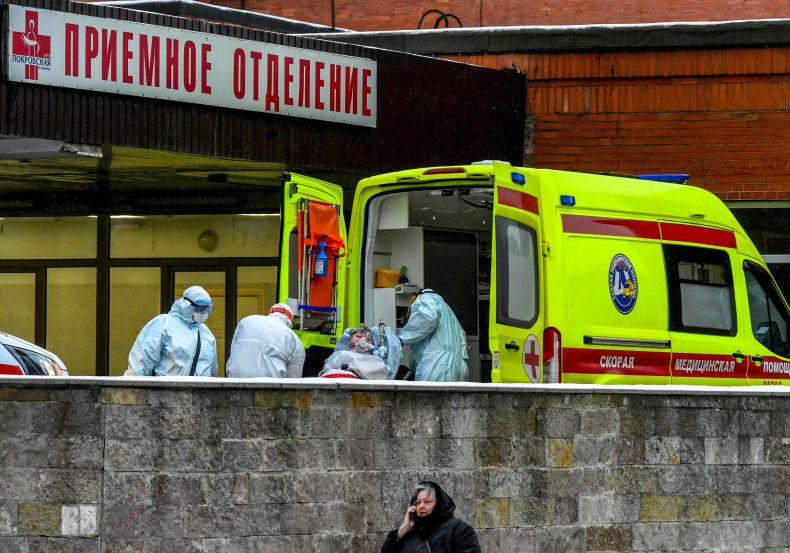 Russia's COVID-19 Task Force reported more than 11.3 billion cases with 328,105 deaths due to the virus; however, the state's statistic agency put the number over 625,000, the highest death toll in Europe.
Roughly half of Russia's 146 million population has been fully vaccinated. Restrictions for those unvaccinated have been postponed, due to those who are hesitant about receiving the vaccine, parliament said to the AP.
For those who have been in contact with someone who tested positive for COVID-19, according to RadioFreeEurope/Radio Liberty, the isolation period has been shortened from 14 days to seven. Those who have a confirmed infection must still isolate for 14 days while testing on Day 10 or 11.