Russia Would Agree to Talks to End Ukraine War on These Conditions: Kremlin
Russian Foreign Minister Sergei Lavrov signaled the Kremlin could be ready to negotiate an end to the Ukraine war so long as the West meets certain conditions.
Lavrov's remarks come more than eight months after Russian President Vladimir Putin launched the "special military operation" in Ukraine on February 24. Although Moscow initially hoped for a quick victory, the invasion has revealed weaknesses in their military that blunted the Kremlin's gains. Furthermore, Ukraine received support from the West, bolstering defense efforts and allowing its military to launch a strong counteroffensives to reclaim occupied territory.
As fighting rages on, negotiations between the two Eastern European nations have stalled. Ukraine, which has seen surprising success, has suggested its military would keep fighting until Russia is completely ousted from its territory. Meanwhile, Russia has signaled little interest in ending the war, despite facing mounting losses.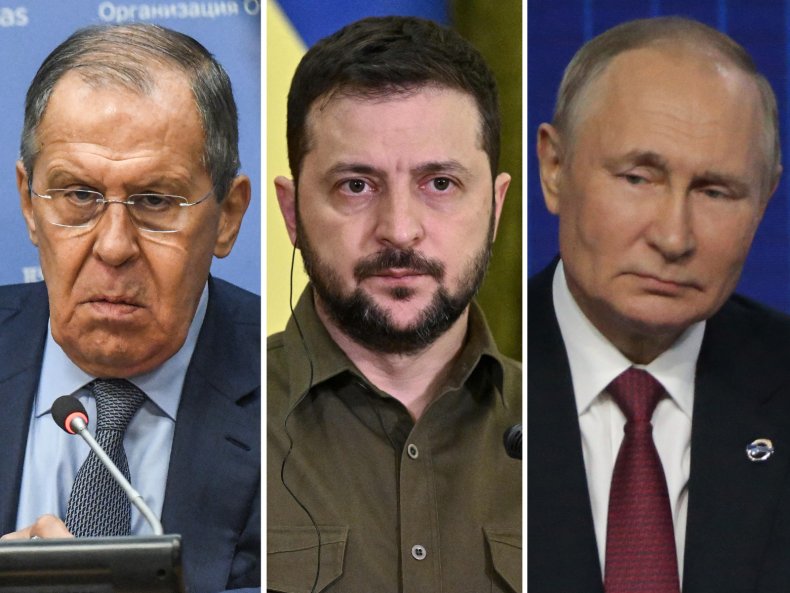 Lavrov, however, discussed the possibility of negotiations between Russia and the West during an interview on Russian state television, Russian state media outlet RIA Novosti reported Saturday. He said Russia is "always ready to listen to our Western colleagues if they make another request to organize a conversation."
He named two conditions the West would need to agree to for negotiations to be successful.
Lavrov said the West would need to "fully take into account the interests of the Russian Federation and its security." Russia, for years, has raised concerns about the expansion of the North Atlantic Treaty Organization (NATO), which the Kremlin views as a threat to its security interests.
Putin would likely demand Ukraine's neutrality during negotiations. Throughout the conflict, more Eastern European nations including Finland—which shares a border with Russia—have made efforts to join NATO, strengthening the organization and delivering a blow to Russia's sphere of influence. The U.S. has signaled reluctance to allow Ukraine's membership under current conditions.
Secondly, the West would have to "offer us some serious approaches that will help defuse tensions," Lavrov said. He did not offer specifics as to how exactly the West could do so, though Russia has previously accused adversaries' of deepening tensions through their support of Ukraine and sanctions that have weakened Moscow's economy.
"If we are approached with realistic proposals based on the principles of equality and mutual respect of interests, aimed at finding compromises and a balance of interests of all countries in this region, we will not be the case, as it has always been in the past," Lavrov said.
Putin spokesman Dmitry Peskov also said on Saturday that any negotiations to end the Ukraine war would first need to be held with the U.S., which he said has a "deciding vote," according to TASS.
"Kiev has a president, a legitimate Ukrainian president, Mr. Zelensky, and it is theoretically possible to reach any agreements with him, but, bearing in mind the March experience, these agreements mean nothing because they can be immediately cancelled at the dictation from outside," he said.
What Ukraine, U.S. Leaders Said About Negotiations
Ukrainian President Volodymyr Zelensky has also laid out his requirements to sit down with Russian leaders to put an end to the war ravaging his country.
Zelensky said in September that his conditions require punishment for Russia. He said this would include more sanctions and its removal from the United Nations' Security Council, the protection of Ukrainian lives, the recognition of Ukraine's borders and new security guarantees for Ukraine.
The Biden administration has said Ukraine's interests should be at the center of any negotiations to end the war. In a letter earlier in October, Biden and other world leaders reaffirmed their commitment to "providing the support Ukraine needs to uphold its sovereignty and territorial integrity."
"With a view to a viable post-war peace settlement, we remain ready to reach arrangements together with interested countries and institutions and Ukraine on sustained security and other commitments to help Ukraine defend itself, secure its free and democratic future, and deter future Russian aggression," the letter—also signed by leaders of Canada, France, Germany, Italy, Japan, the United Kingdom and European Union—reads.
Newsweek reached out to the U.S. Department of State for comment.