Russian Accused of 'Nazi Propaganda' for Playing Ukrainian Anthem in Public
A man in Russia has been jailed after he was accused and found guilty of "Nazi propaganda" Thursday for playing the Ukrainian national anthem on a piano in public.
According to The Moscow Times, Siberian entrepreneur Vladimir Fofanov, was accused by a court in Tyumen, Russia, of "shouting slogans of the banned organizations UNA-UNSO and the Right Sector." These Ukrainian organizations were banned after Russia annexed Crimea from Ukraine in 2014, according to the newspaper.
"Moreover, the man posted a video of his 'concert' on the internet," the court stated.
However, a video that Fofanov posted online shows him only playing the anthem on a piano outdoors in a public area, which did not show him shouting or speaking the slogans he was accused of.
Fofanov was sentenced to 14 days in jail on misdemeanor Nazi propaganda charges, The Moscow Times reported. He reportedly pleaded guilty during the court proceedings.
Newsweek has reached out to the court in Tyumen for comment.
In a separate incident in Moscow last month, a court fined a man for wearing yellow and blue sneakers, which Russian authorities believed was a sign of support for Ukraine. Blue and yellow are the colors of the country's flag.
The man was accused of wearing "political tools" on his feet when he was found and detained by local authorities in the center of the country's capital near a protest against Russia's invasion, Radio Free Europe reported at the time. The man's lawyer claimed he had nothing to do with the protests, and that he was out buying gifts for his family.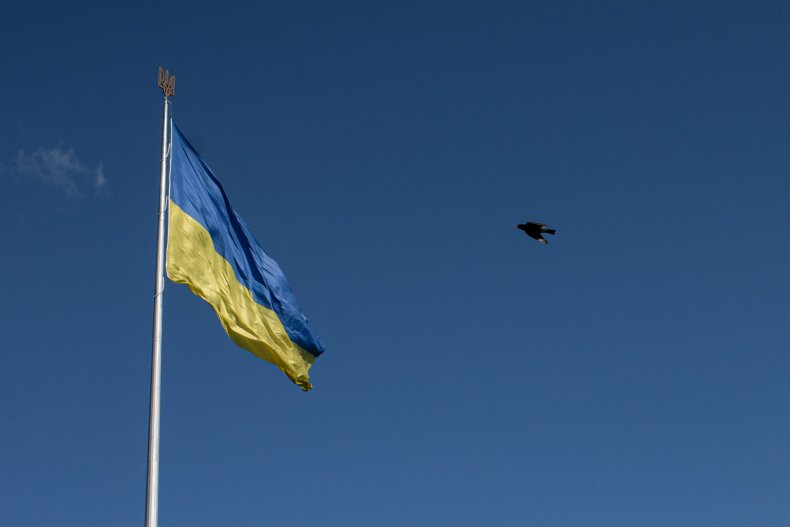 Earlier this week, a man in in the Russian city of Kemerovo was arrested after he allegedly damaged power lines. Russian authorities also accused the man of supporting "Ukrainian Nazis." Russia's Federal Security Service (FSB) said that the man's actions led to a temporary outage in the region.
After Russia invaded its Eastern European neighbor earlier this year, the country's parliament passed a law cracking down on criticism of the move. The law criminalizes the distribution of "fake news" about the Russian military, and those who violate it face up to 15 years in prison. In March, news organizations including CNN and the BBC suspended operations in the country fearing that its journalists could be arrested.
Russia's invasion has now dragged on for nearly three months. On Thursday, a guest on Russian state television claimed that the invasion could just be a "rehearsal for a possible bigger conflict in the future."