An activist in northern Russia was detained for making snowmen with signs criticizing President Vladimir Putin and referencing Russian opposition leader Alexei Navalny, according to a Wednesday report in The Moscow Times.
Yelena Kalinina, an activist in Arkhangelsk, Russia, sculpted four snowmen holding up placards with such statements as "Down With the Tsar" and "This Is Our Country!"
Another sign referenced a billion-dollar luxury palace that Navalny recently claimed belongs to Putin and was acquired with illicit funds.
"Yelena Kalinina was detained for organizing a mass picket of snowmen," Andrei Borovikov, a fellow activist and Navalny's former Arkhangelsk office coordinator, wrote on Twitter.
"The cops don't know what to do, they call the authorities every minute," he added.
The snowmen protest comes after tens of thousands gathered nationwide this past Saturday in support of Navalny, who was sentenced to 30 days in jail on January 18. The demonstrations led to nearly 4,000 detentions across 120 cities, with several participants facing felony charges, The Moscow Times reported.
Navalny, a 44-year-old Russian politician and anti-corruption activist, is probably Putin's most well-known critic. In August, he accused the Russian government of poisoning him with a chemical nerve agent after he collapsed on a flight over Siberia, prompting an emergency landing.
The German government requested that the Organization for the Prohibition of Chemical Weapons assess a medical sample taken from Navalny. In September, the government revealed that tests carried out by the German military found "unequivocal proof of a chemical nerve warfare agent of the Novichok group," a chemical weapon that had been used to kill a former Russian spy, the BBC reported.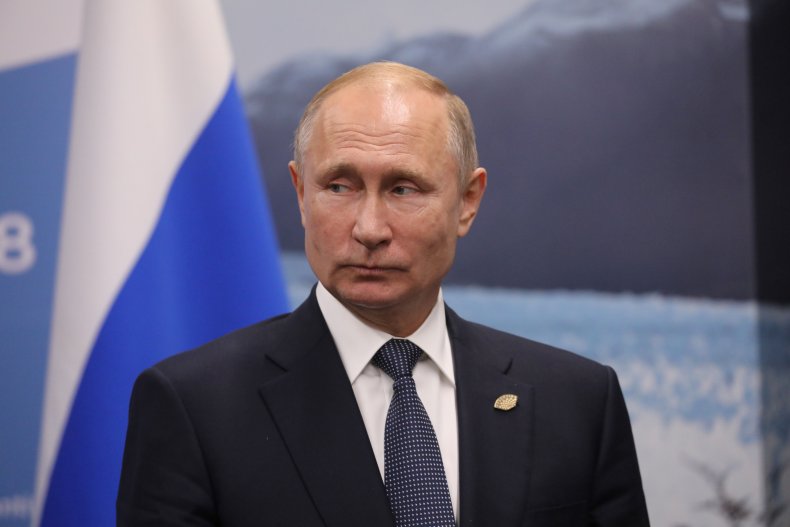 Following his recovery and return to Russia in January, Navalny was immediately arrested for allegedly breaking parole, an accusation that he says is false and was meant to keep him locked up.
Russian officials, including Putin, have denied their involvement in the poisoning.
On Tuesday, President Joe Biden spoke with Putin for the first time since taking office and confronted the Russian leader about the poisoning.
White House press secretary Jen Psaki said Monday that the U.S. government is calling for Russia's "immediate and unconditional" release of Navalny.
"I'll just reiterate our call from here on Russian authorities to release all those detained for exercising their universal rights," she said. "We also urge Russia to fully cooperate with the international community's investigation into the poisoning of Alexei Navalny and credibly explain the use of a chemical weapon on its soil," Psaki added.
In a summary email to Newsweek on Biden's Putin call, the White House said, "President Biden made clear that the United States will act firmly in defense of its national interests in response to actions by Russia that harm us or our allies."
Newsweek reached out to the White House for additional comment but did not hear back in time for publication.