Russian Activists Spray Anti-Putin Slogan on Frozen River
A group of Russian activists spent the night in jail after spray-painting a giant slogan against President Vladimir Putin on the frozen surface of a major river in the center of his hometown, regional news outlet Rosbalt reported.
Nine activists immediately attracted police attention on Saturday night as several neared the bank of the frosty Fontanka River in St. Petersburg to paint "Against Putin" on the ice. Police officers arrived on the scene within five minutes, one of the activists told Rosbalt, and detained all nine members of the group.
Related: Putin Tried to Pass Off Footage From 2007 as a Major Nuclear Arms Upgrade
The activists, who are campaigning for Kseniya Sobchak, the most liberal candidate permitted to run against Putin in this month's election, were accused of "discrediting the president," senior campaign official Natalya Gryaznevich wrote on Instagram. Two of them spent the night in jail while a fire truck immediately blurred the slogan with bursts of water.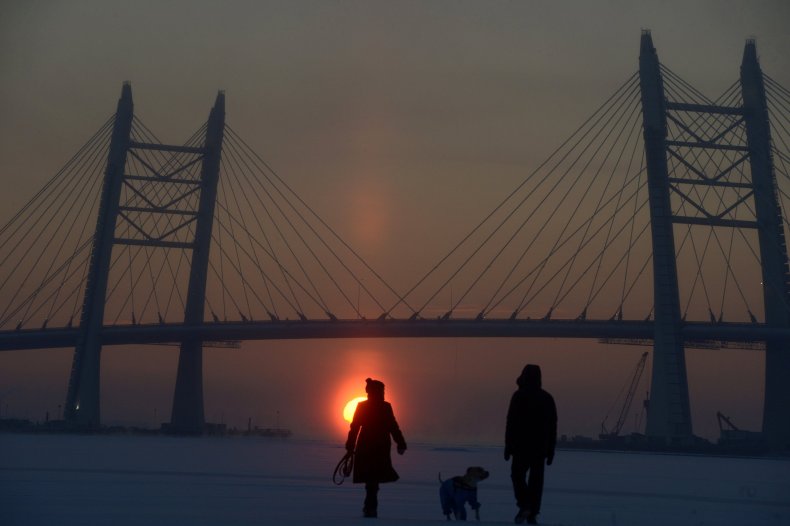 "Now you understand that to be against Putin is illegal," Gryaznevich wrote, referring to the police's decision to detain the group behind the campaign stunt. The last two activists still in detention by the morning were allowed to walk away free after police failed to find charges to press against any of the activists, Gryaznevich told local newspaper Fontanka.
Anton Gorbatsevich, one of the two released in the morning, told Russian news site TJournal that police forced him to agree he would appear in court in the coming month but has still not been told what law he is suspected of violating. "Maybe in a month they will think of something," he said, vowing to file a complaint about his detention and accusing police of physically hurting him.
Gryaznevich posted photos of the slogan and the smudged version of it, apparently taken after the firefighters' intervention. It was not the first time Russian authorities had been quick to obscure public displays of protest against Putin; earlier this month, two people were detained for wearing jackets emblazoned with the name of the Kremlin's most vocal critic, Alexey Navalny.
Some Moscow residents, exasperated with the authorities' slowness in removing snow, have even been tactically spray-painting snowmounds and icy patches with pro-Navalny or anti-Putin messages, only to see them swiftly cleared, the BBC has reported.
Russia's presidential election will take place later this month, and Putin is widely expected to win and begin his fourth term as president without debating a single opponent. Navalny has been rejected from running. He and other long-standing critics consistently receive limited or no coverage from Russia's state-dominated media.