Russian Actor Fires at Ukrainian Forces, Wearing Press Helmet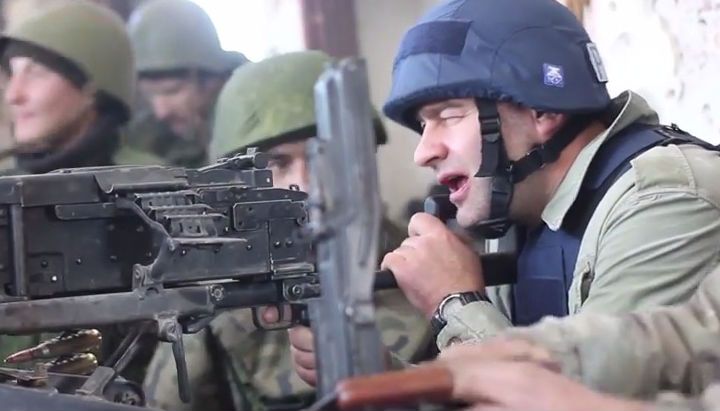 A Russian film star's "surprise" visit to Ukrainian, pro-Russian separatists in the country's east has caused a backlash from local media and authorities, after video footage posted online on Friday appeared to show him firing a mounted machine gun at the Kiev-held Donetsk airport and mocking the "ceasefire" agreed by pro-Kiev and pro-Russian forces.
The caption of the clip claims it was shot by Ukraine's Donetsk airport in the self proclaimed People's Republic of Donetsk, the breakaway territory in eastern Ukraine, held by pro-Russian separatists.
In the video, dated October 30, actor Mikhail Porechenkov, who has since confirmed he visited eastern Ukraine as part of a humanitarian convoy from Russia, is shown telling armed militants "we came to tell you we support you and to tell you that back [in Russia] there there are many who are with you".
The actor shares a few jokes with fighters, who then load a mounted machine gun for the actor to fire, which he does after laughing at the mention of the word "ceasefire" and whilst wearing a helmet with the word 'press' written on it.
The Ukrainian security services, who have fought pro-Russian rebels around Donetsk airport since September have condemned Porechenkov's actions, while Russia's Union of Journalists has also criticised Porechenkov for wearing the press helmet.
Ukraine's authorities have opened a criminal case against Porechenkov and Ukraine's interior minister Arseniy Avakov, dubbed Porecheknov an "accomplice in terrorist activities" after the incident.
"This is the complete idiocy and madness of their country," Porechenkov told Russian news agency ITAR TASS.
"Now every time I grab a kitchen fork they will say I am a major terrorist because it can be used to harm someone," Porechenkov added.
Porechenkov then told the state-backed news agency the video was "staged", the bullets used were dummies and that he wore the controversial press helmet because there was no other protective helmet to hand.
Porechenkov's visit is one of several visits to separatist held territories by Russian celebrities after Soviet crooner Iosef Kobzan was received by Donetsk rebel leader Alexander Zaharchenko on Monday.
These visits have not been sanctioned by the Kiev government, and instead have gone ahead through rebel held border crossing points.