Russian Spy Planes Intercepted Over Baltic Three Times in Two Days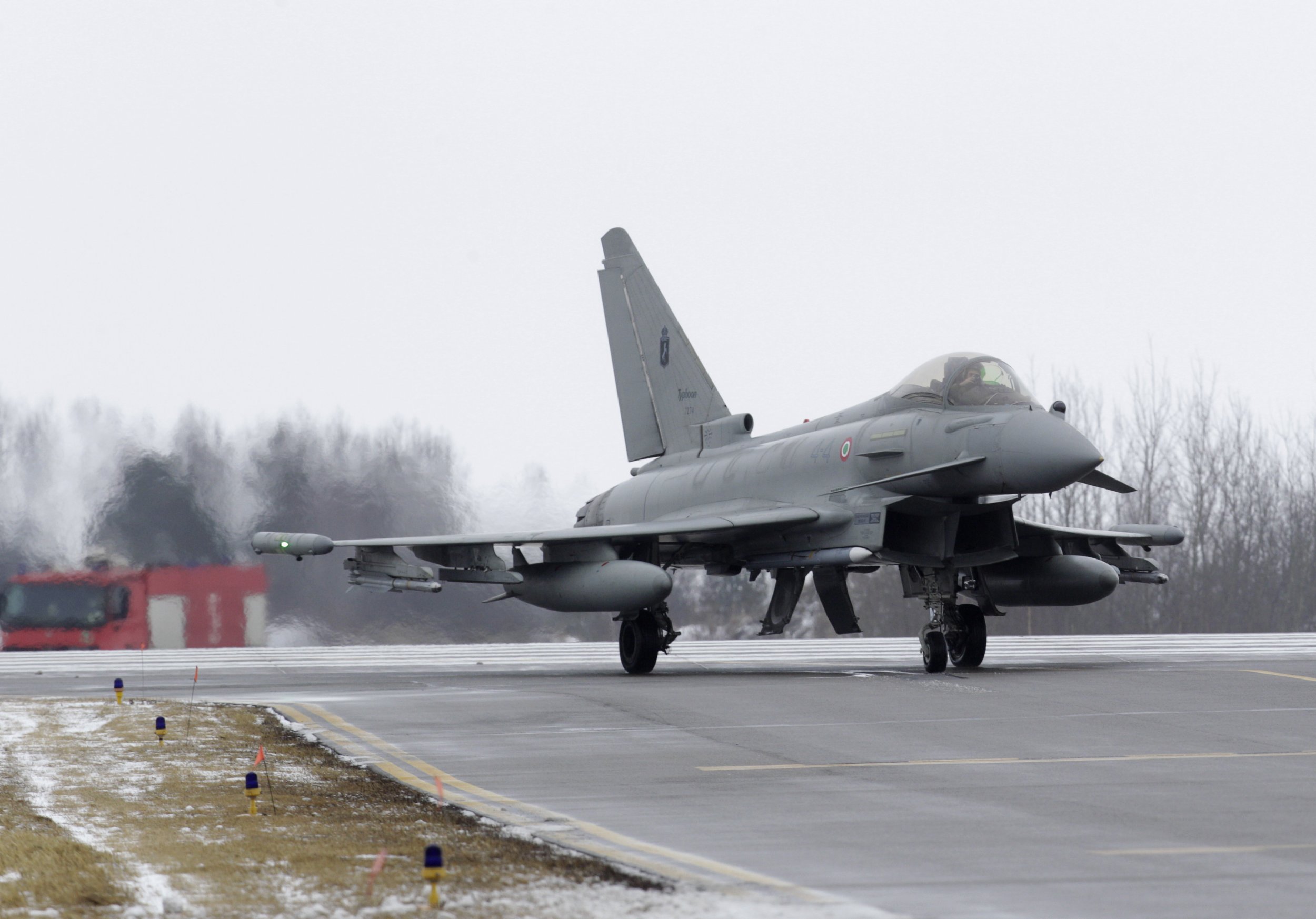 NATO air police jets intercepted Russian air force spy planes above the Baltic Sea on three occasions in the space of just two days, Lithuania's Ministry of Defense announced on Monday.
Lithuania and Estonia host a small group of NATO jets sent by different allies which patrol the skies above all three Baltic countries, including Latvia. The planes scramble to identify and track incoming, unidentified aircraft—often Russian military jets—as a reinforcement measure for their relatively small armed forces.
Read More: Russia's first ever supersonic, stealth fighter jet finally has a name. Here is what else we know about it
They flew sorties three times between Thursday and Friday last week after spotting Russian Ilyushin Il-20 jets—a variant of Russia's Il-18, but kitted out with lateral view radar, scanners and other radio-electronic surveillance capabilities.
The first NATO sortie pursued two Il-20 planes, flying from mainland Russia to its Baltic enclave Kaliningrad, both with their transponders switched off.
The second sortie chased after another plane seemingly making the return journey to the Russian mainland later in the day, also without a transponder switched on. The second Il-20 flight from Kaliningrad to the mainland zipped past the Baltics on Friday. In all four cases the Russian aircraft followed a flight plan. It is not immediately clear if the two jets flying to Kalinigrad were the same as those that made the journey back.
Russia has dramatically increased military presence and training in its northwest, including the Baltic, since relations between Moscow and the West deteriorated in 2014. Russian President Vladimir Putin defended the decision to begin so-called patrol flights through the busy international airspace over the Baltic Sea in 2014, claiming it was no different from U.S. practices.
Such forays, although not usually resulting in a violation of sovereign airspace of any foreign nation, have concerned civilian aviation experts, warning of the threat of collision with a passenger plane, but also defense experts in the highly-strung Baltic states.
Putin's comments came after Russia's annexation of Crimea from Ukraine in 2014, causing apprehension among other former Soviet states such as the Baltics. Russian military maneuvers are seen as evidence of a more aggressive attitude by Moscow, in the eyes of a handful of Russian neighbors.
By contrast, U.S. and NATO reinforcement measures in the Baltic and other European neighborhoods usually come at the behest of national governments.
This summer larger formations of Russian jets including bombers flying in the Baltic have prompted escorts not only from NATO but also from neutral militaries such as Finland and Sweden.
A Russian diplomatic spokesperson from the Embassy in London told Newsweek last month that Moscow viewed Western patrols near Russia in the Baltic as wrong, but noted that its own military flights to Kaliningrad—though sometimes numbering up to dozens of assault aircraft—were Russia's "legitimate business."