Russian Army Dog Caught in Crossfire Taken in by Ukraine Soldiers
A Russian army dog that got caught in a crossfire has been taken in by Ukrainian soldiers.
The Belgian Sheperd—now named Max—used to belong to Russian forces, who had a base in Mykolayiv.
Russian forces captured a village in Mykolayiv early on in the invasion of Ukraine. Ukrainian forces have since regained control of the area, and, in doing so, destroyed a Russian military base where Max was living with his previous owners.
The Mykolaiv area lies near the Black Sea in southern Ukraine. It currently sits right at the edge of the Russia-occupied areas of Ukraine. Russia is continuing advances of the area but has been met with strong resistance from the Ukrainian army. Russia is aiming to cut off access to the Black Sea, however, they so far have not moved past Mykolaiv.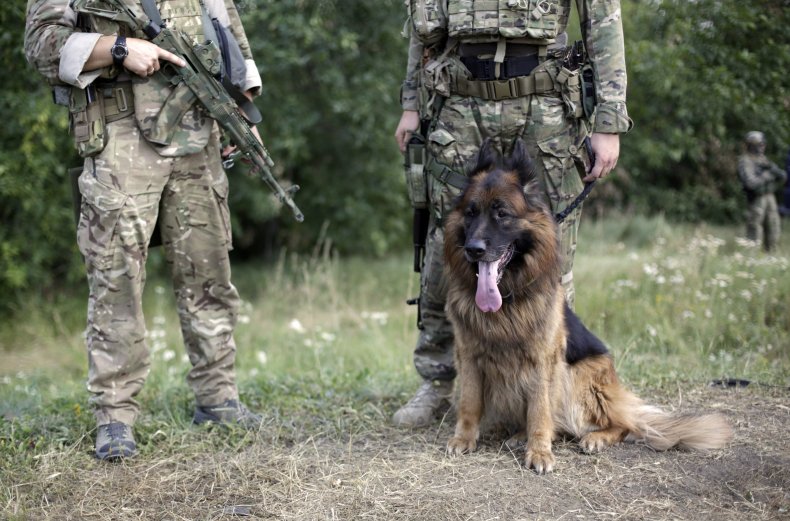 Without an owner, Max was found wandering around the village alone, wearing a Russian collar. A man, who found the dog near his home, took him in.
Later, the man gave the lost dog to the Soldiers of the 19th Regiment of Ukraine's National Guard, who have taken him in as their own, the Euromaidan Press reported
Max is now standing alongside the soldiers and is the newest member of the country's National Guard.
Belgian Shepherds are often chosen to become working army dogs as they are strong, highly intelligent species that can follow strict commands. They are often trained on how to sniff out explosive devices as well as carry out search and rescue duties.
A soldier with the call sign "Riddick" has been training the dog. The soldier told the Euromaidan Press that the dog is very intelligent and friendly.
The dog so far understands "basic commands," when they are spoken in Russian. The soldiers have now started training him in Ukrainian.
Max is about 3 years old and in "excellent physical shape," the soldier told the news outlet.
A guardsman with the regiment told the Euromaidan Press that they are "very grateful" to have been given the dog by the people that found him.
As Max is a pedigree breed of dog, he instead could have been sold for a "pretty penny," he said. The guardsman said from now on Max will serve and "defend Ukraine, and learn to bite off some Russian asses."
Throughout Russia's invasion of Ukraine, many animals have been abandoned amid the chaos. Aid projects have been launched by animal welfare groups to help the cats, dogs, and exotic animals found across Ukraine.