Russian Army Headed by 'Totally Incompetent People,' Ex-Russian VP Warns
Alexander Rutskoy, the former vice president of Russia, had harsh words for the country's military during a recent talk, while also predicting that it will not see a victory in Ukraine.
Beginning his career in the Soviet military, Rutskoy eventually rose to become Russia's first and only vice president, serving under former President Boris Yeltsin. He held the office from 1991, shortly after the fall of the Soviet Union, to 1993, when the office was abolished amid the Russian constitutional crisis of the same year. During his time in office, he notably advocated independence for former Soviet territories, including Ukraine, Crimea, and Moldova.
On Monday, Anton Gerashchenko, an adviser to the Ukrainian Minister of Internal Affairs, shared a clip of Rutskoy at a speaking event where he lambasted the Russian army as being led by "incompetent people," and expressed cynicism about its chances in Ukraine.
"All that is happening there today is explained by the fact that our armed forces are unable, I emphasize, unable to conduct strategic offensive operations," Rutskoy said, as translated by Gerashchenko. "For 22 years, the armed forces have been commanded by people who did not serve in the army. For a quarter of a century, the armed forces have been headed by totally incompetent people."
The former vice president added: "If the armed forces do not have the ability to conduct strategic offensive operations, then it is better not to try, especially outside your own country... People are dying senselessly, although the slogan is 'Defend Russia.' Where are they defending Russia? What are they dying for....? Who has the right to take a father away from his children? Who gave the right to take away sons from mothers and fathers? Nobody."
During the same talk, Rutskoy took aim at Russian President Vladimir Putin, calling him a "laughingstock" for not carrying out certain military intentions, citing heavily disputed Russian claims that the United Kingdom was responsible for the destruction of the Nord Stream gas pipelines last year.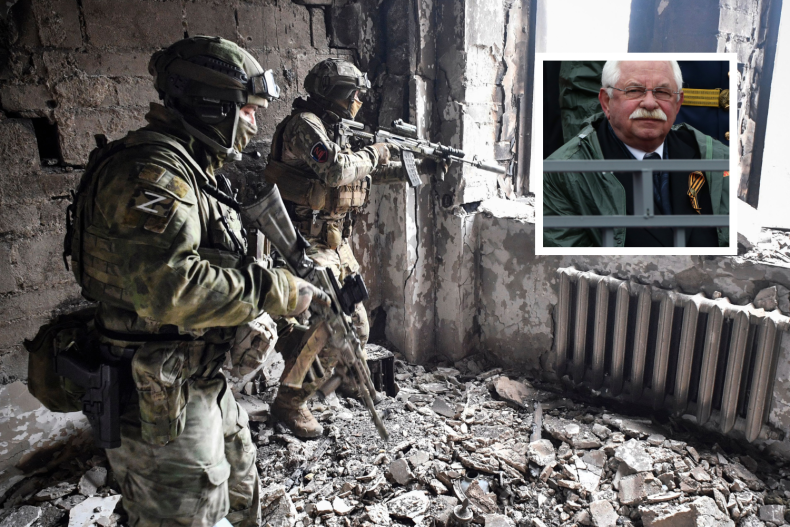 "Britain blew up the Nord Stream pipelines," Rutskoy said. "And what is the reaction? Nothing. Just blah-blah-blah. Why is this happening? Because from a military point of view, we have no strategic planning. [Putin] voices his intentions, which are not realized. It makes him a laughing stock."
Meanwhile, Russian forces continue to suffer heavy losses in Ukraine, both in terms of soldier casualties and destroyed hardware. On Saturday, former U.S. lawmaker Richard Ojeda likened Putin's strategy of continuing to flood the battlefront with soldiers to "throwing meat into the grinder," and insisted that the country's current rate of losses is unsustainable.
Newsweek reached out to experts for further comment.