Russian Attack Helicopter Destroys Ukrainian Armored Vehicles, Military Infrastructure
Images purport to show a Russian attack helicopter destroying Ukrainian armored vehicles and military infrastructure.
The released images show an attack helicopter being prepared for combat before it takes off from an undisclosed location and heads toward unseen targets, flying low over fields and forests.
It is unclear where exactly in Ukraine the images were filmed, but the attack helicopter may be an Mi-35 and can be seen opening fire before the footage ends.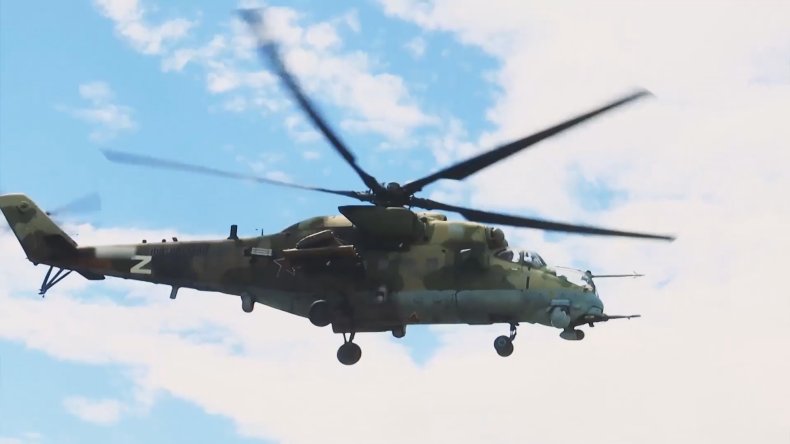 The footage was obtained from the Russian Ministry of Defense (MoD), which said: "The helicopter crews of the army aviation of the Western Military District, in the course of a special military operation, continue to carry out the tasks of destroying armored vehicles and military infrastructure of the Armed Forces of Ukraine, escorting military columns, delivering troops, military cargo, air support for units performing tasks as part of a special operation."
The Russian MoD added: "All flights take place at extremely low altitudes."
The Russian MoD also said: "As a result of regular combat missions, strongholds of command and armored vehicles of units of the Armed Forces of Ukraine were destroyed."
The Mil Mi-24 is a large, multipurpose gunship that can be used as an attack helicopter and as a troop transport vehicle.
Zenger News contacted Russian and Ukrainian officials for comment but had not received a reply at the time of writing.
Russian troops invaded Ukraine on February 24 in what the Kremlin is still calling a "special military operation." June 8 marks 104 days since the beginning of the campaign.
From February 24 to June 7, the total combat losses of Russian troops stand at around 31,360 personnel, according to the General Staff of the Armed Forces of Ukraine.
The Ukrainian military also claims that Russia has lost 1,390 tanks, 3,416 armored fighting vehicles, 694 artillery systems, 207 multiple launch rocket systems, 96 anti-aircraft warfare systems, 212 aircraft, 177 helicopters, 2,405 motor vehicles and fuel tankers, 13 naval vessels, 553 unmanned aerial vehicles, 53 special equipment units, and 125 cruise missiles.
Meanwhile, the Ukrainian Center for Strategic Communications (StratCom) said Monday that Russian Major General Roman Kutuzov was killed in a battle near Popasna in the Luhansk region. This has been confirmed by Russian state media.
The United Kingdom and the United States have announced that they are sending long-range missile systems to Ukraine.
Russian President Vladimir Putin has warned of more attacks in Ukraine if the West sends long-range weapons.
Russian missiles struck Kyiv on Sunday in the first assault on the Ukrainian capital in weeks.
Ukraine's President Volodymyr Zelensky has said that Russian attacks on the cities of Severodonetsk and Lysychansk has turned them into "dead cities," but he added that Ukrainian forces could still hold Severodonetsk despite being outnumbered.
Russia's ambassador to the United Nations, Vassily Nebenzia, walked out of a Security Council meeting Monday after his country was blamed by European Council president Charles Michel for triggering a global food crisis.
This story was provided to Newsweek by Zenger News.