Russian authorities in the coal-mining Siberian region of Kemerovo came up with a bizarre way to hide the visible effects of pollution and decided to simply paint dirty snow white.
In a video published by local media, a Russian woman speaks while she reaches out her hand to brush a snow bank in the town of Mysky. The white sticky paint, which was apparently used by local authorities in an attempt to hide the soot and ash dirtying the snow throughout the area, can be seen coating her hand. Families had come to the location, near a municipal recreational facility, so their children could play and enjoy the snow as well as holiday decorations.
"You can see the stains," the woman said in the clip, according to The Moscow Times. "It even sticks," she adds, showing her paint-covered hand to the camera.
Criticizing the unusual incident, the local nk-tv.com news website said that "apparently, no white snow could be found around the city surrounded by coal mines." The site quipped that authorities had to "resort to modern technology."
Dmitry Ivanov, the head of the town, announced that he had reprimanded those responsible for painting the snow, while also apologizing for their actions and ordering the removal of the paint.
"I apologize to the townspeople whose New Year's mood was spoiled by this," he said in a Wednesday statement reported by Russian media.
According to the Prague Civil Society Centre, an organization that promotes social change throughout Eastern Europe and Central Asia, "black snow" is all too common in parts of Russia.
"Coal is big business for Russia's Far East," the organization said on its website. "Although trade in coal is providing a welcome boost to the region's struggling economy, it is having a devastating effect on both the environment and health of its inhabitants."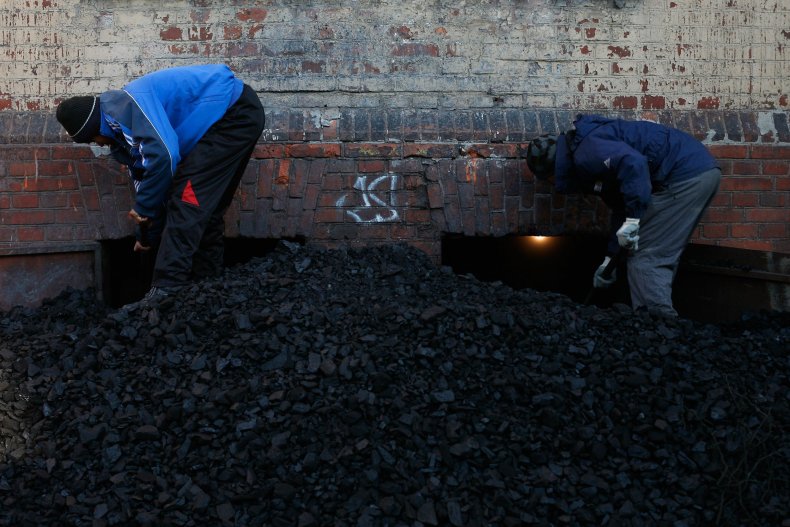 The industry's transport and storage of coal regularly release large amounts of black dust into the air. This has particularly noticeable effects in winter, when the coal dust mixes with moisture in the atmosphere and causes black snow to fall.
"This filthy snow then falls on the ground indiscriminately, not only near the ports and transport hubs, but also all over residential and public areas," the civil society group's website explained.
In 2017, Russia was the world's sixth largest producer of coal, following China, the United States, India, Australia and Indonesia respectively, according to Mining.com. Production of the dirty fuel source is also projected to rise by the Russian government, already increasing by six percent between 2016 and 2017. By 2030, the country's Ministry of Energy predicts some 480 million tons will be produced annually.