Russian-Backed Separatists Seize Non-Ukrainian Ships in Black Sea: Report
Russian-backed separatists have followed through on plans to take control of foreign commercial ships in a southern port city in Ukraine.
Representatives of the breakaway Donetsk People's Republic have notified two shipping companies that it had seized their vessels in the Ukrainian city of Mariupol, Reuters reported Tuesday. The reported seizure of the ships is the first of its kind and comes nearly two months after Russia took full control of Mariupol and is now seeking to establish dominance in Ukraine's eastern Donbas region.
The Donetsk People's Republic, a separatist region in eastern Ukraine recognized by Moscow, sent each company a letter, obtained by Reuters, stating that the ships had been subject to "forcible appropriation of movable property with forced conversion into state property," offering no compensation.
One of the seized ships is the Panama-flagged Blue Star I, which is owned by the Fetida Maritime. The other is the Liberia-flagged Smarta bulk vessel, which is registered to Smarta Shipping, reports Reuters.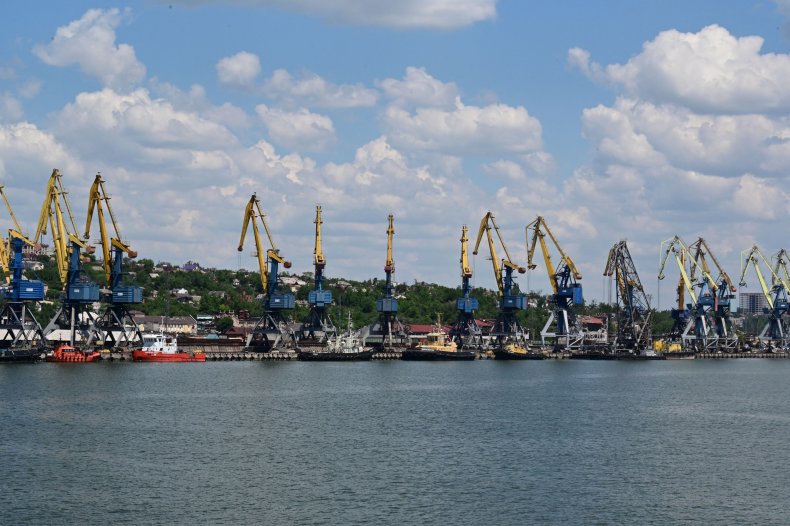 "Such forced appropriation is in breach of fundamental human rights in so far as property rights are concerned," Smarta told the news outlet in a statement. "Such action is a serious threat to shipping and to maritime safety."
Previously, separatist leader Denis Pushilin told Russian state media in May that "some of the vessels will come under the jurisdiction of the Donetsk People's Republic. The relevant decisions have been made," reported the Independent.
Earlier in Russia's invasion of Ukraine, Mariupol saw some of the heaviest fighting as Russian forces sought to gain control of the Azov Sea port city. In May, Russia declared it had taken control of Mariupol, which it intended to use to move troops from Russian-controlled Crimea to Ukraine's eastern Donbas region, where fighting has intensified.
Ukraine's foreign ministry has not commented publicly on reports that separatists have seized foreign vessels. The ministry told Reuters it was aware of plans by "the Russian occupation authority in Donetsk" to create a fleet of ships they had stolen in Mariupol.
However, the report comes amid an ongoing stalemate over control of the Black Sea, which has been used by Ukraine to export grains to foreign markets.
The United Nations has warned that the blockades of the southern ports of Ukraine, a leading grain exporter, could contribute to a global food crisis. Russia, however, has demanded that Ukraine remove mines from the Black Sea to allow the safe passage of ships carrying grain.
Newsweek has reached out to the Ukrainian Foreign Ministry for comment.