Russian Backup Military Equipment Reduced to Scrap in Video Released By Ukraine
Video released by Ukrainian military officials shows explosions breaking out in fields in Ukraine at sunset as Russian military equipment is purportedly blown to shreds.
A second video claims to show Russian military vehicles unconvincingly hiding among trees moments before they are turned into fiery wrecks by Ukrainian forces.
Zenger News obtained the first piece of footage from the 59th Motorized Brigade — a formation of the Ukrainian Ground Forces — on Sunday.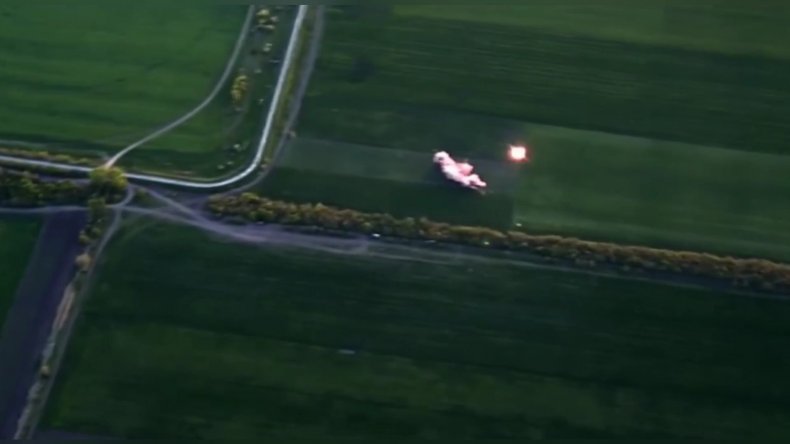 The brigade said (in Ukrainian): "Artillerymen of the 59th Brigade defeated a column of orcs.
"Again, the racist equipment did not reach its destination. Again, they littered our fertile fields with their scrap metal.
"Well, they can't find their way home. So our people show them the only right direction - following the ship.
"Because there is nothing sown..."
Zenger News obtained the second piece of footage from the Ukrainian Air Assault Forces (DShV) — the airborne forces of Ukraine — on Sunday.
The DShV said (also in Ukrainian): "Artillery units of the DShV and the Land Forces of the Armed Forces of Ukraine found and destroyed the firing position of the rocket artillery of the Russian occupiers.
"MLRS [multiple launch rocket system] occupiers tried to fire on peaceful settlements in our country. However, the Defenders of Ukraine thwarted their plans. The consequences of 'hunting' are impressive:
"MLRS BM-21 'Grad' - two units; MLRS BM-27 'Uragan' - one unit; radar complex of reconnaissance and firing control (counter-battery radar) 1L260 'Zoopark-1M'- one unit; more than five units of transport vehicles; a place of storage of ammunition."
"DShV - always first! Together with the Land Forces to victory! Glory to Ukraine!"
Neither the 59th Motorized Brigade nor the DShV specified where in Ukraine their respective strikes were filmed.
Russia invaded Ukraine on February 24 in what the Kremlin is now calling a "special military operation" to "protect Donbass."
From February 24 to May 16, the total combat losses of Russian troops stand at around 27,700 personnel, according to the General Staff of the Armed Forces of Ukraine.
The Ukrainian military also says Russia has lost 1,228 tanks, 2,974 armored fighting vehicles, 577 artillery systems, 195 multiple launch rocket systems, 89 anti-aircraft systems, 200 warplanes, 165 helicopters, 2,101 motor vehicles and fuel tankers, 13 vessels, 427 unmanned aerial vehicles, 42 units of special equipment and 97 cruise missiles.
Monday marks the 82nd day of the invasion.
This story was provided to Newsweek by Zenger News.