Ukraine reportedly struck a Russian missile ship in the Black Sea with an "experimental drone," forcing the Russian military to tow it away for repairs, according to Ukrainian authorities.
The maritime "Sea Baby" drone struck Russia's Samum missile ship near the entrance to the Sevastopol Bay, located in the largest city on the Crimean peninsula, on Thursday, according to a report from Ukrainian news outlet Ukrainska Pravda, citing the Security Service of Ukraine (SBU).
Ukraine's drone attack comes amid its latest counteroffensive effort, in which its forces are seeking to retake key occupied territory taken by Moscow since Russian President Vladimir Putin launched the invasion on February 22, 2022. Although Russian military leadership hoped for a quick takeover of its Eastern European neighbor, Ukraine's stronger-than-expected defense effort, bolstered by Western aid and coupled with challenges within Moscow's military, has held off substantial Russian gains for roughly a year.
Kyiv has claimed to have liberated roughly a dozen Russian-occupied villages in the latest counteroffensive, which was launched around June 4, though some reports have indicated the effort has gone slower than military officials hoped. The counteroffensive has included attacks on Crimea, a region Russia annexed from Ukraine in 2014 that has served as Russia's central logistics hub for its forces in Southern Ukraine amid the war.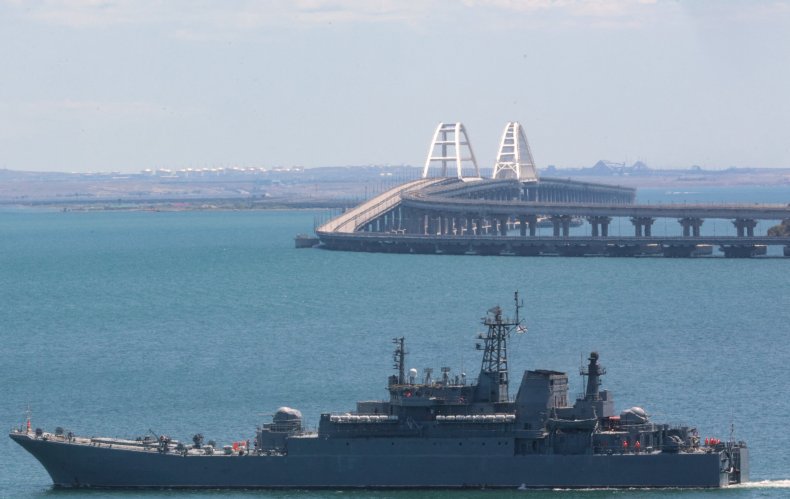 In the latest attack, a Ukrainian drone reportedly struck the rear part of the Russian Samum missile ship, inflicting enough damage to cause the ship to lose speed, according to Ukrainska Pravda.
The attack reportedly used an "experimental" marine drone that is capable of evading detection from high waves during a storm. During the attack, waves reached heights of roughly 6.5 feet, or two meters, according to the report.
Photos have emerged on social media that appear to show Russian forces towing the ship away in order for it to be repaired.
"Reportedly, this is the small missile ship 'Samum' of the Russian Black Sea Fleet being towed to port after being damaged by the sea drone 'Sea Baby,'" Anton Gerashchenko, an adviser to the minister of internal affairs of Ukraine, wrote in a post to social media platform X, formerly known as Twitter, on Saturday morning.
The authenticity of the photograph, originally posted to Ukraine's Operational Armed Forces, could not be independently verified by Newsweek.
Russia, however, claimed the attack was unsuccessful, Gerashchenko wrote in a separate post. He added that the Russian ship was designed for "reconnaissance, destruction of warships, covering landing forces and combating high-speed boats."
Newsweek reached out to the Armed Forces of Ukraine for comment via email.
The strike comes amid Ukraine's latest rounds of attacks on Crimea. Ukraine has sought to strangle Russian supply lines on the Black Sea peninsula, launching a series of attacks targeting the Russian navy's Black Sea fleet. The strikes caused explosions in the region on Wednesday and Thursday, Newsweek previously reported.
Ukraine Struck Several Russian Ships in Crimea: ISW
Ukrainian Air Force Commander Lieutenant General Mykola Oleschuk said Friday that Ukraine also struck Russia's Minsk Ropucha class landing ship and the Rostov-on-Don Kilo class submarine, both of which were also located in Sevastopol, according to the Institute for the Study of War (ISW), a Washington, D.C.-based think tank.
The strikes "functionally destroyed" the Minsk ship and caused "catastrophic damage" against the Rostov-on-Don. Russian forces will likely need several months to remove wreckage from the dry docks in the port, "rendering them unusable" presently, the ISW reported.