Russian Bots Retweeted Trump 500,000 Times at End of 2016 Campaign, Created Fake Facebook Events Seen by Thousands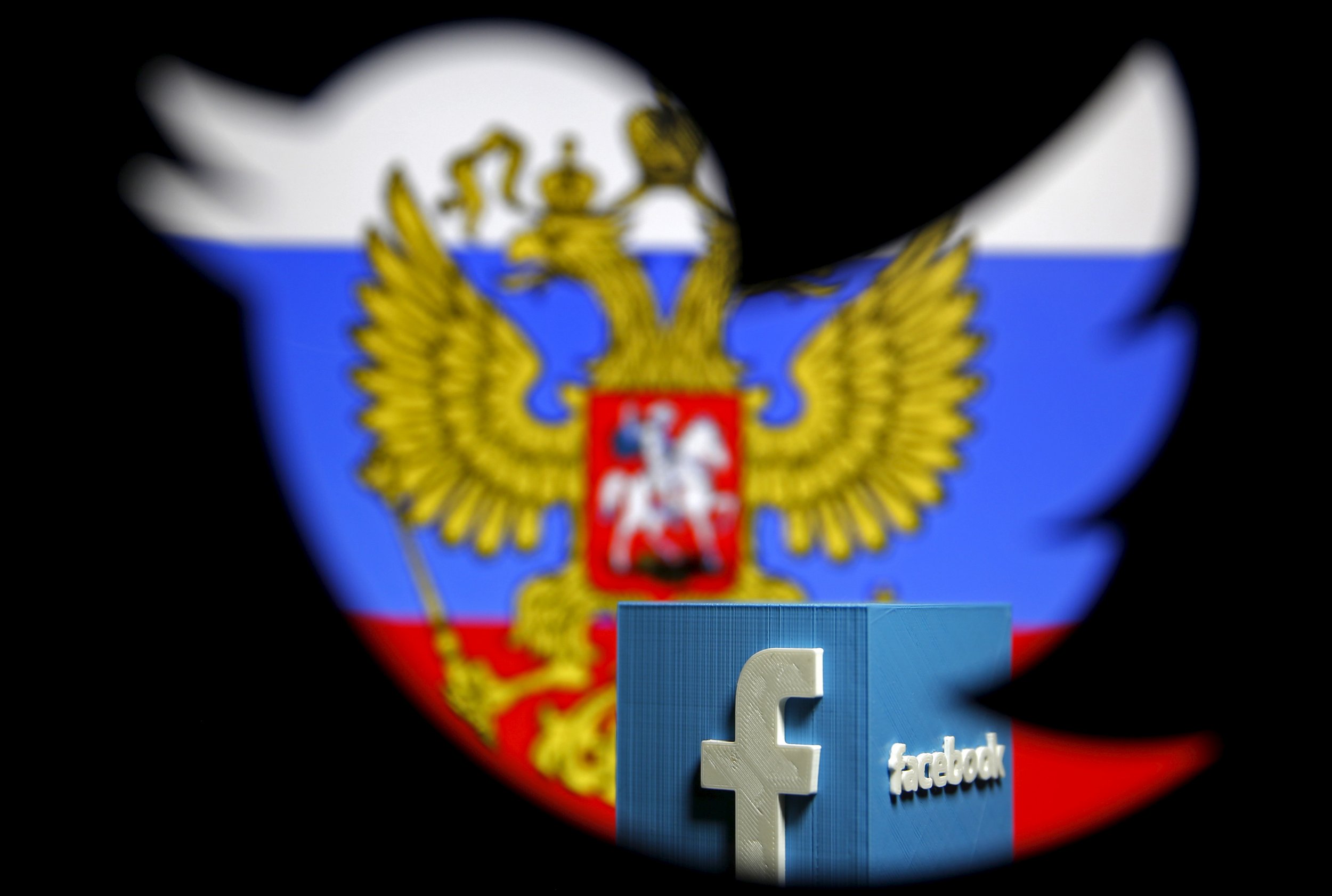 Russian bots retweeted Donald Trump nearly half a million times in the final weeks of the 2016 campaign, and more than 60,000 Americans RSVP'd for Facebook events created by Kremlin-linked trolls, the social media giants revealed in congressional documents this month.
In written statements to two congressional panels investigating Russia's election interference, the companies revealed new details about the extent of the Kremlin disinformation that reached more than 120 million Americans during the presidential race. The U.S. intelligence community has concluded that Russia launched an unprecedented series of cyber attacks and fake news floods to sow division and sway voters ahead of Trump's surprise victory.
Twitter revealed that Russian-linked bot accounts recirculated Trump's tweets more than two million times between September 1 and November 15, 2016, with nearly 500,000 of those coming in the campaign's final stretch. The automated accounts retweeted Republican candidate Trump 10 times more often Democratic contender Hillary Clinton, and accounted for 4.25% of all of Trump's retweets in the race's final days, according to Twitter's statement to the Senate Judiciary Committee.
They also fired off nearly 200,000 retweets in the same time for WikiLeaks, which exposed stolen information from Clinton's campaign and the Democratic National Committee that U.S. intelligence agencies have traced to Russian hackers.
Facebook, meanwhile, told the Senate Intelligence Committee last week that Russian trolls posing as American activists created 129 political events between 2015 and 2017, which were seen by more than 300,000 Facebook users and in some cases drew demonstrators to the streets en masse. About 62,500 users said they would attend one of the events and another 25,800 users expressed interest in going.
The events often preyed on divisive political or cultural issues, and sometimes set up demonstrations that would directly oppose each other or conflict with plans from actual activists. In one instance, according to Facebook, a fake page called "Heart of Texas" that called for the state to secede from the country promoted a "Stop Islamization of Texas" protest in May 2016 for the opening of an Islamic Center's library. Another Kremlin Facebook group, "United Muslims of America," promoted a "Save Islamic Knowledge" event for the same time.
Both events drew dozens of demonstrators for each side who likely had no idea of any Kremlin involvement behind the plans. It cost the Russian trolls only $200 to promote the events on Facebook, according to the company.
Russians trolls also created a Black Lives Matter-esque protest called "Don't Shoot Us" outside the police department for St. Anthony, Minnesota one day after one of its officers, Jeronimo Yanez, fatally shot Philando Castile, a killing that was captured on Facebook Live and sparked protests nationwide. Local activists at the time raised suspicion about the event and the group behind it, but some ended up attending anyway to make sure the protest went smoothly.
Facebook, Twitter and Google have been under congressional investigation since last year over the Russian disinformation campaigns from the election, and the companies have started issuing more warnings to users about fake news and Russian-linked content. Trump has often cast doubt on Russia's role in the election, while his campaign is under investigation for suspected collusion with the Kremlin, which the president has incessantly denied.