Risqué Russian 'Propaganda' Calendar of Syrian Women Sparks Outrage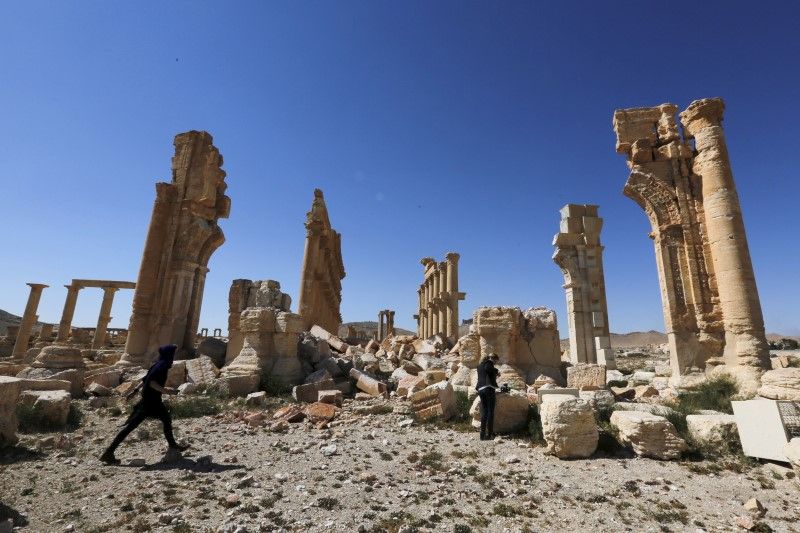 A controversial Russian calendar featuring Syrian women making flirty remarks to Russian soldiers has been criticised by one of its models, who has said she is shocked by the caption used with her photo.
People have already reacted with anger to the From Syria With Love calendar when images of it first appeared online earlier in December. The images depict young Syrian women who live and study in Russia striking coquettish poses in traditional Russian headdresses. These are captioned with puns and risque innuendo masked as comments regarding the brutal conflict in Syria.
The city of Aleppo is currently the site of one of the most prolonged and polarising military efforts by the Russian-backed Syrian armed forces.
The calendar's quotes include "The fate of my Palmyra is in your hands," referring to the ancient Syrian city that Russian forces helped take from militants, only to lose it later, "Is that your air carrier parked by Syria's shoreline" and "I am calm when my land is under your control." Each quote is attributed to one of the young women in the calendar, which features their names and home regions.
The head of the project, Maria Alyoshina, has already defended it from accusations that it makes light of the Syrian Civil War or that it serves as propaganda for Russia's military campaign, saying that it is intended to pay tribute to Russia's troops. And it has come under scrutiny from one of the women featured in its pages.
Yara Hassan was taken aback when she saw the final images, saying it was never agreed that any such quotes would be attributed to her.
"We thought that only our photographs would be there," she told Russian news site TJournal. "But we were shocked when we saw the calendar on the internet with these stupid phrases."
"On my [Facebook] page I explained to my circle of friends what happened, because the reaction in Syria has been horrible. Everyone is angry about these phrases," she said.
Anastasia Peshkova, a friend of some of the women photographed, said on Facebook that the calendar is "a full bouquet of tastelessness, bordering on black humor and frivolous euphemisms."
"Their trust was simply taken advantage of, attributing to them idiotic phrases, even putting them as direct quotes with their citation, without asking their consent, without a thought about how this project would look in the end," she added.
The organisation behind the calendar did not immediately respond to a Newsweek request to comment.