Photo of Russian Children Behind Bars for Protesting War Sparks Outrage
Photos of a group of children who were reportedly detained by police in Moscow for protesting Russia's invasion of Ukraine have sparked outrage on social media.
The photos were shared on Facebook by Alexandra Arkhipova, who said two women—Ekaterina Zavizion and her friend Olga Alter—had gone to place flowers outside the Ukrainian Embassy with their five children, all aged between 7 and 11, on Tuesday.
The children had made signs and gone with their mothers, wrote Arkhipova, an associate professor at the Russian State University for the Humanities.
Photos of the children, evidently in police custody, show they had made signs bearing a Russian phrase that translates to "No to war."
"All of them were detained by police, and the police were keeping them first in a police van, and then brought them to the 'Presnenskoye' police station," she wrote.
"Phones were taken away from parents (or will be soon), and the policemen are shouting at the parents threatening these brave moms and their children."
She said they also faced threats that their children would be placed in care and they would be deprived of their parental rights.
Arkhipova also shared a video showing one of the children speaking through tears while in custody. In an update, she wrote the children and their mothers had been released from custody after a lawyer arrived, but will have to appear in court.
"Thank you all for your sympathy and support. Next is court, fines, threats," she wrote. "We will fight and keep you informed."
It is unclear how these pictures were obtained. Arkhipova has been contacted for additional comment.
But the photos have circulated widely on social media, including on Twitter and Telegram.
They were shared on Twitter by Russian opposition politician Ilya Yashin, who wrote: "Nothing out of the ordinary: just kids in paddy wagons behind an anti-war poster. This is Putin's Russia, folks. You live here."
Anna Veduta, a former spokeswoman for jailed Russian opposition leader Alexei Navalny, wrote in a tweet: "I won't calm down. They are already detaining children. People in Russia, what else do you need to wake up? For the second coming to happen and Christ personally crucified by Putin? Wake up, this is fascism!!! He kills Ukrainian children and throws Russian ones behind bars. So what else needs to happen? See clearly!"
Kevin Rothrock, editor of the English-language version of the news site Meduza, wrote: "These kids' signs say 'NO TO WAR.' On Tuesday, police officers in Moscow detained them with their mothers when they tried to place flowers outside the Ukrainian embassy. Officers allegedly threatened to have child services' take away their kids permanently. WHAT THE F**K."
Writer and investigator Natalia Antonova wrote: "Kids detained for bringing flowers and signs to the Ukrainian embassy in Moscow with their moms... I know I shouldn't be shocked, but goddamn you, Putin and all who serve you."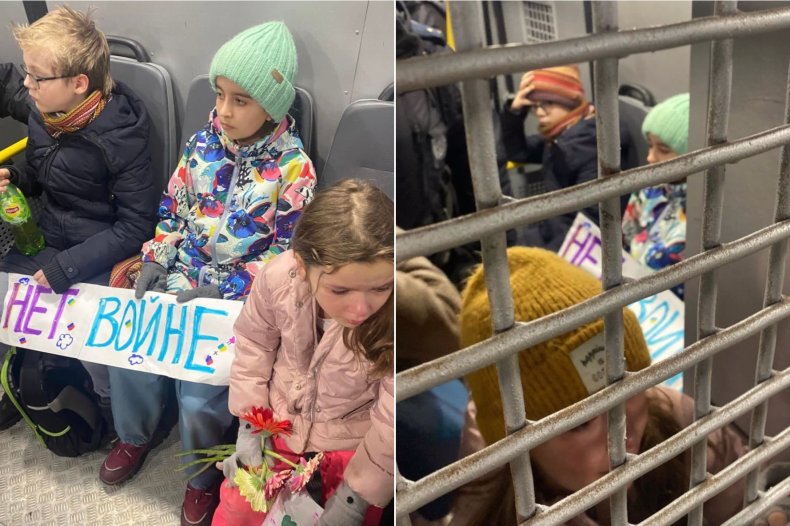 Update 3/02/22, 6:00 a.m. ET: This article has been updated with additional comments.