Russia's Communists Take to the Streets Demanding Putin Be Ousted
Russian Communists took to Moscow's Red Square over the weekend, demanding that President Vladimir Putin be removed from power over the ongoing conflict in Ukraine.
Independent Russian outlet SOTA spoke with a member of Russia's Communist Party in the capital as he and others marked the 99th anniversary of the death of former Soviet military and political leader Vladimir Lenin on January 21.
According to photos from local media reports, at least 100 people, some with flags, were present at the Red Square.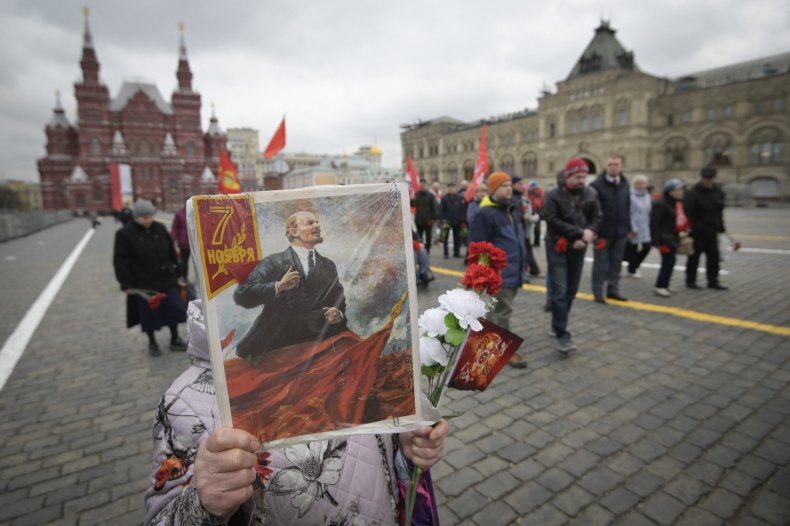 The clip of the man calling for a transfer of power in Russia was subsequently posted on Twitter on Wednesday by Igor Sushko, the executive director of the Wind of Change Research Group, a Washington-based nonprofit organization.
"#Russia: Communists showed up on the Red Square calling for a Revolution against Putin's fascist regime. Welcome to 2023," Sushko tweeted as a caption.
The man doesn't openly denounce Putin's decision to launch a full-scale invasion of Ukraine in February 2022, but he complains about the incompetence of those in power and the execution of what the Russian president continues to call a "special military operation."
"People are waking up and want to understand what kind of war they have started," he began.
"A 'special military operation'—it has been going on for a year. Now in February, it will have been a year. Can such an operation last for a year? This is already openly a war," he said.
"It's clear that the people's liberation is already taking place here. It must be politically justified, given a status. The government must be changed."
The cameraman interrupted by asking: "And who will change the government?
"The people will change the government under the leadership of the Communist Party of Russia," the Communist Party member responded.
His remarks come nearly a year into the war that has cost the lives of tens of thousands of Russian and Ukrainian troops. Putin is reportedly preparing to launch a fresh offensive in Ukraine in the spring or early summer 2023.
The Communist Party of the Russian Federation (KPRF), established in 1993 and led by Gennady Zyuganov, runs at a very distant second behind Putin's United Russia. In the September 2021 Duma elections, it received 18.9 percent of the vote for 57 seats. United Russia claimed more than 300 seats.
In November, Volodymyr Ohryzko, a former foreign minister of Ukraine from 2007 to 2009, alleged that a group of people around Putin were covertly discussing how to oust the Russian president from power.
In an opinion piece published by The New Voice of Ukraine, Ohryzko wrote that these purportedly secret talks are aimed at getting rid of Putin to safeguard the participants' interests.
"A lot is being done behind Putin's back, which, of course, he is not informed about," Ohryzko wrote. "But a group of people who stand on the side or above or below Putin (it does not matter), who will lose a lot from the current absolutely catastrophic situation for Russia, will definitely think about how to exchange Putin for their security, for further financial gain, and to return to their previous paradise life in the West."
Dmitry Peskov told Newsweek at the time that these were "groundless assertions which have nothing to do with reality."
Newsweek reached out to the Russian Foreign Ministry for comment.
Do you have a tip on a world news story that Newsweek should be covering? Do you have a question about the Russia-Ukraine war? Let us know via worldnews@newsweek.com.