Russian Concertgoers Break Into Chants Against Putin's Ukraine War in Video
A recent concert in St. Petersburg, Russia, became the site of yet another protest by Russian citizen's against the country's invasion of Ukraine.
In a video shared by the Twitter account, pinov-Rusia, a packed audience for the Russian band, Kis-Kis, can be heard engaging in deafening chants, seemingly in unison. According to the post, the crowd's chant was a message opposing Russian President Vladimir Putin's brutal and protracted invasion of its Eastern European neighbor.
"St. Petersburg at the concert of the Kis-Kis group unanimously show their rejection of the war," the post reads, when translated from Spanish.
The video, posted at around 8:30 a.m. EST on Saturday, has yet to see any level of viral spread, being viewed a little over 130 times as of 10:30 a.m. Newsweek has also been unable to verify when the concert took place and what the concertgoers in the video were actually saying.
Music and concerts have been common venues for dissent against Russia's invasion. On Thursday, Yury Shevchuk, leader and frontman of the group DDT, was arrested in the Russian city of Ufa, for allegedly making critical remarks about the invasion. After initially saying that they just wanted to talk with him, the police later revealed that he was being charged with an unspecified misdemeanor for his recent comments during a concert, Radio Free Europe reported.
"The motherland is not the president's ass that one must lather and kiss all the time," Shevchuk said during the concert in question. "The motherland is a beggar, an old woman that sells potatoes at the railway station. That is what motherland is."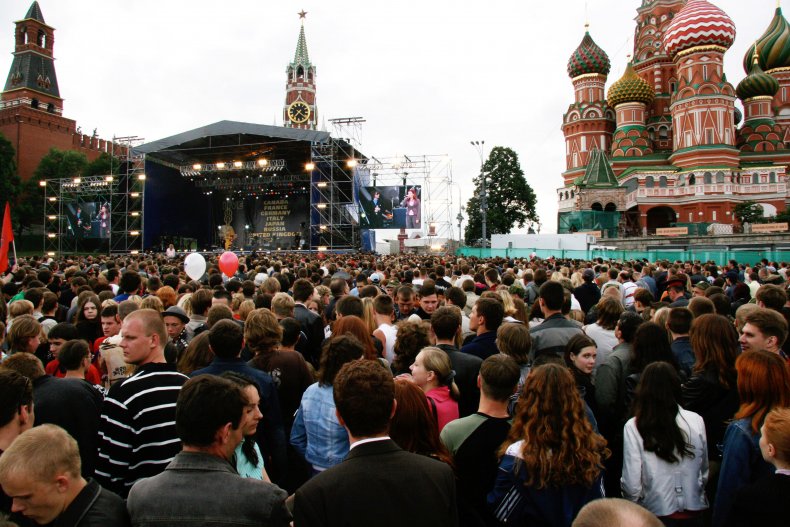 Shevchuk's comments were met with a wave of cheers from the concertgoers. The video of the concert has received around 14,000 likes on YouTube. In April, a DDT concert in Tyumen, Siberia, was canceled after Shevchuk and the band refused to perform on a stage adorned with a white "Z"—a symbol that is associated with support for the invasion.
Fearing crackdowns from law enforcement, Russian citizens looking to protest the war have had to think outside of the box and use coded messages, according to a report from the Los Angeles Times. This cryptic new message consists of three asterisks, representing the Russian word for "no," and below it five more asterisks, representing the word for "war."
Some have also begun spray-painting images associated with the ballet, Swan Lake, in protest of the current Kremlin leadership. This is in reference to the Soviet Union-era tradition of broadcasting music from the ballet whenever a major leader passed away.