Russian Conscript Opens Fire on His Comrades Near Ukraine Border—Report
A Russian conscript opened fire on his fellow soldiers in the Kursk region, near the border with Ukraine, killing one, according to local media reports.
Russian media outlets Baza and ASTRA reported Monday that overnight, a man drafted under President Vladimir Putin's "partial mobilization" order, fatally shot a fellow soldier in the 37th Separate Guards Motor Rifle Brigade of a Russian military unit stationed in the Kursk region's Suzhansky district.
There have been multiple reports that soldiers drafted as part of Putin's September 21, 2022, mobilization order are being sent into battle after receiving little to no training. Many have also been wrongfully conscripted. The Russian president ordered the mobilization of 300,000 reservists to fight in Ukraine. However, the figure in Putin's decree has not been disclosed to the public, and many fear the figure is far higher.
According to preliminary reports, a 22-year-old conscript named Magomed M. thought he heard intruders near a guard post. He shouted "Stop, who's there?" and opened fire when there was no response.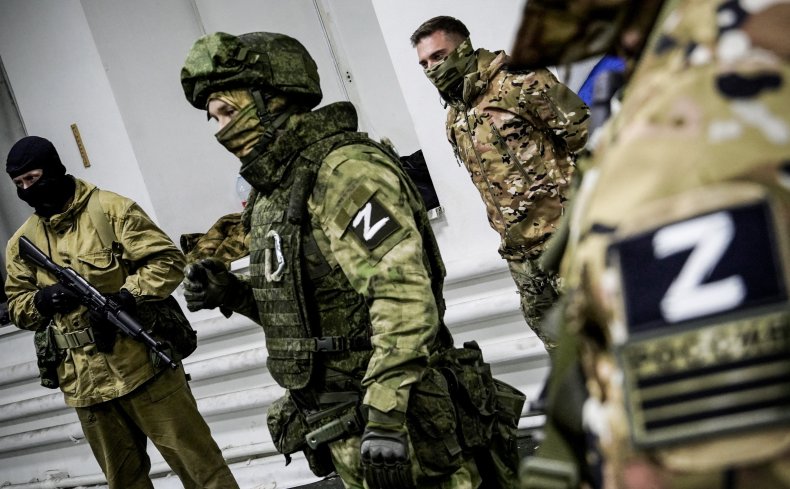 A 19-year-old conscript from Tatarstan, Tamir G., was killed in the shooting, and a 22-year-old conscript from Novosibirsk, Vladislav K., was hospitalized.
"A misunderstanding between the soldiers arose," Baza, which regularly posts information about security issues within the country, reported, noting that the conscript opened fire using a Kalashnikov assault rifle.
Newsweek reached out to Russian authorities for comment.
Just weeks ago in the Kursk region, six Russian soldiers were killed in an explosion that was accidentally set off while the men were using a cooking stove, Baza reported.
According to the outlet, the Russian soldiers, who were in a trench at the time, poured gasoline onto an open stove causing an explosion and fire. "Only two soldiers managed to run out into the street," they wrote.
Russia's Ministry of Defense told state-run news agency RIA Novosti that a fire broke out due to "a gross violation of safety requirements by the military of the Western Military District in the Kursk region."
Russia's Kursk region borders Ukraine, where fierce fighting continues for more than a year since Putin launched a full-scale invasion. The British defense ministry said in December that Russia had started to expand its defenses along its border with Ukraine amid apparent fears of an invasion and that elaborate trench systems were being dug by Russian troops in Belgorod, near the border.
In November, Andrey Kartapolov, chairman of Russia's State Duma Defense Committee, said Russian conscripts might be sent to border regions including Kursk and nearby Belgorod.
Do you have a tip on a world news story that Newsweek should be covering? Do you have a question about the Russia-Ukraine war? Let us know via worldnews@newsweek.com.