Russian Defense Ministry Reports New Provocations by Ukrainian Nationalists
What follows is NewsGuard's summary and translation of top news stories from Russia's state TV Channel One. NewsGuard presents these stories in the order that they appear on the program.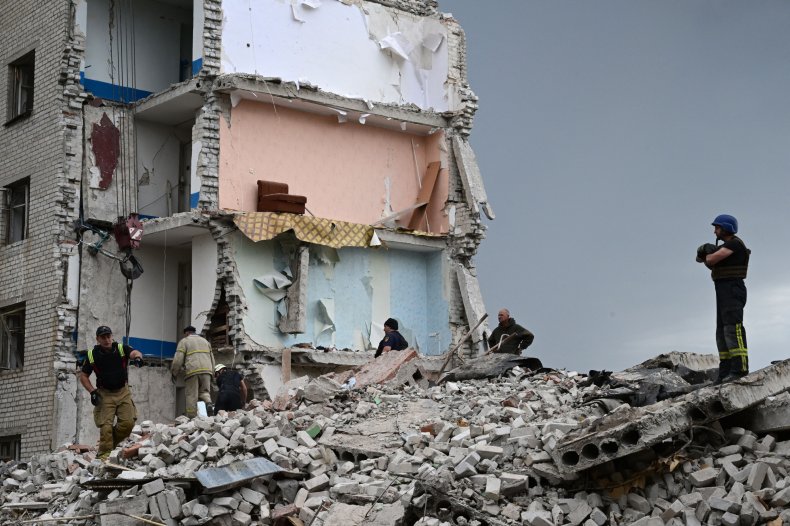 The Defense Ministry reports new provocations by Ukrainian nationalists
New evidence of Kyiv's criminal attitude towards the civilian population was reported by our Defense Ministry. In one settlement in the Donetsk People's Republic, the militants equipped their stronghold at a school, and checkpoints were set up on roads leading to the building. Local residents were not evacuated from neighboring houses. People are actually being used as human shields.
Militants from the "Right Sector," [a Ukrainian nationalist party] which is banned in Russia, and foreign mercenaries are being deployed to an educational institution in another village. Nationalists equipped firing positions and ammunition depots in an apartment building in Kharkov district.
Mikhail Mizintsev, head of Russia's National Defense Management Center, said: "In the Krivoy Rog district of the Dnipropetrovsk region, militants of the Ukrainian armed formations mined the sides of the asphalt road between the settlements of Krasny Pod and Radushnoye, but the local population was deliberately not notified about this."
Mizintsev continued: "We're warning the world community and international organizations in advance about this inhuman provocation prepared by the Ukrainian authorities, as a result of which civilians may suffer, and the Kyiv regime, according to a prepared scenario, will accuse Russian units of supposedly indiscriminate strikes and deaths of civilians."
The infamous Ukrainian ambassador to Germany Andriy Melnyk was fired
The dismissal of Andriy Melnyk has been reported on [Ukrainian] President Zelensky's website. Melnyk has repeatedly shocked the public with his boorish and openly neo-Nazi statements.
Melnyk spoke completely undiplomatically about German Chancellor Olaf Scholz, calling him an "offended liver sausage".
Zelensky has dismissed a number of other Ukrainian ambassadors in Hungary, the Czech Republic, Norway and India.
OSCE collected information for Ukraine and NATO countries
The international monitoring organization OSCE has for a long time acted in the interests of the Ukrainian special services and NATO countries. This was revealed in documents that were in the possession of the [Ukrainian] National Guard. They were found in the house of the former head of the SBU [the Ukrainian security services] department in the Kherson region.
The fighters found a handwritten diagram, showing the locations of Russian units in [the Russian-annexed Ukrainian peninsula] Crimea, [the Russian regions of] Rostov, Smolensk, Belgorod and Voronezh.
OSCE observers carried out reconnaissance activities for the special services of Ukraine and other NATO countries, which go beyond their official framework.
Washington announces $400 million worth of new arms supplies to Ukraine
The package includes Hymars rocket systems, counter-battery systems, explosive charges and ammunition. It also includes high-precision artillery shells of 155 mm caliber, which America has not yet sent to Ukraine.
The Pentagon does not hide the fact that it plans to send military supplies to Kyiv for months and even years to come. The U.S. is not at all embarrassed that the Ukrainian army is using these against civilians, or the fact that they go on the black market. Russia has repeatedly warned about the danger of this for Europe and the whole world, in particular, in the UN Security Council.
The most defenseless people are dying during shelling by Ukrainian nationalists
Hearing reports from the Donbas this week was especially painful. Several children died during the shelling of the nationalists. The grief cannot be described in words, nothing can numb the feeling.
Ten-year-old Veronika died in front of her mother in the Voroshilovsky district of Donetsk—this is the very center of the city. Other children—Mashenka, Dima and Vladik—died right at the playground in Makeevka. What is it if not a war crime when children are targeted.
The Defense Ministry reported on the full liberation of the Lugansk People's Republic
Surrender or perish is the fate of those who terrorize the Donbas. Our guys will get to them, as they did in Lugansk.
At the very beginning of the week, the Defense Ministry reported to the Russian President about the complete liberation of all 25 settlements in the Lugansk People's Republic. Proactive, competent actions and genuine heroism has led to success and to the militants being destroyed. Putin called our fighters "impudent in a good way" and added that all of them should be given state awards.
The liberated Lisichansk took a deep breath for the first time in eight years. And even despite its many everyday difficulties, especially with accessing drinking water, people are looking to the future without fear. They are being properly protected.
[Channel One correspondent] Dmitry Kulko said: "For them, it seems like unlimited freedom. Holding the Russian flag says to them that I'm Russian and I'm with Russia."
One resident says, "We're Russian, we were just separated for some time, that's it."
Kulko said, "News about how people can finally come out of hiding and freely speak their native tongue, was unexpectedly reported in the Western media, which is usually not concerned with the interests of Donbas. But the happiness of the liberated people just can't be concealed."
Vladimir Putin made key statements at a meeting with Duma faction leaders
This week, the Russian President made key statements about the essence of the new world order, which is being formed right now before our eyes and the truth about the collective West. He said that the West is the direct instigator and culprit of what is happening in the Donbas. The West will surely lose because the beginning of our special military operation means the beginning of a radical breakdown of the American-centric global model.
Vladimir Putin talked about this with the leaders of parliamentary factions and the Chairman of the State Duma. Parliament is based on the will of the people. And through all the hardships that were provoked by ill-wishers, our people will carry on with their heads held high.
Putin said, "Illegal measures against Russia are clearly creating difficulties for us, but not as great as the initiators of this economic blitzkrieg against Russia were counting on. Clearly, they tried to do more than just hit the Russian economy hard. Their goal was to sow discord and confusion in our society and to demoralize people."
He continued: "Today we hear that they want to defeat us on the battlefield. Well, what can I say? Let them try. We have already heard a lot about the West wanting to fight us 'to the last Ukrainian.' This is a tragedy for the Ukrainian people, but that seems to be where it is going. But everyone should know that, by and large, we have not started anything in earnest yet."
Western weapons for Ukraine are disappearing into a black hole
The completely uncontrolled financial injections to Ukraine seem to have come to an end. A voice of reason this week was heard in the European Commission, which blocked another 1.5 billion euro-loan to Ukraine. How would they ever return it?
The EU's military circles are no longer hesitant to say that the Kyiv regime supports corruption and the mafia. How else can you describe people, who first ask for arms worth billions of dollars and then sell all this stuff on the black market? The darknet is full of small arms, grenades and the same Javelins.
It has become absurd. Ukraine just sold two French howitzers "Caesar" to our military. And ordinary Europeans, whose taxes go to these weapons, are simply furious from such news.
[The program quotes an article in the Toronto Star titled, "Ukraine is getting rockets and tanks from the West, but front-line soldiers scrounge for bullets," saying:] "The disconnect between the weapons pledges made to Ukraine by western governments and the reality for tens of thousands of front-line fighters is jarring."
[It also quoted a French Twitter post, saying:] "Yet another success of Macron. Russia got hold of two French howitzers safe and sound. Now they're in UralVagonZavod [a Russian machine building company in Nizhny Tagil, Russia] and are being studied. Thanks, Macron. We're paying for this."
Nearly 420 million rubles were collected for the 'Everything for Victory' project in less than a month
While Ukraine is thoughtlessly selling weapons to anyone, we are helping the Donetsk and Lugansk People's Republics to fight for peace in their native land. We're sending them everything they need on the front line—bulletproof vests, drones, thermal imagers.
Funds for this are collected as part of a large-scale project headed by the All-Russian Popular Front "Everything for Victory" [a political coalition of the ruling United Russia party and several nongovernmental organizations]. In less than a month, almost 420 million rubles were collected. And this number is constantly increasing. Most of it was donated by ordinary people, but organizations and entrepreneurs also contributed.
Well-known military correspondents also helped to raise funds, including our colleague Irina Kuksenkova. She was injured in Mariupol during filming. After several operations, Ira is back in the Donbas to make sure that the packages reach the right units.
Kuksenkova said: "During my first collection, we got 16 million rubles in just one day. Can you imagine? So many people are involved in this. In the second collection we raised six million less. We bought everything the guys need."
What political consequences will record inflation have on the Old World?
This would be funny if it weren't so sad. Mistakes are one thing, real failures in key areas of politics and economics are another. Biden and his colleagues in the West, busy maniacally imposing new sanctions, have forgotten about their own citizens. Inflation is on the rise. Americans and Europeans have to save on everything—food, electricity, even basic necessities.
Traveling has become a luxury due to the rise in gas prices. The effects of the anti-Russian restrictions have boomeranged too quickly. People in Europe are thinking about the winter with horror. Germany is going to open heating points for the poor, as the newspaper "Bild" wrote today [July 10, 2022]. And this is one of the largest economies in the world! It was simply impossible to imagine such a thing until recently.
[The show features a BBC segment on inflation, quoting a young boy from England saying:] "It's a lot more money now because electric bills have risen. I have lights in my room and I love having them on, but I can only have them on for an hour now.… We can't go on as many car journeys because it's very, very expensive."
Channel One correspondent Anatoly Lazarev said: "All European countries are now thinking about how to save on electricity. Proposals include turning off traffic lights at night and switching off the lights of all public buildings. This will of course help, but it will hardly solve the whole problem."
He continued: "[U.S. President] Biden takes credit for when the price of oil drops, and when it increases he blames Putin. Biden said, 'We have a long way to go because of the Putin tax increase.'"
[Channel One shows a segment from Fox News host Tucker Carlson, which displays a caption reading "This started well before the war in Ukraine," and quotes him saying:] "It's just embarrassing and grotesque and dangerous. No one believes a word of it, not even the people who voted for [Biden], because it's untrue."