Russian Diplomat Compares British Police to Sherlock Holmes Character, Says U.K. Tried to Kill Former Spy to Destroy Moscow's Reputation
The top Russian diplomat at the United Nations lashed out at the U.K. on Wednesday, comparing the British government to a "hapless" investigator from Sherlock Holmes stories and accusing the country of having developed its own nerve agent to poison a former spy.
"Sir Arthur Conan Doyle, the British classic, famed in his country and very popular in Russia, has a hapless character, Inspector Lestrade from Scotland Yard. He doesn't have the methods of deduction, he is not particularly smart. His role is to be the background for the extraordinary deductive powers of Sherlock Holmes," Vasily Nebenzya, the Russian representative, explained in a lengthy discourse in front of the U.N. Security Council.
"Lestrade latches on to something that is on the surface of a crime and is in a hurry to prove banal conclusions, only to be overturned by Sherlock Holmes, who always finds what is behind the crime and what is the motive for it…. I'm not saying people working at Scotland Yard today are not professional, God guard me from that, but I do think we could all benefit from having a Sherlock Holmes with us today," Nebenzya continued.
The comments come as Russia and the U.K. face a significant diplomatic fallout after a former Russian spy and his daughter were poisoned in Britain with Novichok, a military-grade nerve agent created by the Soviet Union in the 1970s and 1980s.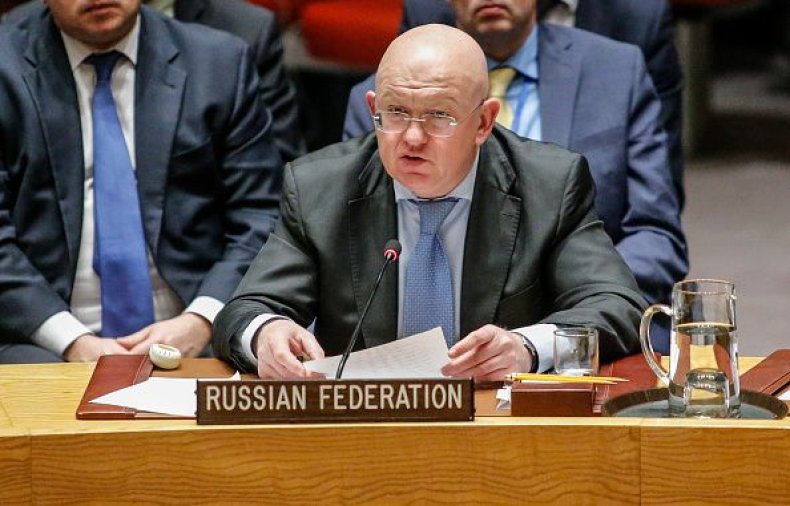 Sergei Skripal, whom Moscow accused of being a double agent and feeding information to the British secret intelligence group MI6, had been living in England since the Kremlin set him free in 2010. But he and his daughter were discovered slumped on a bench in early March after having been attacked with the deadly nerve agent.
Britain's government has said it believes Russia was responsible for the attack, and announced plans to expel 23 Russian diplomats from the country in retaliation. All high-level government contacts between Britain and Russia have been canceled.
The decision was lambasted by Russia's Foreign Minister and other Kremlin spokespeople, who promised that Moscow would retaliate.
In his speech defending his government from Britain's accusations, Nebenzya said that it is possible the U.K. tried to kill Skripal in order to tarnish Russia's good name. He also said that Western officials may have used Russian specialists to develop their own version of Novichok, and that the British version of the chemical had been developed at the British Defense Ministry laboratory that helped identify which chemical weapon had been used against Skripal.
Russia has insisted that it destroyed all stockpiles of Novichok in the 1990s with the assistance of U.S. experts. The Russian embassy in the U.K. repeated Nebenzya's line that Western governments had continued to produce the nerve agent on their own.
The session at the U.N., however, only heightened tensions between Britain and Russia. The U.K. later blocked a joint Security Council statement on the poisoning that Russian diplomats had proposed.
That same day in England, when asked how Russia should respond to the expulsion of its diplomats from the U.K., British Defense Secretary Gavin Williamson said Russia should "go away and shut up."