Russian Diplomats Complain About Protection as New Offensive Begins
Russian diplomats are looking to local Western law enforcement for additional protection as Moscow's full-scale invasion of Ukraine approaches its first anniversary on February 24, and as the Kremlin's troops launch a long-expected offensive aimed at occupying more of eastern Ukraine.
Russia's invasion has prompted an outpouring of anger across the Western world, with pro-Ukraine protests regularly held outside Russian missions in the European Union and North America. Moscow's officials have cited such demonstrations as evidence of the "Russophobia" the Kremlin has long claimed is the crux of its deepening conflict with "unfriendly" nations in NATO and the EU.
On Friday, the head of Russia's Consulate General in Houston, Texas, told the state-run Tass news agency that the outpost had appealed to local law enforcement for enhanced protection amid what he said was an increase in threats.
"We turned to local law enforcement, the diplomatic security service of the Department of State and the Houston Police Department, in advance, asking to ensure enhanced patrols and protection of the Consulate General," Alexander Zakharov said of the upcoming anniversary. "We are hoping that local authorities will be understanding."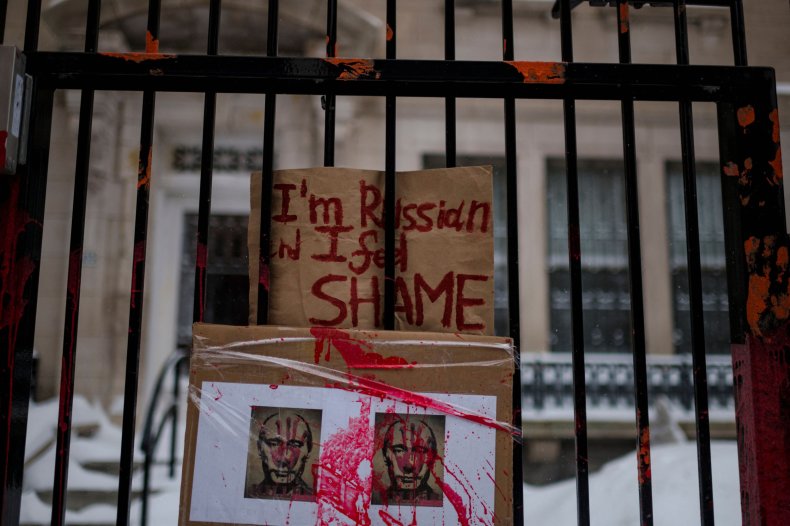 "Unfortunately, the threats are still received, there aren't as many of them as there were in the first months since the onset of the special military operation but they do come in," Zakharov added, using the Russian term for the invasion.
"For example, during the second half of 2022, there were two threats of rigging the Consulate General with mines. Then, we were forced to evacuate our staff and take measures. Groups of minesweepers arrived to inspect the premises. Fortunately, the bomb threats turned out to be false."
Earlier this month, Russia's Ambassador to Canada Oleg Stepanov told Tass that his mission was also under threat, citing regular protests in front of the building in opposition to Moscow's invasion of Ukraine.
"There are some really disturbing issues," Stepanov said. "We have seen suspicious people using tele lenses to capture those who come and go from the Embassy, capture the faces of our diplomats, children, and our family members who work here."
"There are completely open social media groups where the photos of our diplomats' cars have begun to be posted recently, which identifies them and apparently points to malicious intentions," he said.
The protests, Stepanov complained, "often aren't peaceful, and attacks on our diplomats and cars take place...We try to do as much as possible to ensure the safety of our employees and their family members but the situation is difficult here."
"It is different from the situation in many other Western countries as it is aggravated by the fact that among our ill-wishers, there [are] a lot of aggressive and unstable members of the so-called Banderite community," Stepanov added, framing local Ukrainians as proponents of the far-right nationalist ideology of World War II-era leader Stepan Bandera.
"Unfortunately, even though Canada's law enforcement agencies do perform their duties, they do it in a minimal and leisurely manner," Stepanov said.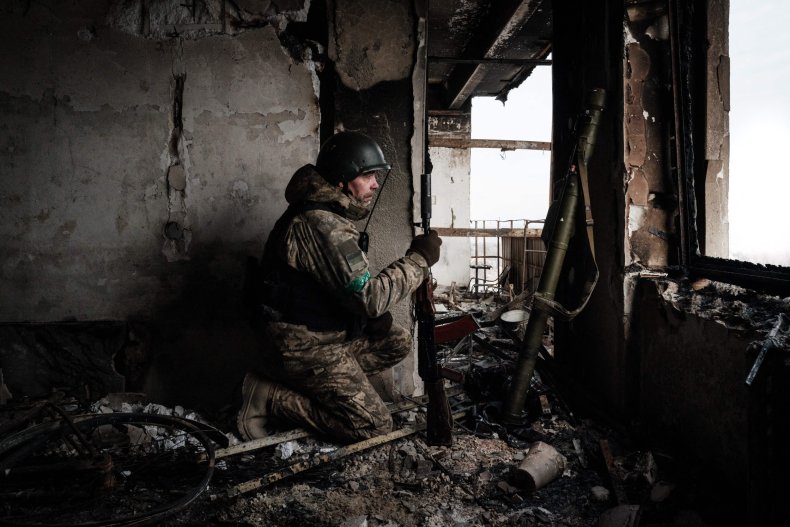 Russia's top diplomat, Foreign Minister Sergei Lavrov, last week threatened significant military developments to mark the anniversary of the full-scale invasion, which has not achieved the level of success expected in Moscow and abroad at its outset. Fresh Russian action, Lavrov said, would "gain the world's attention."
Russian troops are massing on the eastern front, hoping a new push will force Ukrainian defenders out of Luhansk and Donetsk oblasts and win President Vladimir Putin a much-needed victory.
Putin on Friday praised the performance of Russia's foreign diplomats. "Largely thanks to your efforts, the country has managed not only to thwart the collective West's plans to isolate Russia but also to step up cooperation with most members of the international community, including countries in Eurasia, the Middle East, the Asia-Pacific region, Africa and Latin America," he said, in a statement marking Russia's Diplomats' Day.
"The best qualities of our country's diplomatic service are much in demand today amidst the hybrid war unleashed against Russia when it is extremely important to make the most of our foreign policy instruments to defend our state sovereignty and national security."