Russian Disciplined Under New Law for Comparing Soviet Union to Nazis
A man in Russia was disciplined on Wednesday after being accused of comparing the Soviet Union to Nazi Germany.
The man, Vadim Kiselyov, was the first person to be fined under a newly-enacted law that makes comparing the goals of the Soviet army to those of Nazi Germany during World War II a punishable offense, the Moscow Times reported. Kiselyov was fined 1,000 rubles, or about $18, according to the newspaper.
The fine comes as Russia's invasion of Ukraine has dragged on for nearly five months, and the Russian government has cracked down on dissent.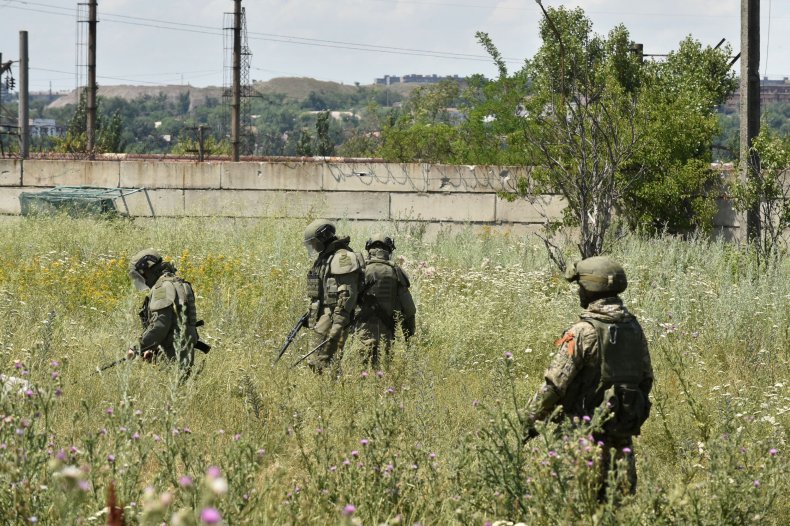 The Sova Center for Information and Analysis stated that the fine came after he posted in a group chat with his neighbors advising them "to read the memoirs of a veteran of the Great Patriotic War Nikolai Nikulin and talked about the actions of Soviet soldiers against the civilian population of Germany."
The center called the punishment "unlawful" and said that Kiselyov "did not justify the crimes of Nazism, did not call for violence, hatred or discrimination."
"His statement, despite the emotional expressions, is an example of a peaceful discussion, which, from our point of view, should not be limited. Moreover, it is not clear from the excerpt of the message reproduced in the protocol what exactly the police officers saw as identifying the actions of the USSR and Nazi Germany and/or denying the decisive role of the Soviet people in the defeat of Nazi Germany," the Sova Center wrote. The man was fined by a court in the city of Krasnodar.
Newsweek has reached out to the Sova Center for comment.
Earlier this month, a Moscow city councilor was sentenced to seven years in prison after he was accused of criticizing the war in Ukraine. The councilor, Alexei Gorinov, criticized a proposal to hold a children's drawing contest and a dancing festival in his constituency while "children were dying" in Ukraine, The Guardian reported.
In April, a man in Moscow was fined for wearing yellow and blue sneakers, which Russian authorities alleged was a sign of support for Ukraine. Authorities said they found the man near an anti-war protest, but the man's lawyer said his client wasn't involved with the demonstration and was out buying gifts for his family.
In June, two men were arrested after hanging a banner that read "f**k the war" in Saint Petersburg, Russia. They were accused of displaying an "uprising poster with bad words," according to the press service of the Courts of Saint Petersburg.
Party members, lawyers and activists who have criticized the war in Ukraine have also been punished.