Russian Doctor Who Shook Hands With Vladimir Putin Last Week Tests Positive for Coronavirus
A Russian doctor who met and shook hands with Russian President Vladimir Putin last week has now tested positive for coronavirus.
Denis Protsenko, the chief physician for coronavirus patients in the hospital in Moscow's Kommunarka district, said he had tested positive in a Facebook post on Tuesday, Russian news agency Tass reported.
"My dear friends, I very much appreciate your concern. Indeed, I have tested positive for the CoV virus but I feel quite well. I have self-isolated in my office where I have everything I need to telecommute," he wrote, according to an English translation of the post by Tass.
Reuters reported that Putin had met with Protsenko last Tuesday and was given a tour of the Kommunarka hospital. Although Putin wore a hazmat suit and protective gear during the tour, he did not have this on during his meeting with the physician. Photos of the Russian president and the doctor shaking hands have already circulated widely.
The RIA Novosti news agency reported that Putin has been routinely tested for the virus and that "everything is OK." The Russian leader's spokesman, Dmitry Peskov quickly released a statement saying that "[Putin] is regularly tested for coronavirus. Everything is normal," according to Russia's government-funded RT television network.
As The Moscow Times reported, Protsenko has become well known in Russia as a front-line fighter in the country's battle against the coronavirus. He has been posting daily Facebook updates about the pandemic, specifically highlighting the work being done to treat patients at his hospital.
In the past day, Russian authorities have reported some 500 new confirmed cases of the new coronavirus. In total, there are more than 2,300 confirmed cases of the infection in Russia, according to a Johns Hopkins University tracker. Of those infected, 17 people have already died, while 121 have recovered.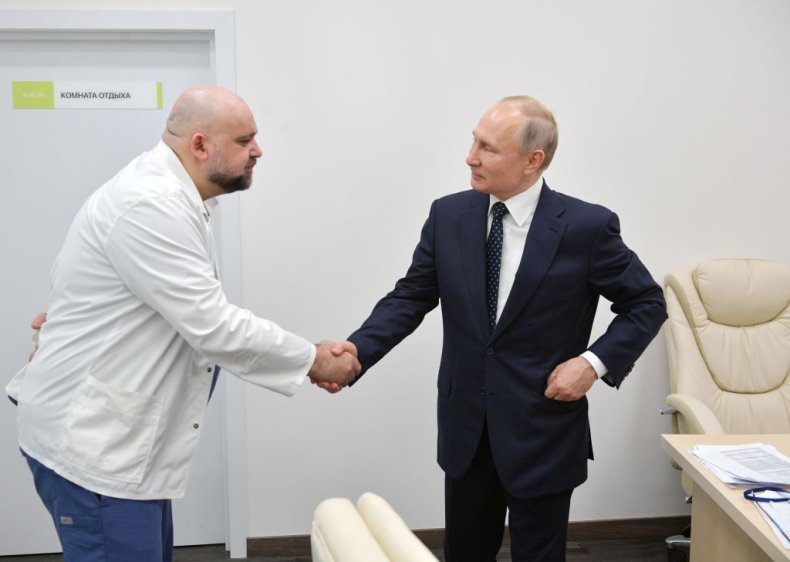 Russia took early, and stringent, actions to curb the spread of the outbreak. On January 31, the country closed most of its 2,600-mile land border with China. Just over two weeks later, on February 18, Russia banned all Chinese nationals from entering the country. Then, on March 14, Russian leaders announced that land borders with Poland and Norway would be shut down. A few days later, on March 18, the country banned the entry of all foreign nationals until at least May 1.
Globally, there are more than 809,000 confirmed cases of coronavirus. Of those, nearly 40,000 have died, while more than 165,000 have recovered. The U.S. is by far the world leader in terms of confirmed cases, with more than 165,000 reported as of Tuesday morning. That now surpasses Italy, which has more than 100,000.