Russia's Ex-Foreign Minister: 'Of Course' Putin Taking Advantage of Trump, 'The Naïveté Is a Little Bit Too Much'
Russia's former Foreign Minister Andrei Kozyrev has said that Russian President Vladimir Putin is certainly taking advantage of Donald Trump, arguing that the American president's "naïveté is a little bit too much."
"At best it's naïveté, but after three years in power—the naïveté is a little bit too much," Kozyrev, who served as Russia's foreign minister from 1990 to 1996, said during an interview with CNN about Trump's relationship with Putin and the White House's foreign policy. "Sometimes people who are newcomers, they come to White House.… They entertain some kind of naïve ideas," he said.
But Kozyrev pointed out that the president now has all the research of the CIA and State Department at his disposal and should have better judgment. "After three years, that looks strange to me."
Asked whether Putin is "taking advantage" of Trump, the former Russian official responded, "Well, of course."
"That's what he does. He wants to discredit America, and that's his aim: to paint America like not a leader of the free world," he said. Kozyrev argued that Putin wants to portray the U.S. "exactly like a commercial kind of small guy…looking for immediate profit." He suggested that Trump's actions toward Ukraine, which are at the center of the fast-moving impeachment inquiry led by Democrats in the House of Representatives, helped create that desired image for Putin.
During Trump's presidential campaign, he repeatedly spoke favorably of Putin and Russia. He also infamously called on Russia to "find" and release emails by former Democratic presidential candidate Hillary Clinton. Those emails were later released by WikiLeaks, which special counsel Robert Mueller and U.S. intelligence agencies have said has ties to Russia.
After becoming president, Trump has continued to speak favorably of Putin and even suggested last year that he trusted his Russian counterpart over his own intelligence agencies when the Kremlin head asserted that his country didn't interfere in the 2016 presidential election. The president later backtracked the comment, but he has since then continued to dismiss the impact of Russian interference.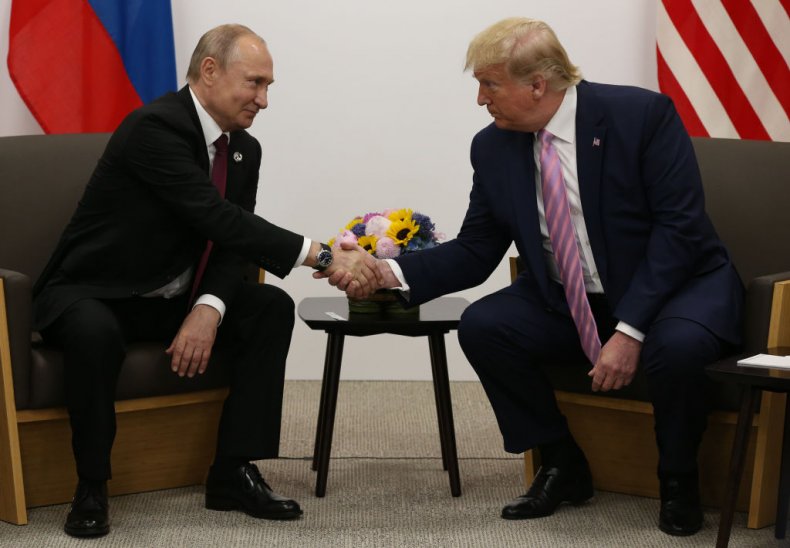 Mueller's findings, as well as those of other U.S. intelligence agencies, concluded that Russia interfered in the 2016 presidential election to favor Trump and disparage Clinton. However, it has not been established that Trump or members of his campaign conspired with the Russians in that effort.
In terms of the Ukraine impeachment inquiry, Trump is alleged to have temporarily withheld military aid from the Eastern European nation—aid which had been approved by bipartisan consensus from Congress—in order to pressure the country to open investigations that could disparage his political rivals. Critics, including some leading Republicans, have argued that the president's actions were wrong and potentially threatened U.S. national security. Ukraine is viewed by most Republicans and Democrats as a key ally against Russia's expansionist ambitions, as the country continues to fight a civil war against Russian-backed separatists.