Russian Fans Deny Responsibility After Euro 2016 Brawl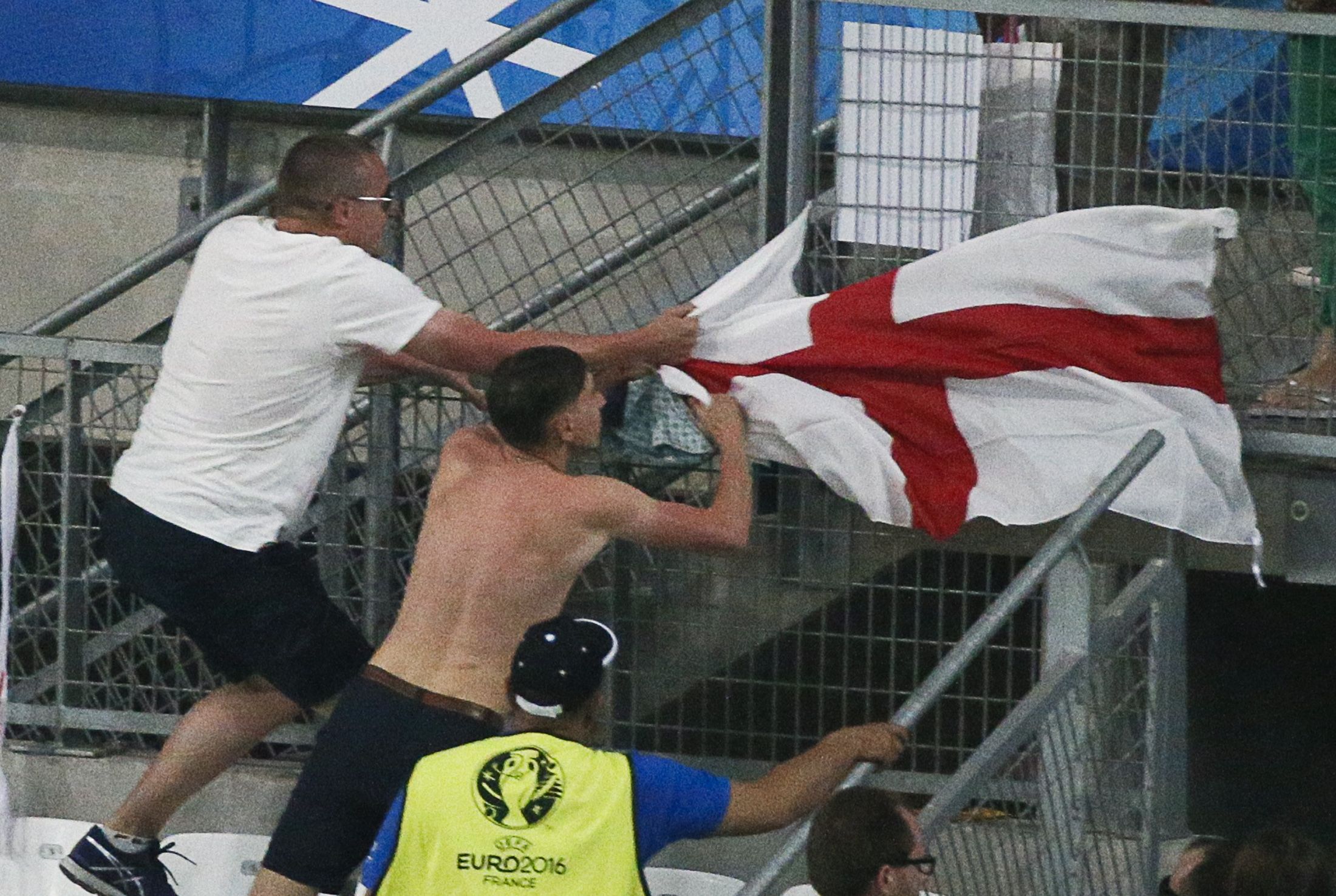 Russian Football fans known as "Ultras" have denied starting the brawl with England supporters in Marseille, as they posed with captured flags from the fighting that threatens to prompt the exclusion of one or both teams from the Euro 2016 tournament.
Fans of the two sides started fighting prior to and after the match on Saturday, with the French prosecutor pointing out that at least 150 of the Russian fans came to Marseille prepared for a fight. Some were pictured wearing balaclavas and, as the prosecutor claimed, they appeared to be "trained to fight."
The England fan's union has laid the blame with the Russian fans, as some of the most feared of these groups shared photos on social media, posing with English flags taken during the skirmishes.
Fans wearing jerseys of Moscow football clubs and other Russian sides flew the St. George's flags upside down, while some even took photos trampling the flag, hailing it as a "trophy".
Fans affiliated with teams such as Lokomotiv Moscow and Spartak Moscow shared images, brandishing "trophies from the clashes" but when asked to comment, people associated with the groups, accused the English side of starting the fight.
One, Spartak Moscow Ultras social media group with thousands of followers responded to Newsweek 's request for comment by saying "What is there to talk about? Perhaps the two days of provocations by drunken English fans?"
"We do not speak to the press, but we want to clarify that everything that happened was only in response to the boorish behavior of the English fans," the group's administrator told Newsweek. The administrator refused to comment on whether Ultras were preparing for more fights, but noted that "in the world of active fandom it is considered normal" to take the flag of the opposing side.
"There was nothing specifically against the English fans, were it Polish fans instead, still the flags would have been taken," he says.
In Russia political officials have also defended their country's fans with the deputy speaker of Russia's lower house of parliament saying he did not think the fighting was wrong. Igor Lebedev even tweeted encouragement for the fighting and blamed English fans for provoking them.